Aitch is a Romanian artist and illustrator who creates murals and works on canvas principally, while she often experiments with printmaking, graphics, and design. The artist fuses classical and gothic influences with the flatness of two dimensions, while painting her dreamy characters.
Illustrations for Children's Book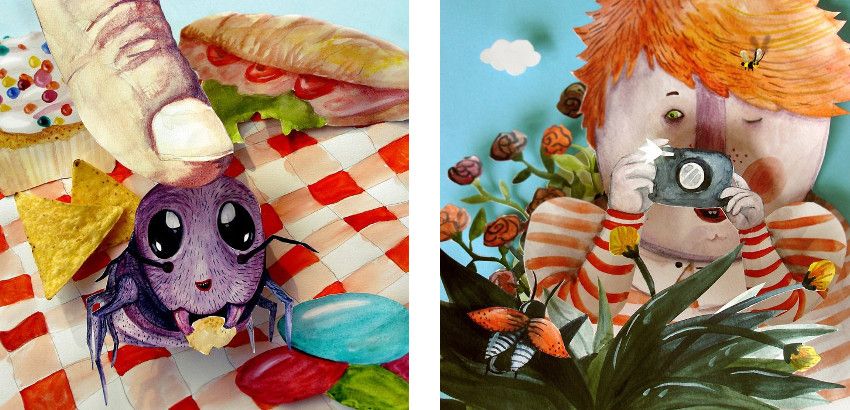 Art by Aitch
Born in a small Romanian town called Roman, she graduated from the University of Art and Design in Timisoara. Studying Visual Arts in high school and at university offered her the possibility to experiment with different techniques and media.
After going through several phases, from drawing only in ink or printing with lino, to painting with acrylics on wood, she has discovered that each medium has its own beauty, so she decided to stick with all of them.
Today she works in a wide range of media - from drawings and painting to book illustrations, clothes, jewelry, murals and clay work.
Coffins Series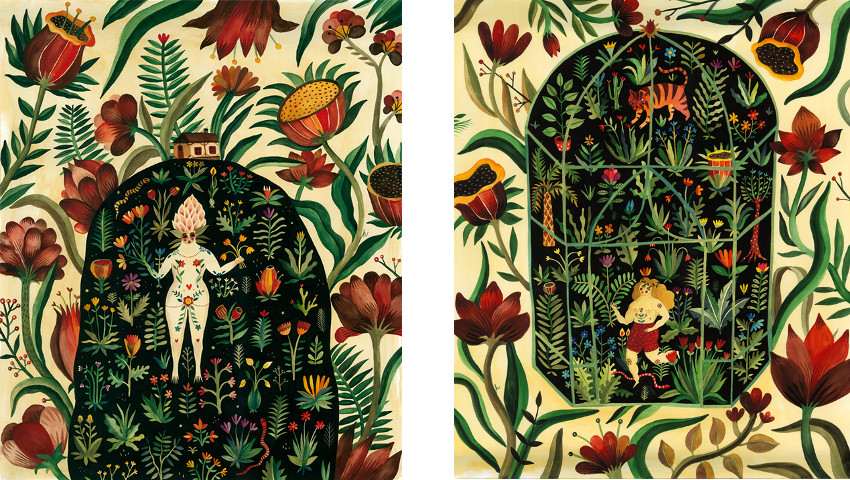 Inspiration
Her style has been molded by her culture, travels, memories, dreams, heritage, legends and folklore. She tells her personal story through the art she creates. She likes to weave personal experiences into her artworks like in The Imaginary Life Of... that is inspired by the process of her moving to a new country and having the feeling of not belonging.
The recurring themes in her art are the chubby girls and the floral patterns. Her work elicits a range of emotions whether it's through color, the duality of virtues, or an appreciation of the surreal.
The Imaginary Life Of...
Aitch and Saddo
While she was based in Bucharest, the capital of Romania, she met her boyfriend, the equally talented artist Saddo who encouraged her to paint large murals while she had a great influence on his work, in terms of style and technique.
The couple have nomadic tendencies. Not only have they lived all over Romania, but also in Lisbon and Berlin too, constantly being inspired by new surroundings and the cultures which accompany them.
Mural by Aitch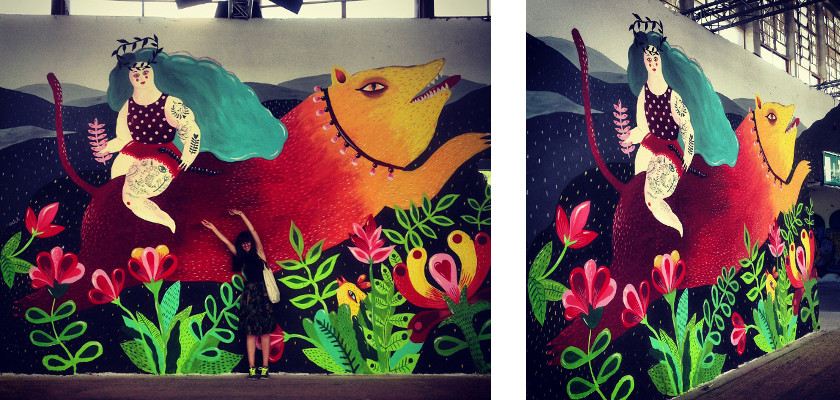 Gallery Representation and Exhibitions
The artist is represented by BC Gallery in Berlin, Germany. She has participated in group show in BC Gallery along with Axel Void, Blo, Jaz, Reka, Saddo and Wesr Figueroa in 2014.
Her work was included in many shows in galleries and art fairs throughout Romania including in Timisoara, Sibiu, Bucharest, Iasi, as well as abroad in Vienna, Austria; Amsterdam, The Netherlands; Hamburg, Germany; Berlin, Germany; Aalborg, Denmark; and Lisbon, Portugal, to name a few.
All images copyright © the artist