Alain Godon is a French sculptor and painter whose brilliant pieces are admired for their strong, saturated colors, playful pop-art appeal, as well as the innovative interpretation of various architectural structures. Godon is also known as the inventor of BildoReliefo style – the word itself means three-dimensional in Esperanto but in the vocabulary of visual arts it refers to the digital ultra high-definition of prints. Godon has been an active exhibitor since the early 90s and he continuously collaborates with Markowicz Fine Art in Miami and Galerie Milani in Le Touquet.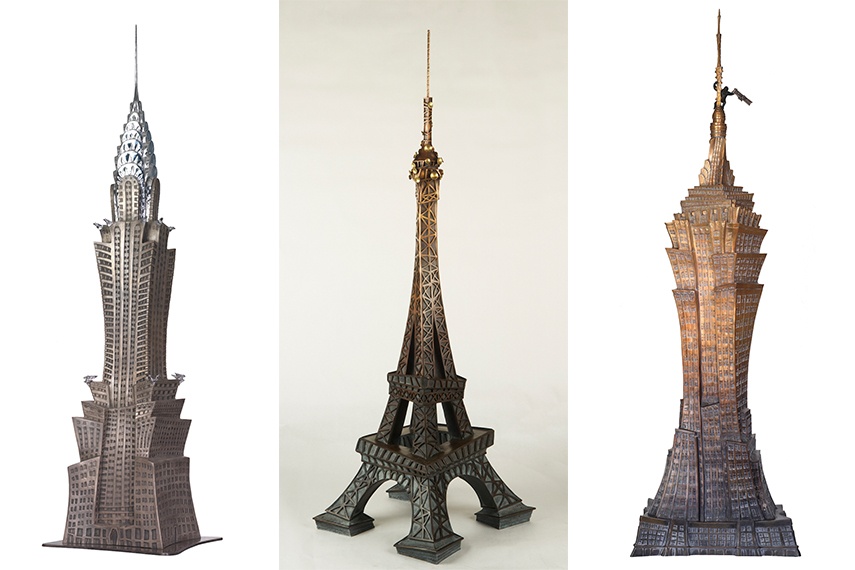 Between France and the UK
Godon was born in the early 60s in Bourges, France. He discovered his immense talent for drawing when he was only 11 years old and he was fortunate to be supported by a close family member. The young artist has learned to draw thanks to his uncle, who was a skillful architect and an avid supporter of visual arts. In the mid-80s, Godon's peripatetic wanderings took him to Paris and later to Brighton, England. He was initially living as a graffiti pavement artist, which was followed by a period of time in the French resorts of Courchevel and St Tropez, where he developed his skills as a fine artist and painted his first oils on canvas. Since 2006, Godon has been living in the UK. The artist's style from the 80s was quite colorful and strongly influenced by graffiti, comics, and pop art. When it comes to the main topics of his work, they revolve around various forms of caricature. The artist uses a lot of bright colors and his characters have thin black outlines. Godon doesn't create traditional portraiture – his characters are usually placed in colorful and dynamic urban environments. He often uses real-life locations as a source of inspiration, such as the famous Arc de Triomphe de l'Étoile in Paris.
Godon uses real-life locations as a source of inspiration, such as the famous Arc de Triomphe de l'Étoile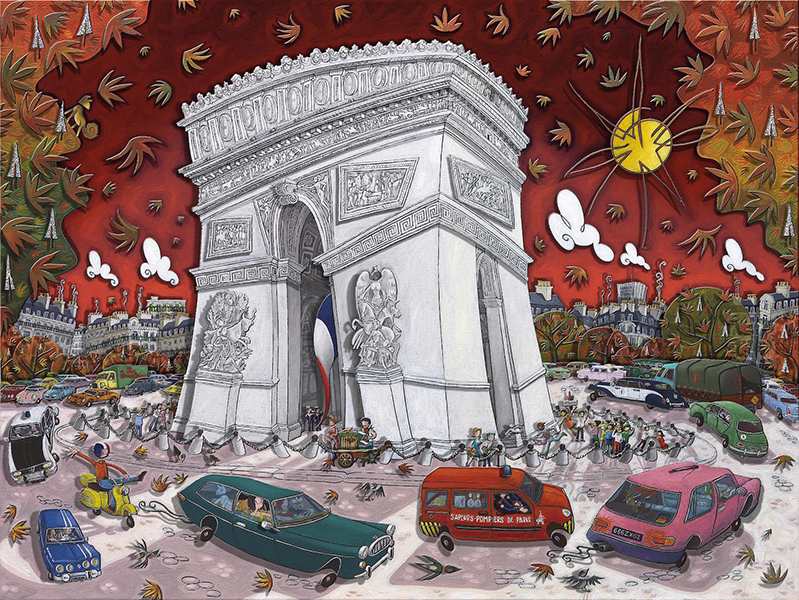 Bildo Reliefo Concept of the Work
Alain Godon is best known as the creator of BildoReliefo style, which literally means a three-dimensional image in Esperanto. The BildoReliefo style is an innovative approach initially used in Godon's art. It was presented to the public in April 2009, at the Pavillon des Arts et du Design (Jardin des Tuileries – Paris – France). The BildoReliefo is based on a mix of digital imaging techniques. In order to create his unique pieces, Godon revisits his already completed paintings and rearranges their elements in order to create new visual variations. He experiments with chromatic adjustments, highlights, and shadows. The BildoReliefo monotypes are based on Godon's oil paintings, to which they introduce a specific tonal depth. All of Godon's BildoReliefo pieces are entirely original works of art rooted in extensive chromatic studies.
Godon is recognized as the creator of BildoReliefo style, which means a three-dimensional image

Combining Traditional and Digital Approach
Alain Godon is an insightful French painter who made a huge artistic achievement by inventing his own experimental style called BildoReliefo. Godon's unusual pieces which combine traditional and digital approach have been well received by both art critiques and a wide circle of audience. Thanks to this universal public appraisal, Godon has become an active exhibitor with numerous national and international shows. In 2016, he had two successful solo shows - one in Miami and another one in Lille, France, while in 2015 Godon had five solo shows, with Galerie Milani, Denis Bloch Fine Art and Markowicz Fine Art.
The artist is represented by Markowicz Fine Art and Galerie Milani.
Alain Godon lives and works in the UK.
Featured image: Alain Godon's Portrait - image via aworldofevents.blogspot.com
All other images courtesy of the artist.