A walking and talking legend of traditional typography and printmaking, Alan Kitching is a British artist who in his time experimented with letters, graphic design, animation and software development over the course of his multi-decade long career. He is one of the world's leading practitioners of letterpress typographic design and that aspect of his work is the definite highlight of Kitching's occupation - although Alan became active in that field years after he already established himself as an artist. According to the words of John Walters, Kitching looks at his typography workshop as a complex and subtle instrument, for his brushes, paint and easel are his film set, his orchestra.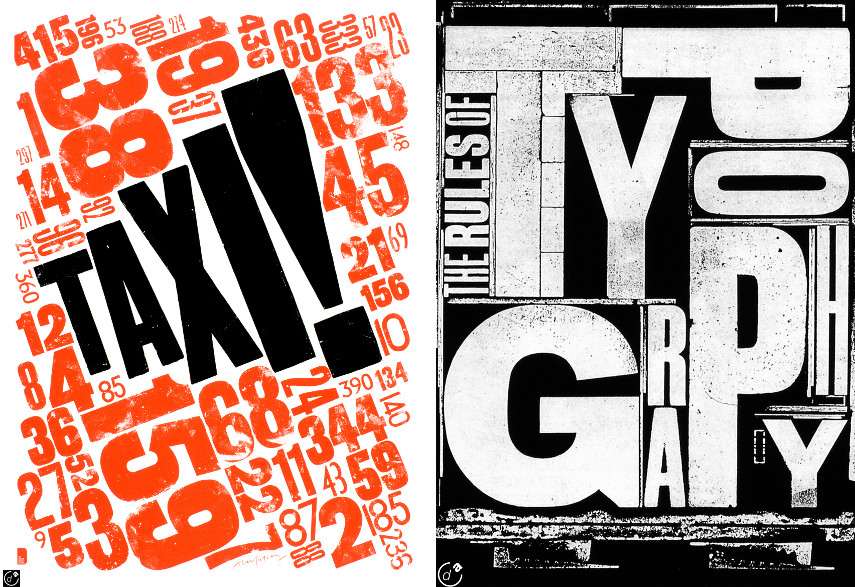 Incredible Experience Prior to Letterpress Printing
Alan Thomas Kitching was born Darlington, County Durham, during the year of 1940. He had acquired a love for printing, drawing and painting whilst still at school, showing interest for disciplined approaches uncommon for such a young mind. Forced by unforeseeable circumstances, he had to leave school at the age of 14 and got himself employed as an apprentice compositor in the Experimental Printing Workshop at the School of Art at the Watford College of Technology, under the guidance of a local printer Anthony Froshaug. Fascinated by the job he was witnessing every day, Alan decided to pursue a career in design. He started attending classes at the King's College School and gained an incredible theoretical knowledge to go with his already established skill. In the year of 1963, he was awarded an Open Scholarship to Corpus Christi College, Cambridge, where he chose to study Architecture, straying a bit from his original intentions. In the year's gap between school and Cambridge, Alan yet again worked as an assistant, this time under the wings of an animator named Trevor Bond - here Kitching undertook a range of projects from commercials and educational productions, to feature film titles, including a couple of early James Bond movies! The year at Cambridge really attracted Alan to the world of architecture, but he never stopped designing and animating. After he graduated in 1967, Kitching went to work with architect John Hornby in Wimbledon, gaining even more valuable experience and adding them to an already impressive Curriculum Vitae. Interestingly enough, Kitching was not showing signs he would like to get involved more seriously with the letterpress printing, although that was about to change.
Here's a video showing how Kitching uses his typographical tools to design his pieces, plus it features a short analyzes of his works
Kitching and His Prints
The best work combination for Kitching came at the time he was employed by Frederick MacManus and Partners, in Marylebone, when he landed a job that had him specialized in architectural graphics, blending two of his interests into one. He also worked with photography and signage, presenting a hint of things to come. After that, Kitching established his own design practice in London, during the year of 1973, partnering up with Derek Birdsall. It was in here that Alan started to seriously dabble with letterpress printing, partially as a hobby but also working for numerous commissions. Soon, Kitching started to teach typography as a visiting lecturer at the Royal College of Art in London, continuing to do so till the end of 2006. Sticking rigorously to wood and metal as a material of his choice, Alan produced highly evocative graphic images and had a masterful control of letters inside his work - something he never truly lost over the course of the years. In 1989, he established The Typography Workshop, a studio that uses traditional techniques of letterpress printing. It concentrates on obsolete technologies and seeks new ways to apply them in order to make objects unlike anything created using traditional techniques. Much of Alan's recognition came from his software developing as he was one of the creators that authored the famous Antics. Is should also be noted that Alan Kitching directed and produced numerous television projects, like The Dream of Arthur Sleap, Auntie Takes A Trip and No Arks. He even published An Animation Primer — an overview of animation techniques, which actually was just one segment of a larger publication The Craft of Film from Attic Publishing Ltd.
Although Alan Kitching had much success under his belt prior to his print works, the typography really solidified his place as one of the most influential craftsmen of The United Kingdom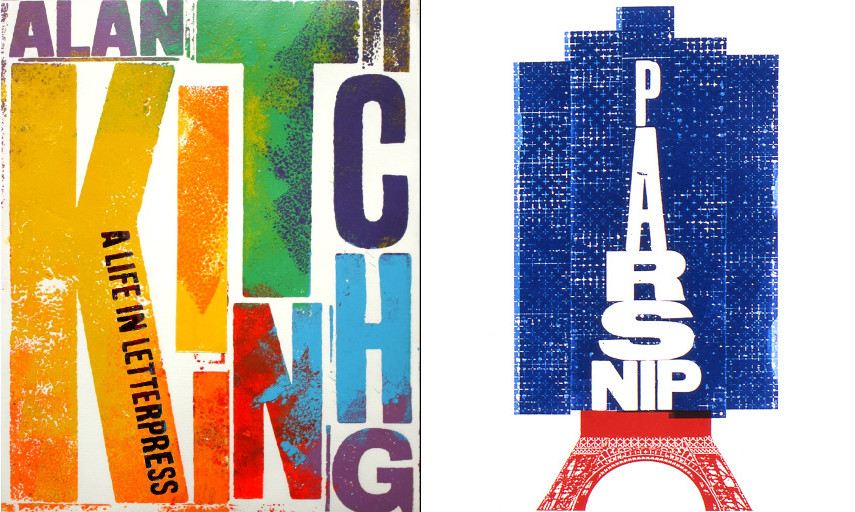 An Impressive Portfolio
It's incredible how much Kitching, a kid from the suburb of Wimbledon that left the school at the age of 14, has managed to accomplish during his lifetime dedicated to design, printing and all aspects of filming. Alen is an excellent example of blurring the line between artist and manufacturer, easily passing as eligible for both titles. He always sticks to his disciplined approach, constantly seeking logic and rigidness whatever he is creating and that kind of principles have obviously served him well, as he has managed to establish his name as one of the leading ones in UK's printmaking world.
Alan Kitching lives and works in London, United Kingdom.
Featured Image: Alan Kitching - Picture of the artist - Photo via theguardian.com
All images courtesy of Alan Kitching