Meet Alaniz, an Argentinan street artist based in Berlin. Avoiding direct public attention and keeping his identity anonymous, this man is a real old-school graffiti artist. Living as the true legends of the medium did before him, always on the verge of the law and avoiding authorities, Alaniz uses his graffiti to communicate with the people of the german capital and to speak about things none other dare say out loud. The young Argentian explained it best himself: Using the street as a mirror I prepare this show where the artworks are the blend between my personal trip of self-understanding and the actual situation of our society.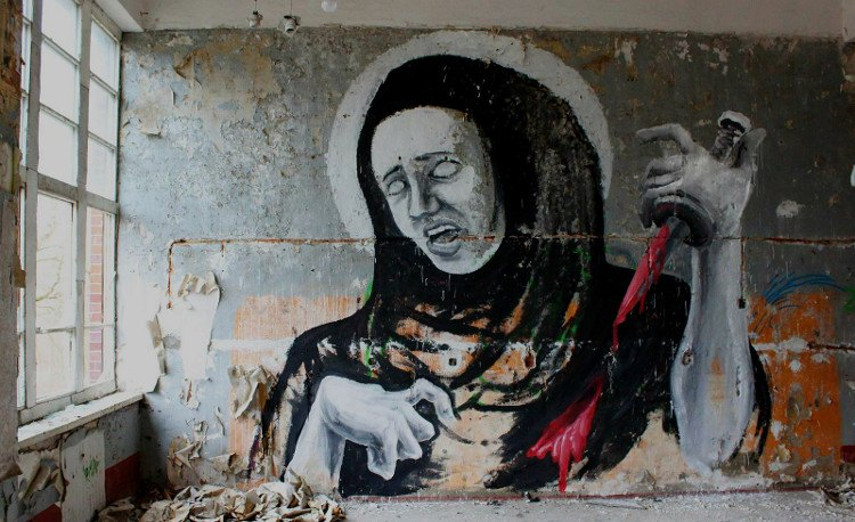 Of All The Places, Why Berlin?
So, why Berlin? Sure, this metropolis is known for its galleries and museums, but the type of the art Alaniz is into does not belong in such places. There must be some reason why an Argentian man would decide to come all the way to Berlin simply to paint graffiti. And it turns out, there is an explanation. For years, the German capital has been described as a Mecca for graffiti artists and that is no coincidence. The origins of street art are so deeply rooted in this country's culture that its beginnings can be traced all the way back to 1961, the year that followed the construction of the Berlin Wall. Out of rebellion, some people looked at the wall and did not see an obstacle but a canvas. By the time they took the wall down in 1989, both sides of this morbid piece of construction were covered with graffiti made by the artists all over the world. This is one of the main reasons Alaniz chose Berlin to serve as his canvas - the idea of graffiti flows through the veins of this city's identity. Although originally from Argentina, Alaniz felt a strong pull to come all the way from the other side of the world and work in a town that breathes street art. And have no doubt, the graffiti are booming here - almost thirty years after the painted Wall has fallen, Berlin has one of the most representable societies of graffiti painters in the world. And at the very top of them stand Alaniz, his work and ideas - I want to be a force for real good. I know that there are bad forces, forces that bring suffering to others and misery to the world, but I want to be the opposite force. I want to be the force which is truly for good.
Some of the best work Alaniz has done can be found in Berlin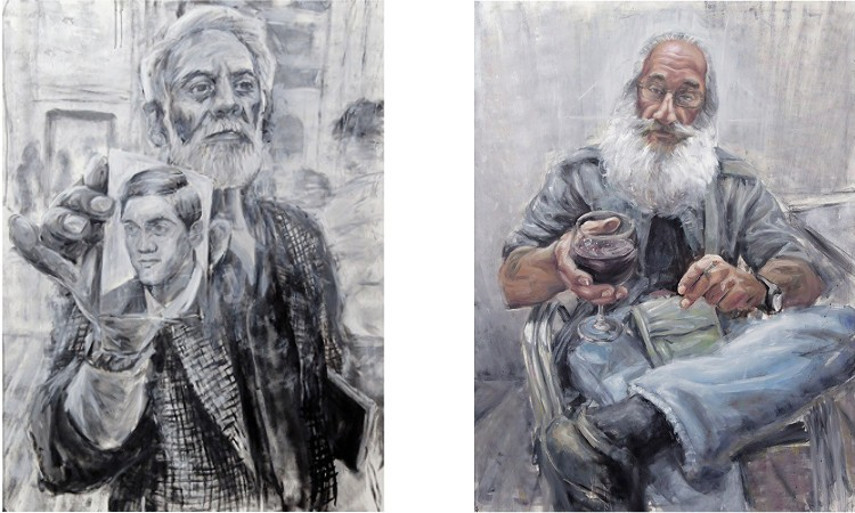 Alaniz's Walls
Alaniz is known for his incredible murals that are both striking to look at and are full of deep meaning. Every single element in them is placed inside with a purpose and there are no excesses - which is pretty logical when you consider the way Alaniz works. Argentinian muralist is among the few Berlin street artists that still creates illegal masterpieces. Even more intriguing is the fact he does not feel the need to hide behind a pseudonym - yes, Alaniz is allegedly his real name, which is pretty bold from him cause revealing such a vital piece of information may lead to his arrest. But, alas, the act of partial revealing and provoking authorities is far greater then the risk it goes alongside with. His art interventions are mostly developed on walls that suffer a lack of maintenance, are cracked or generally unpainted. Alaniz believes that art should be designed in a form of a dialogue – a conversation between the artist and the accidental public – where the artist can talk about anything and everything he deems necessary. The dialogue is not only between the art and the viewer but also between Alaniz and the walls upon which he paints, making it a characteristic triangle of some sorts. The places he goes to paint speak to him, so the artwork he does is entirely defined by the surroundings, what's around him, the materials he finds, the form and textures of the wall, it's become more instinctual and organic. Of his relationship with the street, Alaniz spoke: If you want to paint in the streets, it's pretty much essential to actually know the streets. Then you should at least have an idea about who you're talking to, and what you want to communicate. It shouldn't be a monolog. And if you just carefully look and listen, you'll learn something new immediately. It adds up to your persona… it offers a new mosaic piece of who you are. Every person shares a unique and different kind of knowledge with you, I truly believe that.
Many pieces done by Alaniz focus on fighting the authorities
[caption id="attachment_233700" align="aligncenter" width="855"]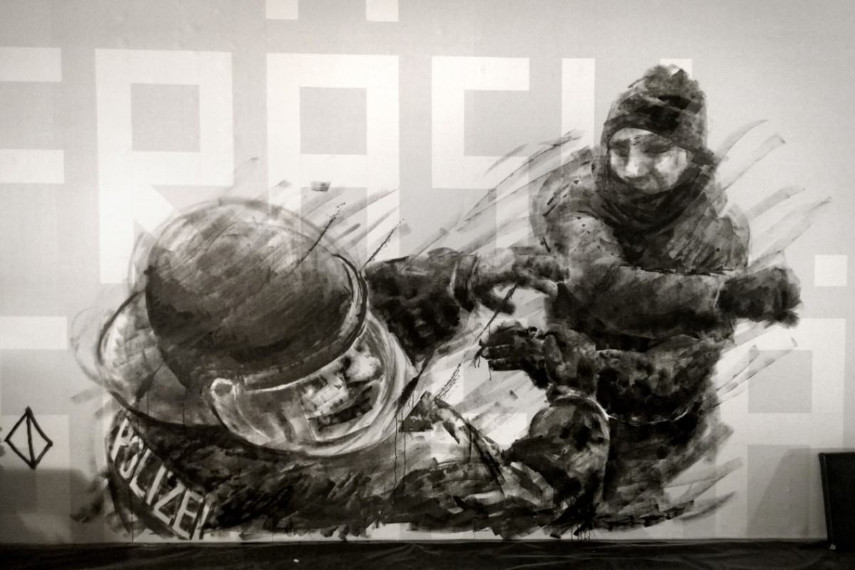 Alaniz - Street Fighters[/caption]
First Solo Show
For his first solo show in Germany's capital, Alaniz is trading big murals and his trademark style of roller bombing in for rather intimate portraits on canvas captured with oil paint. Titled La calle es un espejo (The street is a mirror - taken from a song of the same name), the exhibition is an elaborate visual tableau that confidently puts the focus on the invisible people – protagonists and their stories that live outside the margins of what we'd call a normal life. Based on photographs Alaniz took of the many chance acquaintanceships during his travels and while living Berlin, Alaniz' transition into a gallery space offers an experimental and rather challenging experience instead. I would like to think that my art is defined by context. When I do these roller bombings, I have to work fast and kinda simple because I do them illegally. Having switched to canvases for this exhibition gave me more time to think about how to actually execute a painting. You can put it like this: when you're in a crowded big space, you literally have to shout into someone's ear to make yourself heard. In a small room though, there's no need to scream – you can talk softer and generally be a nicer person, right? It is always a bit unnatural when you see a dedicated street artist such as Alaniz make a step towards displaying inside galleries, but in this particular case, the transportation from outdoors to indoors was pretty successful as his work attracted much attention and was received with positive critiques all around.
[caption id="attachment_233701" align="aligncenter" width="855"]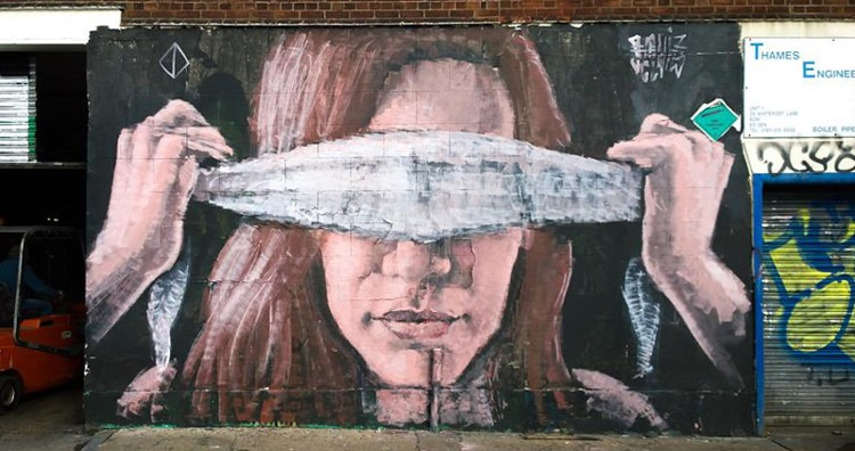 Alaniz - Unveiling the Justice[/caption]
A Legend In The Making
Although Berlin has a special place in Alaniz's heart for the reasons already explained, this artist has also been working on the streets of London, Paris, Rome, Madrid, Barcelona, Mexico City, Ibiza, Chiapas, Belize and Guatemala - which is all the more impressive when you realize he is doing it illegally and remember that his identity remains a complete mystery. It's hard to exactly point out how much we need artists such as this one. In a time when too many street artists are coming out and becoming public persons, we've forgotten how tightly graffiti is tied to anonymity and just how much power it can have when we don't have a clue who painted them. For his brave approach and excellent visual pieces which inspire, we give thanks to Alaniz, a man who might just turn out to be a legend in the making.
Alaniz lives and works in Berlin, Germany.
Featured Image: Alaniz - Death and Lamb - Photo Credits Alaniz
All Images © Alaniz