Coming from the 1980's, the era when traditional media was out of the fashion, thanks to the emerge of performance art and video, Albert Oehlen and his contemporaries, saw the potential in painting as an ideal form through which they could question the art itself. By exploring the texture, language, structure, and experiences he manages to refresh worn genres of paintings like portraiture, collage, and gestures of abstraction. In spite of new technical innovations and criticism, Oehlen has succeeded to maintain old, and explore new possibilities, by experimenting with information and images. In this way new generations will be able to continue with the process of the invention, embracing contemporary approaches and ideas that would generate new modes and styles. His works are the reflection of art and life today, representing contradictions in such a bold way, by bringing together roughness and sophistication, neutrality and color, and emphasizing them all with a touch of hysteria.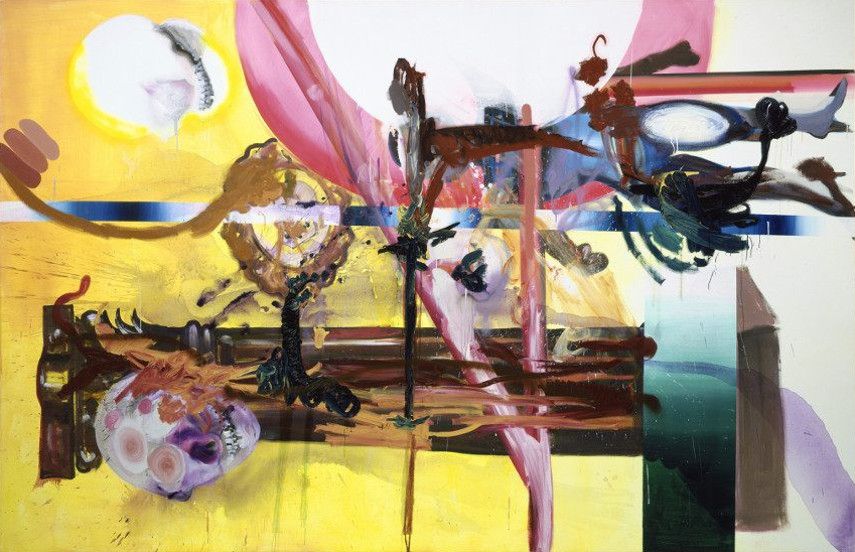 Albert Oehlen's Education and Influences on Art
Oehlen was born in 1954 in Krefeld, Germany. Early in the career, Albert was fascinated with the American Action painting of the nineteen-fifties, defined as the histrionic mode of pictorial rhetoric, which imitates de Kooning, whom he considers a hero. At the beginning, Oehlen was mentored by Joseph Beuys, but there were other Neue Wilde Neo-expressionists that influenced him like Anselm Kiefer, Blinky Palermo, Jörg Immendorff, and of course Gerhard Richter. Oehlen studied art under Sigmar Polke at the Hochschule für Bildende Künste in Hamburg until 1981. Albert Oehlen took up painting in the late 1970's, and soon became associated with the Cologne art scene, in which he collaborated with his brother Markus Oehlen and Georg Herold. After getting acquainted with Martin Kippenberger , and sharing a house with Kippenberger in Spain, in 1988 Oehlen turned to abstraction. He sees abstraction as a form of gesture or geometry, in a superimposed position, sometimes combined or mixed with new figurative shapes. Between 2000 and 2009 he worked as a professor in painting at the Kunst Akademie, Dusseldorf.
Albert Oehlen took up painting in the late 1970's, and soon became associated with the Cologne art scene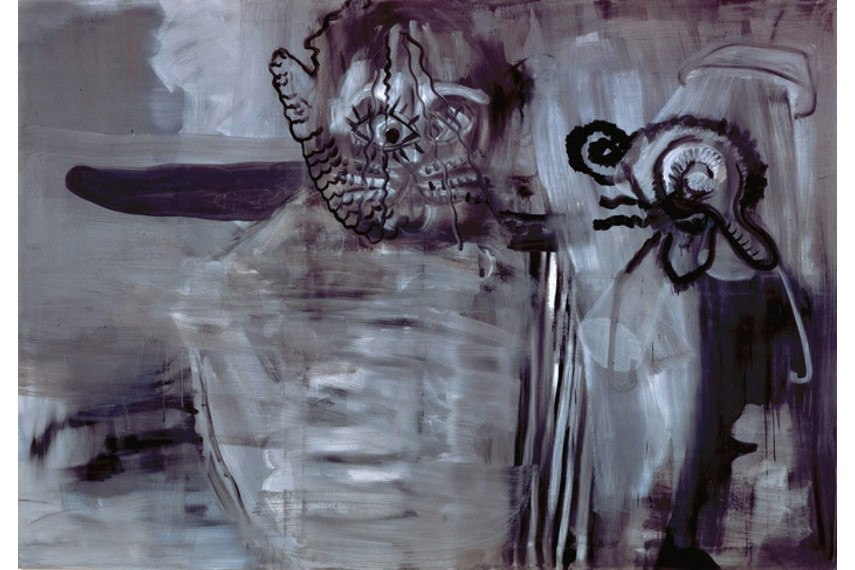 Amazing Techniques and Style
The focus is on the process of painting and unpredictability, where Albert sets certain limits, especially in the pallet of colors, but also adds mirrors to his canvases, and relies on technology to generate designs. In this way, he tries to have a different approach to each work and does not allow himself to be repeated. This german artist is considered one of the pioneers that used simple drawing software on the Texas Instruments computer in 1992 to deploy feverish design in his black & white series. His paintings are to some extent neutral, neither seductive nor beautiful. The accent in his paintings is on eclecticism and impulse, which he ingeniously and skillfully expresses by using tools such as fingers, brushes, and collage. By working in a variety of techniques and imageries, and while exploring mediums as a genre, the artist style varies from abstraction to realism, often imitating and provoking traditional forms and models. In the artwork Kaleidoscope from 1994, Oehlen leaves the comfort zone, by mixing painting with silkscreen and creating unintentional confusion that belongs neither to expressive nor mechanical processes. He became famous for his 'attacks' with oil paint on archaic and digital landscapes, mutating self-portraits, or on interiors. The Abstand painting from 2006 shows the continuity of Oehlen's motives, which combine 1940's and 50's symbols that are mutually exclusive.
He is considered one of the pioneers that used simple drawing software on the Texas Instruments computer

Exhibitions Around the World
The brave approach that includes motifs of technology and sexuality challenge the traditional way of life. Oehlen's work has been shown in solo and group exhibitions in the United States and Europe. His paintings have been held in collections at the Museum of Modern Art, the Skarstedt Gallery, and at the Gagosian Gallery in New York, as well as at the Galerie Max Hetzler in Basel and Berlin. He has also displayed his new art in exhibitions in places like the Galerie Ascan Crone, Hamburg, the Renaissance Society in Chicago and at the Stedelijk Museum in Amsterdam. Oehlen also had a solo exhibition at the Guggenheim Museum in Bilbao, and at the Thomas Dane Gallery in London. His works are also shown at the Nolan/Eckman Gallery, New York.
The artist is represented by the VogelArtedition Gallery in Munich.
He lives and works in Cologne, Germany and La Palma, Spain.
Featured image: Albert Oehlen - Portrait - Photo by Katherine McMahon
All other images used for illustrative purposes only