Alberto Burri was an Italian artist who dedicated his entire career to wiping off the boundaries separating the mediums of sculpture and painting. This solitary artist explained his work as a search for elements that must function as a surface, material and idea[1]. Alberto produced his pieces by creating wounds, cuts and holes on different surfaces, making sure that his art is instantly recognizable to all. Besides the movements of Dadaism, Constructivism and Surrealism, Burri was also heavily influenced by the Italian concept of poly materialism - the ability of the single artwork to contain a variety of material effects.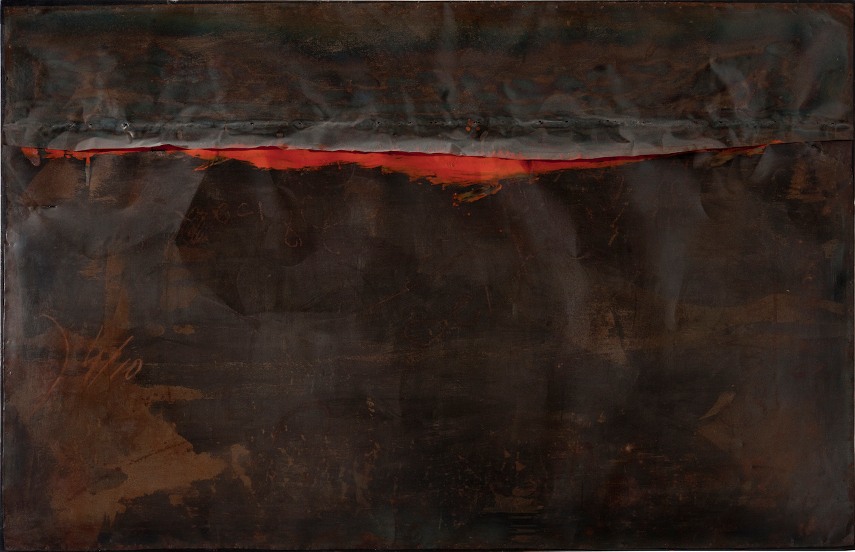 World War II
Alberto Burri was born in Città di Castello, Umbria, during the year of 1915. He was a son of a wine merchant and an elementary school teacher. Desiring to become a doctor from an early age, Burri eventually enrolled at and earned a medical degree from the University of Perugia, specializing in tropical medicine. However, his dreams of helping people took a sudden and unexpected turn as Italy entered WWII - Alberto was enlisted as a medic and sent to Libya to support the ground forces stationed there. Burri served his country for the next three years up until the 8th May 1943, when the Axis forces were defeated at El Alamein. Alberto's unit was captured in Tunisia and he was subsequently stationed at the Camp Hereford prisoner of war camp in Hereford, Texas - it was here that Burri started to paint. With plenty of time to think about the wrongs of his fascistic beliefs, Alberto was transformed into a new man by the experience of being a prisoner of war in an American camp. Instead of letting himself be overcome by sorrow, Burri embarked on a lifelong creative journey. He used the extremely limited materials available to him, converting them into pieces of art underlined by a strong note of turmoil and violence. After the WWII came to an abrupt end, Italy's social situation was bitter and the long years of fascist government took its toll on the nation. Additionally, the right-winged politics and wartime horrors imposed an excruciating cultural stagnation - as a reaction to such a situation, Italian artists started to utilize their work in order to examine both the past and the future of their country. Painters, poets and intellectuals united under one flag and wanted to re-establish Italy as a new art platform and the cultural center of Europe despite their recent involvement with the horrific WWII crimes. Upon his return to Italy, Burri resigned completely from medicine and decided to pursue a career in art.
Alberto Burri used to create his pieces by making cuts and holes on a surface, underlining his art with the note of violence he experienced during World War II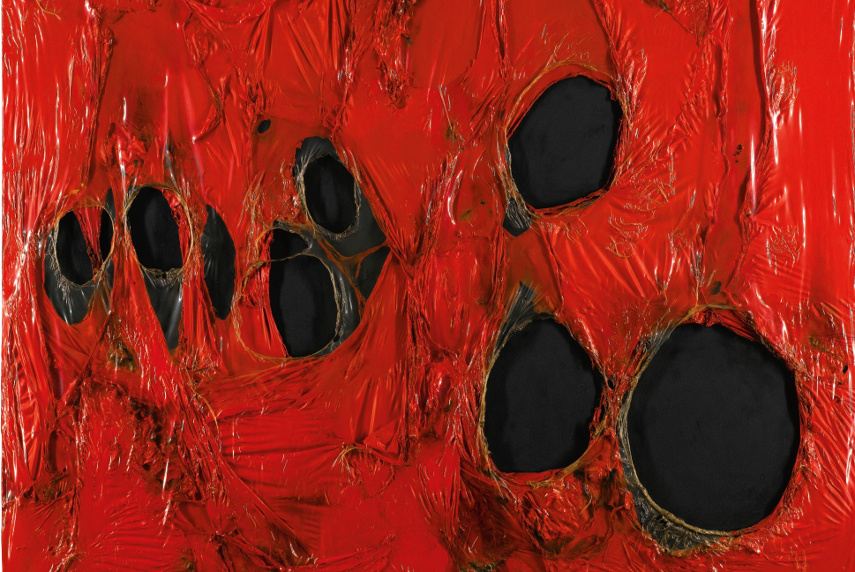 The Art of Destruction
The very first paintings Burri created were depictions of desert views he was able to see from the prison camp, as well as still life compositions. As the famous American photographer and art critic Milton Gendel described in an ArtNews issue published in the year of 1954, Alberto primarily painted nostalgic Umbrian landscapes and figures upon his return. When he came back to Italy, Burri actually continued to use the old burlap[2] sacks he brought from the war prisoner camp - he would use them instead of the canvas, all in order to maintain the aforementioned strong note of violence and war within his art. The burlap was an excellent symbol as this was a cheap and durable material used for tents, supplies, sandbags and camouflage netting during the war. After his release in 1946, Burri moved to Rome and joined his cousin who was a musician. He provided Alberto with an opportunity to connect with the Roman elite art circles. Besides the war time which had its toll on his art, Burri was heavily influenced by Dada and Surrealism as these movements shaped many aspects of his approach to art. He would often travel to Paris in order to investigate how French locals of the past and present resolved the problem of the relief sculpture and painting. Russian Constructionists also played a massive role in shaping the Italian colleague's aesthetics. As his career entered a mature status, Burri examined the uses of non-traditional materials such as wood, tar, plastic, PVC adhesives, cellotex and fabric. In the 1970s, he began his production of cracked paintings, also known as cretti. This only highlighted Alberto's already familiar obsession with the materialism of his works - when one considers that fact, it comes as no surprise whatsoever that he chose to title his works on the name of the substance used to make the piece or the method used to create the desired effect. His techniques included cutting, tearing, melting and stitching the surface of the piece[3], often leaving it riddled with holes. In the later stages of his career, Burri started focusing on a new field of art making - the land art. His most famous project of this kind was placed in the small town of Gibellina in Sicily. Alberto covered an area of over 120,000 square meters, including the most of the old town which was ravaged by an earthquake. Burri called this the Grande Cretto. Alberto was very widely regarded as one of the most important artists emerging from his generation. Burri was awarded the Premio dell'Ariete in Milan, UNESCO Prize at the São Paulo Biennial, Venice Biennale's Critics' Prize and Order of Merit of the Italian Republic. Furthermore, his birthplace of Città di Castello memorialized Alberto with a large permanent museum of his works.
During his mature career, Burri added another artistic field to his work as he started experimenting with land art

Artistic Importance
Burri's influence to Italy's modern art history is extremely significant. He did not only provide the country with the first creative breath of fresh air after the World War II ended[4] but Alberto also approached his work without denying his nation's involvement in the most horrific series of events human kind ever witnessed. Furthermore, Burri channeled all the anger and violence of the World War II into his art, letting it guide all of his creative and visual decisions throughout his career. The wounds, cuts and holes of his pieces remain as one of the most iconic moments art history of the 20th century has to offer, both in Italy and the rest of Europe.
References:
Burri, A., Zorzi, S., Burri Inside Out: The One and Only Interview, Silvana Editoriale, 2016
Smith, R., Alberto Burri, a Man of Steel, and Burlap., New York Times, 2015
Melikan, S., The Painter Alberto Burri's Mad Rush to Destruction, New York Times, 2013
Oisteanu, V., Alberto Burri, The Brooklyn Rail, New York 2011
Featured image: Alberto Burri - Burri in his studio in Case Nove di Morra, Città di Castello - Image via collezionedatiffany.com
All images used for illustrative purposes only.