Although the 20th century has seen exponential growth and discovery on the field of modern science and technology, it hasn't been until the later part of it that we've seen it being used for entertainment as it is today. Often, one would turn to playing a board game for some quality spare time, and if so, Monopoly was likely the game to be played as one of the most famous of the era. The board game is widely known even today, and one artist going under the pseudonym of Alec Monopoly ironically appropriates the famous mascot that denotes financial success, criticizing the system of the billion-dollar bailouts and de-regulations associated with major banks.
Alec Monopoly ironically appropriates the famous mascot that denotes financial success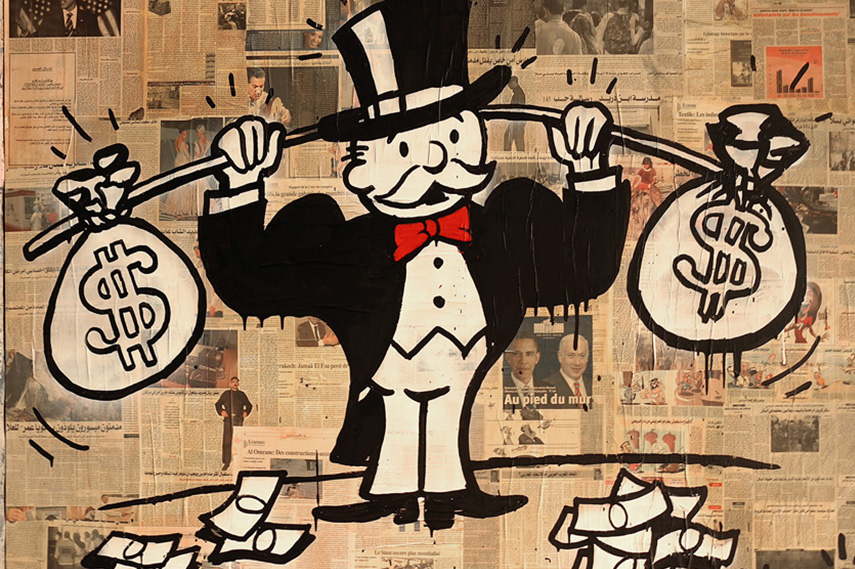 Tuxedo and a Top-Hat
Monopoly is an artist originating from New York whose identity is unknown. Following his aspiration towards graffiti, he moved to the city of Los Angeles in 2006, mainly for its many billboards that allow artists as him to work freely. Although he's been based in LA ever since, his practice took him to Miami, New York, Europe and Asia, and his tuxedo and top-hat are instantly recognizable. The idea for the character was inspired by the stockbroker Bernie Madoff, says Monopoly, and his artistic origins come from his mother, as he had abandoned the traditional academic art in favor of individual methods.
Highly aware of his surroundings, Alec Monopoly instituted a house rule of a sort: to avoid the vandalism aspect of street art. Even though it's changing the world of art as we know it, doing graffiti is still often considered a crime and Monopoly is mindful of it. Staying clear of surfaces that include federal and government property like mailboxes, highways, and freeways, he chooses to express his artistic ways on abandoned buildings and warehouses. More so, he realizes that people who do get to see his work aren't necessarily "graffiti people" or "art people," and he does his part to make his art identifiable with.
Alec Monopoly tries to avoid the vandalism aspect of street art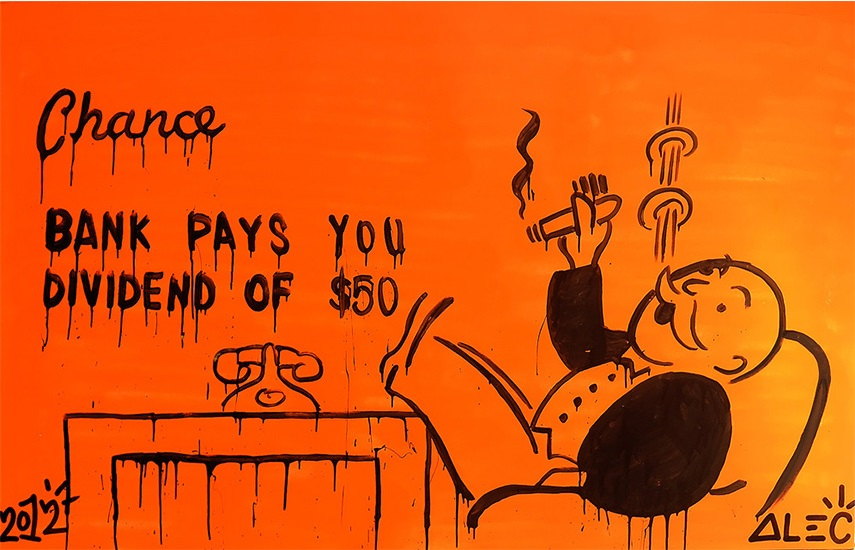 Monopoly's Way of Doing Business
His work often references the current economy status and the issues with bureaucratic hierarchies, and to portray these themes, Monopoly appropriates various pop characters and melds them in with newspaper clippings. Using various materials including stencils, spray paint, varnishes, and newspapers, he merges Pop art with social commentary and cultural criticism, leaving up to the viewers to decide whether he is against capitalism, or if he's embracing it. Using the urban environments of New York City, Los Angeles, and London as his canvas, he's achieved international renown, working on projects like The W Hotel, Vitamin Water, Avicii, and CoverGirl.
Using various materials, Alec Monopoly merges Pop art with social commentary and cultural criticism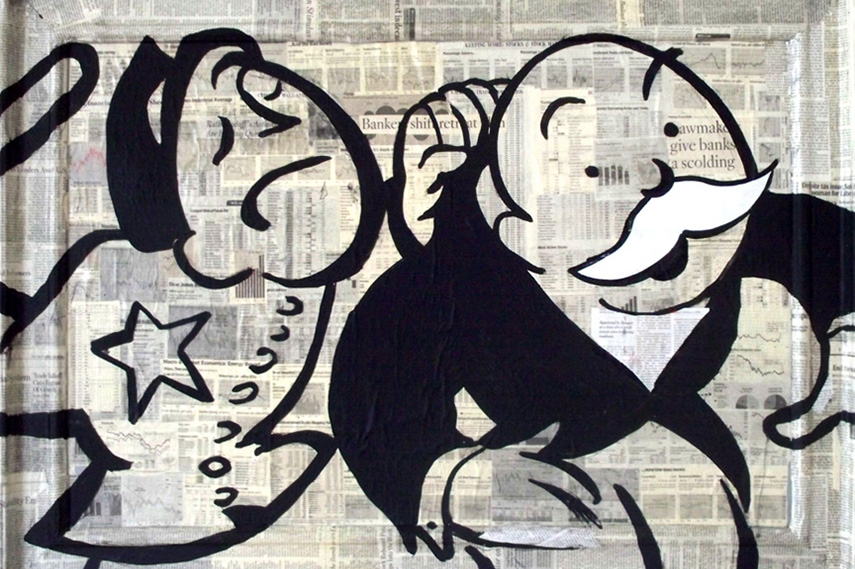 The Face of Monopoly
Although we may not know his identity, his character and graffiti works make as vivid a statement. Appropriating the mascot of the board game as his signature sign, his work brings to the forefront the issue of American collective consciousness and reminds of what the board game was meant to demonstrate: an economical surrounding in which monopolists work with few constraints is worse than the one rewarding wealth creation. Having Banksy as a role-model and Mr. Brainwash as a mentor, his artwork is some of the most wanted on the current art market, bringing together visual aesthetics and social awareness.
Monopoly lives and works in Los Angeles.
Featured image: Alec Monopoly. Photo credits youtube.com. All other photos credit alecmonopoly.com.
All images used for illustrative purposes only.