Alessando Gallo is an Italian contemporary artist, born in Genoa, Italy in 1974. He lived many years in London, United Kingdom, where he studied art and worked as a painter and decorator. Gallo is renowned for his anthropomorphic, hybrid sculptures, consisting of human bodies and animal heads. The figures have become widely popular in Europe. Apart from the clay sculptures, Gallo still paints, draws and does digital collages, which are later screen-printed on paper in a studio in Genoa, Italy.
A sculpture inspired by Japanese folklore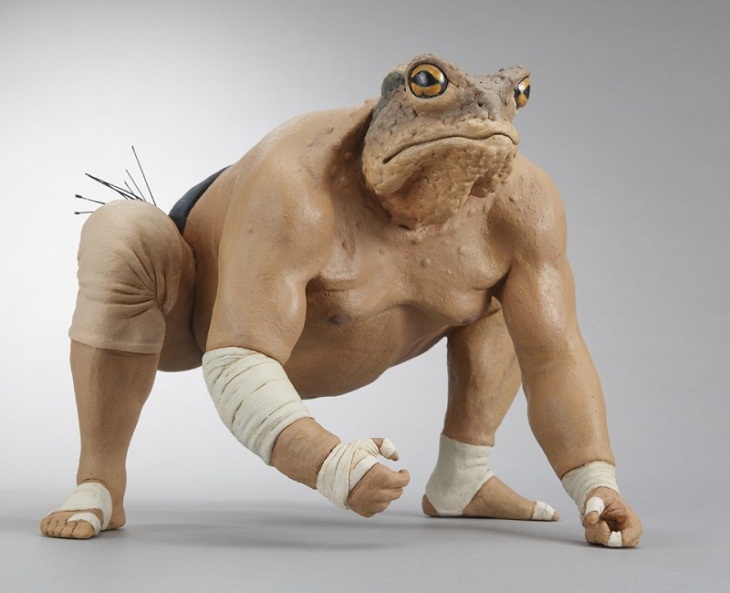 Early Career
Gallo attended University of Genoa in Italy, where he studied law and earned his degree in 1997. He enjoyed painting and drawing, although he didn't have any formal training. Later on, at the age of 24, he moved to London and enrolled at Saint Martin's College of Art in London, United Kingdom, where he took a foundation course. After that, he received a Bachelor of Arts degree in Fine Art from Chelsea College of Art, in London, United Kingdom, in 2002. During his studies, the artist was working as a painter and decorator. That is when he started experimenting with digital photography and creating digitally manipulated images of animals set in familiar city setting. Using Photoshop, he would place polar bears on a subway platform, walruses in Trafalgar Square and goats in South London, in order to convey a humorous message.
Alessandro Gallo's Anthropomorphic Figures
By the year 2005, his two-dimensional images started turning into three-dimensional figures and receiving their physical presence. The first piece he created was a donkey wearing a suit, with his hands in the pockets. Adriano Leverone, an Italian sculptor taught Gallo about sculpting the clay in his studio near Genoa, Italy and Gallo still seizes every opportunity to work with him. The clay sculptures are anthropomorphic, half-animals, half-humans. Their bodies are human, but heads belong to animals – donkey, horses or birds. The sculptures are around two feet tall, and highlight the links between the human and animal worlds, as we can see in his sculptures Turkey Vulture and Beginning of a Great Adventure, which show a vulture searching garbage and a pregnant rabbit. Although they are undoubtedly surreal, these figures are in the same time rooted in realism and set in familiar contexts – you can find them sitting on a park bench or in a train. The sculptures are realistic to the extent that they have tattoos and folded clothes. The only thing that makes them surreal is the fact that they feature a donkey in a suit, a snake reading the paper and a frog clutching a shopping bag. Alessando Gallo begins his artistic process by taking photographs of a model from all angles, and then uses the photographs and images of animals to blend the two into a convincing hybrid. The artist enjoys working in clay, which he deems the perfect medium for his figures. He finds clay versatile and challenging medium, as it is both frail and solid.
Metro, Gallo's portrait of London Underground's Northern Line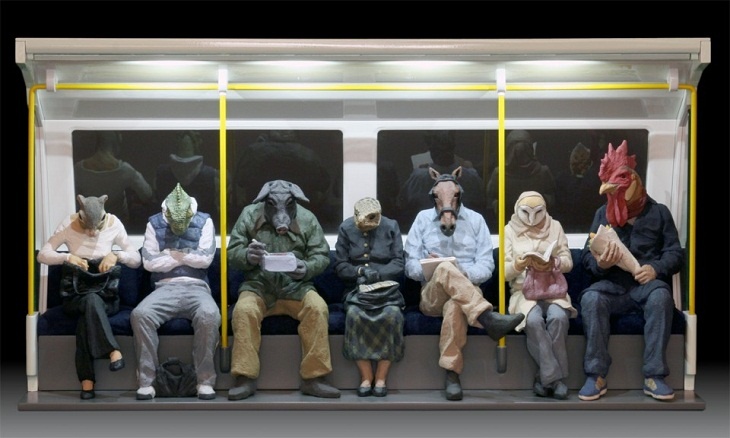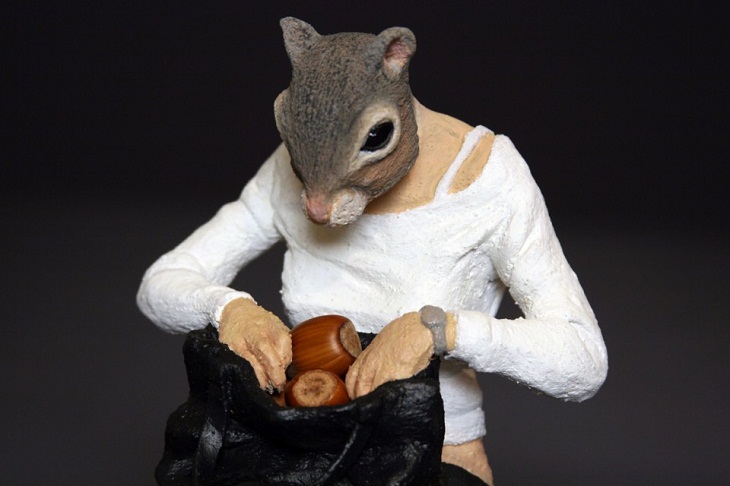 Awards and Residencies
Gallo was the recipient of first place grant from Virginia A. Groot Foundation in 2012. In 2013, he was invited to 'LH Project' Artist in Residence Program in Oregon, United States, as well Artist Residency Program in Red Lodge Clay Center in Red Lodge, Montana, United States. Also, in 2013, he traveled to Japan to be Artist in Residence at Foundation of Shigaraki Ceramic Culture Park in Shigaraki. Before that, in 2012, Allesando Gallo was invited to Seto International Ceramic and Glass Art Exchange Program, organized by A.I.R. Seto Ceramics and Glass Art Center in Seto, Japan. In 2010 and 2011, he was Visiting Artis at Lillstreet Art Center in Chicago, Illinois, United States; and Pottery Northwest in Seattle, Washington, United States. In 2012, 2008 and 2007, he had a summer residency at La Meridiana, Firenze, Italy, an international clay center where he studied and worked.
Exhibitions
Alessandro Gallo has exhibited his works around the world. He had solo exhibitions in the United Kingdom and Italy, at Jill George Gallery in London and Marco Canepa Gallery in Genoa. He has participated in numerous group shows, in the United States, Italy, the United Kingdom, Holland and Japan. Some of the venues where he exhibited include Saatchi Gallery in London, United Kingdom; Terra Gallery in Delft, Holland; Barry Friedman Gallery in New York, United States, and Mindy Solomon Gallery in Philadelphia, United States. The artist has also participated in many art fairs. In 2011, his work was featured at the 54th Venice Biennale.
Strani Incontri
Strani Incontri, meaning "strange encounters" is the name of Alessandro Gallo's debut solo show in the United States. The exhibition was hosted by Jonathan Levine Gallery in New York, and the artist exhibited his new works which are expertly reproducing human and animal anatomy, blending the two in order to make a convincing hybrid. "Strange encounters" is the name which perfectly describes the feeling that one has when viewing his large-scale clay figures. They are uncomfortably strange and unexpected due to the fact that these hybrid creatures show human behavioral patterns and physical attributes. They are riding the subway, checking their phone, waiting and doing usual everyday activities. The animal presence in the mundane minutia can be linked to adages "sly as a fox" or "stubborn as a mule", the adages which exist in every culture. Animals can have specific associations for the viewers, they impersonate abstract characteristics in numerous fables and stories.The artist skillfully uses the associations between animals and certain emotions in order to create psychological portraits which relate to these emotional states.
Works from 2014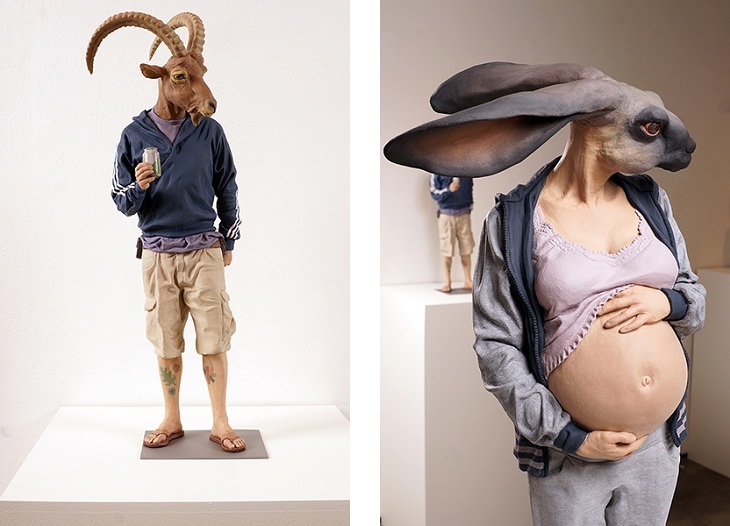 Influences
Alessandro Gallo believes that his nationality inevitably influences his work, as well as being an inhabitant of London for many years. Rather than being influenced by a specific name in the field of visual art, he seeks his inspiration in movies, books and music.
The artist is represented by Jonathan Levine Gallery in New York, United States.
Allesandro Gallo currently lives and works in Helena, Montana, United States.
All images copyright © the artist