The eyes are windows to the soul, or so they say. However, the eyes in Alex Garant's artworks are so much more. They will make you think about yourself, your youth, the choices you made, all of that while you feel like you're walking in a hall of mirrors, and in all of the reflections is you. Paintings possess the certain autobiographical moments from the artist's life, but they are also meant as a means to make the viewers think about themselves. Queen of Double Eyes is saturating her canvases in visual stimuli and is clearly overstimulating her audience, creating pieces which both excite and overwhelm all at once.
The artist creates pieces which excite and overwhelm at the same time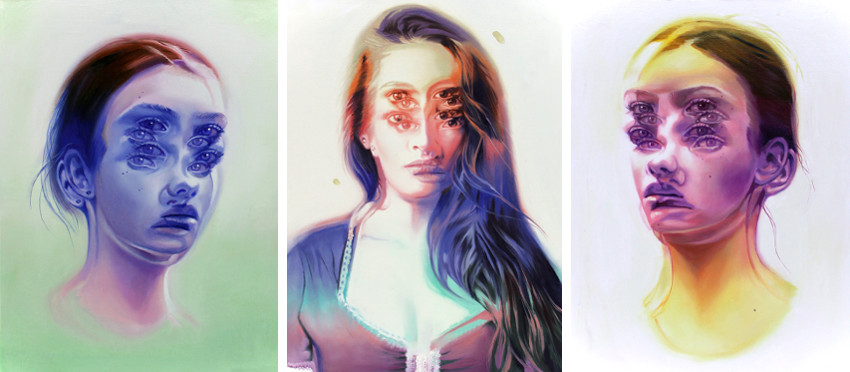 Realistic and Surreal
The way she creates makes her painting realistic, but surreal at the same time. Traditional techniques of making portraits are combined with graphic quality, making her artworks widely recognizable. The core of her work is the pattern, she will duplicate elements, use symmetry and image superposition, creating an almost perfect optical illusion. The figures are trying to escape themselves but are also given some of the artist's soul. It's a very distinctive version of combining two persons, using a model as a beginning point, but also enriching the artworks with Garant's own feelings.
The paintings are enriched with artist's own feelings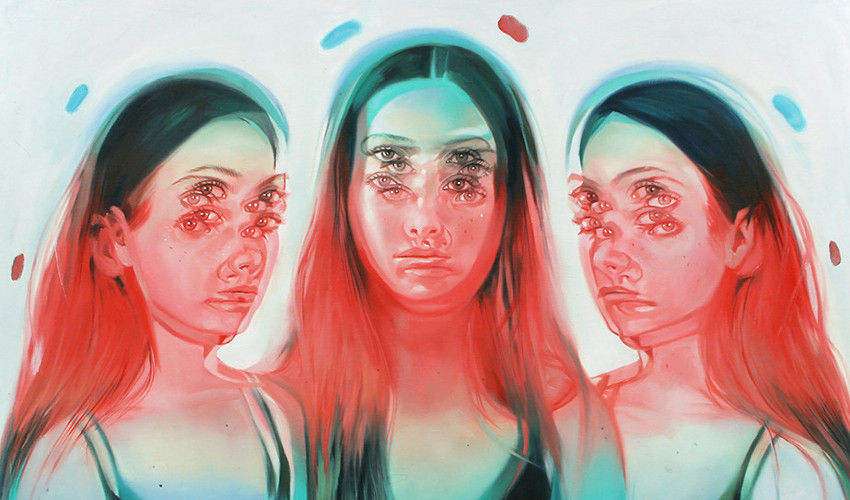 Challenge the Viewers
The idea behind Garant's work is for artworks to become an extra-sensory experience and to challenge the viewers to adjust and adapt so they could comprehend the pieces. Beginning with a regular portrait in pencil, the same portrait is added, and then the artist plays with superposition until the balance is achieved. The sketches are then transferred to canvas and Garant can start painting. She works alla prima, so the both images are painted at the same time.
Also, in the time when self-portrait (selfies) is a part of people's daily habits, the artist wants to push the limits of portraiture in two-dimensional media. Applying her techniques makes something banal transform into extraordinary.
The artist is turning banality into extraordinary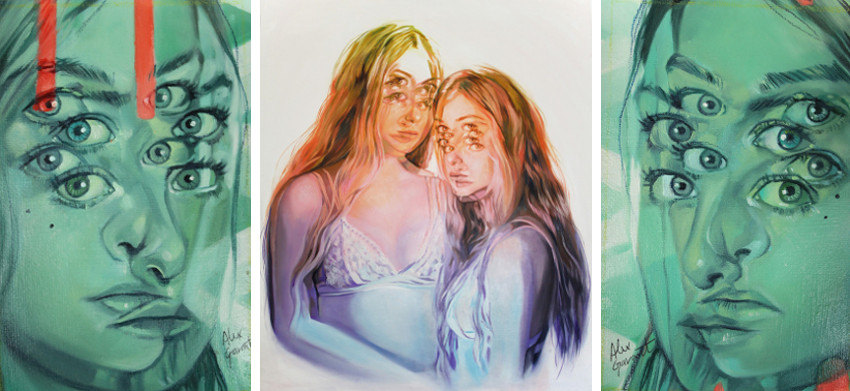 Between Hallucinations and Psychology
Her second solo exhibition (third coming in July in Portugal), called Wakefulness, is being held at the Spoke Art gallery. It will be on display until February 27th, so if you're nearby, be sure to check it out. The recent work is placed somewhere between hallucinations and psychology. The idea of traditional beauty is somewhat twisted, as the viewers find the artworks undoubtedly beautiful, but just can't look at for too long. There is a continuation is portraying only females, as she is keeping her work autobiographical to an extent. Garant is describing the paintings as deeply personal, and they are completely relatable, both to Alex and the viewers.
The idea of traditional beauty is twisted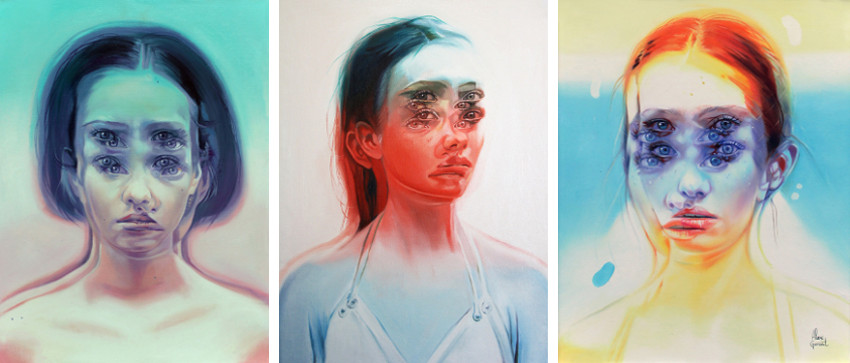 Survivor
Garant remembers her childhood when her mother drew faces so she could paint them with wax pastels. The artist recalls with those female faces with full lips and big eyes. Those memories, in combination with the idea of self-portraiture, marked her career. She studied Visual Arts at Notre-Dame–De-Foy College, just outside the Quebec City, where she graduated in 2001. Unfortunately, she had a heart attack in 2012, and that really made Garant open her eyes and realize that life is too short. So, she decided to do what she loves and what fulfills her, and that is painting. Now she leads a healthy life, goes to the gym and does what she loves – paints. Actually, the gym has become such a big part of her life, allowing her to reset both physically and mentally and helping her to channel the energy positively. Queen of Double Eyes is a nickname given to her by a friend, after seeing some of her works.
Heart attack made Garant realize that life is short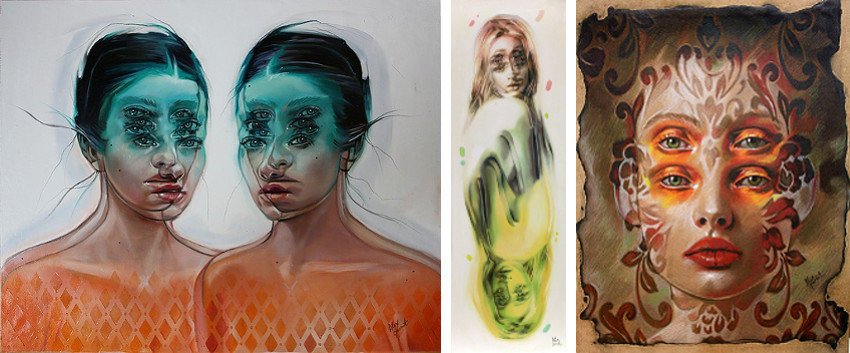 Let the Journey Begin
It was very unfortunate that Alex Garant had a heart attack, but she survived and came back stronger. Something wonderful came out of it, as she decided to completely turn to art, and question the standards of beauty. Her unique pieces make the viewers have a hard time focusing on a face of each figure portrayed. By simply looking at her paintings, a journey begins. The journey that will make you get to know yourself, but also the artist. Sure, it is difficult and overwhelming, but don't get discouraged. Just open your eyes and look.
She is represented by Spoke Art Gallery in San Francisco, USA.
Alex Garant lives and works in Toronto, Canada.
Featured image courtesy of Spoke Art gallery and Shaun Roberts.
All images copyright © the artist.