Alex Gross is an American painter, established in the Pop Surrealism movement. He was born in Roslyn Heights, New York in 1968. The band Blond Redhead used his artwork on the cover of their album 23. In addition to that, the writer Haruki Murakami's national bestseller After Dark, published by Vintage Books, also features Gross's work on its paperback version.
He went to Art Center College of Design in Pasadena, California, where he obtained his Bachelor of Arts in Illustration with honors in 1990. Having started as an illustrator, Gross did commercial work for many years, but now his focus is on his personal artwork.
2013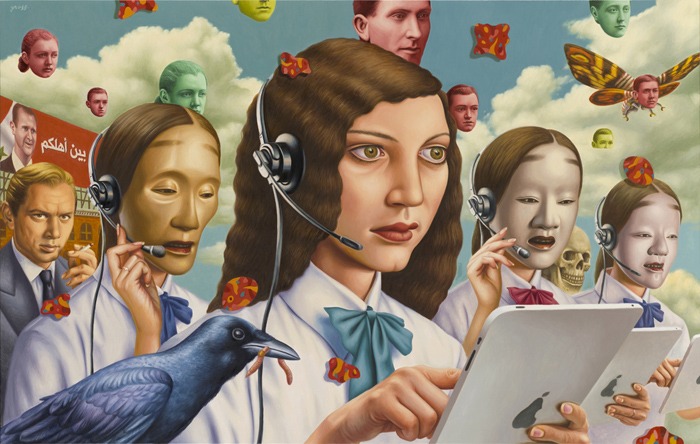 In 1998, the artist went to Japan on vacation and was so inspired, that he applied for different grants and fellowships in order to get a chance to return to Japan, and collect more of the Japanese art, which proved to be critically important for his development as an artist. He found the culture and history of Japanese art fascinating. He liked the old woodblock print art and their commercial art history, such as movie poster designs and magazine advertisements. In 2000, Gross went to Japan and spent two months travelling the country, since he received a fellowship from the Japan Foundation. During that time, as research for his own artwork, he collected a wide range of Japanese art. Going to Japan was a life changing experience for the artist and majorly influenced his work. In 2004, Taschen published some of the pieces from his collection and entitled it Japanese Beauties. Alex Gross also received several faculty grants from Art Center College of Design.
Work
Gross is known for his gallery work - oil paintings on canvas and mixed media, which include oils, acrylics and collage. His pop surrealist figurative painting focuses on globalization, advertising, consumerism, and the passage of time. His works reference comic books, classic television characters, and other pop imagery. In that way, the artist succeeds in creating a blend of propaganda, advertising and Surrealism. His goal is to provoke the viewers to think about the effects of branding on their lives and the way they make decisions. It seems to the artist that technology has been developing with the only aim to facilitate promotion of consumption and spending. His works show people who stare at their phones, resembling zombies, or men and women, holding phones, cigarettes and drinks, representing the consumer society. To show that he is not immune to the power of branding, technology and social media, the artist painted a piece entitled Narcissism, which shows a multitude of his self portraits texting, eating junk food and reading a tabloid magazine.
2014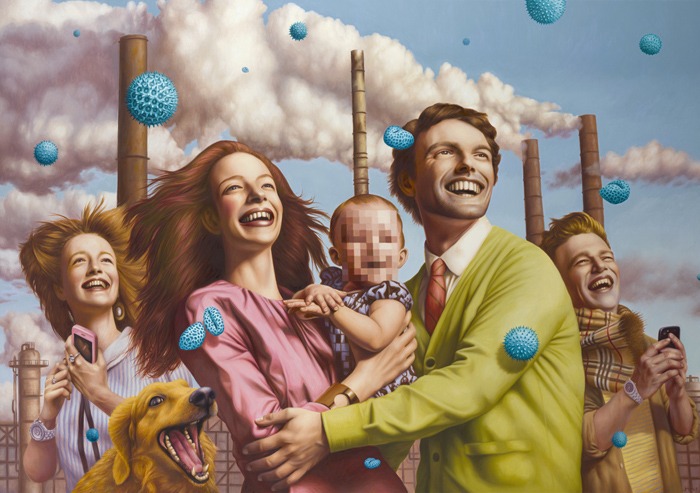 Teaching
Gross taught at the school he finished, Art Center College of Design in Pasadena, California, for over ten years. The list of his talented students includes Jeff Soto, Saelee Oh, Justin Wood, Daniel Lim, Ana Bagayan and Yoko Tanaka. The artist found that being a teacher was a wonderful opportunity to witness the creative development of his gifted students and learn about art in general, and about himself.
Books and publications
A monograph entitled The Art of Alex Gross, which features his paintings, drawings and prints from 1999 to 2007 was published in 2007 by Chronicle books. The introduction was written by Bruce Sterling, Science Fiction author. In 2010, the artist's second book about fine art came out, with the introduction by former LA Weekly Art critic Doug Harvey. It was entitled Discrepancies, and published by Ginko Press. The third book, Now and Then, The Cabinet Card Paintings of Alex Gross, comprising 98 mixed media paintings, was also published by Ginko Press in 2012. Ginko Press published one more book by the artist. His fourth book, Future Tense, Paintings by Alex Gross, was released in 2014. It consists of 96 pages, an introduction by Caleb Neelon, and 40 paintings, which were created between 2010 and 2014. It was released at the same time as Gross' solo show at Jonathan Levine Gallery in 2014.
Numerous publications wrote about his works. Some of them include Juxtapoz, Communication Arts, Los Angles Magazine, the book Pop Surrealism, Huffington Post, the Los Angeles Times and the magazine XFUNS from Taiwan.
2014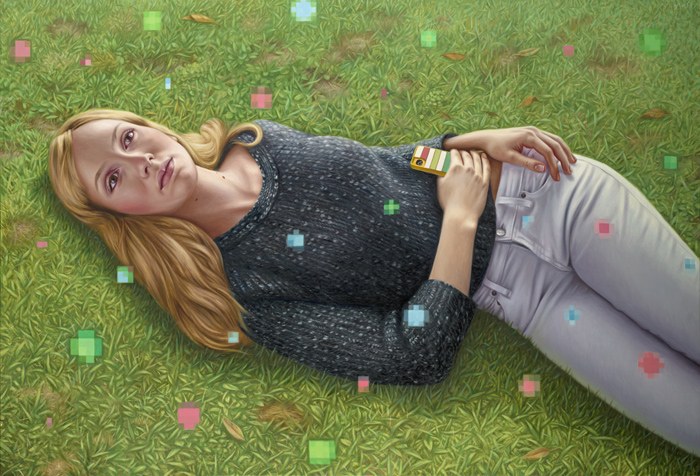 Exhibitions
His works from different periods of his career were exhibited in a retrospective museum show which was organized by California State Fullerton's Grand Central Art Center in Santa Ana, California, in 2007. In 2008, his works were on display at Laguna Art Museum, and featured in a catalog In the land of Retinal Delights. He has had a number of solo exhibitions at different galleries, and participated in numerous exhibitions. The venues where his works were exhibited include Copro Gallery in Santa Monica, California; Merry Karnowsky Gallery in Los Angeles, California; Roq La Rue gallery in Seattle, Washington; and Track 16 in Culver City, California. The 2012 solo exhibition entitled Product Placement explored advertising in everyday life, branding, globalization, consumption and love. The works on canvas, panel and paper media included typographic elements, which brought the attention to the fact that there are brand-sensitive aspects of culture in our society. The 2014 exhibition entitled Future Tense was Gross' fourth exhibition at Jonathan Levine Gallery. The new series presented a world overwhelmed by advertising, addicted to technological devices and branded products, and unable to escape corporate influence and be present in the moment. It depicts the contemporary society and its psychological state. Apart from works on canvas, the exhibition included the artist's cabinet card paintings. These paintings are a series of works created on antique Victorian photographs from the 1880s and the early 1900s. Alex Gross, using mixed media, portrayed the characters in the portraits as pop culture characters from film, comics and television.
Influences
Apart from Japanese imagery, the artist has been influenced by a lot of musicians, especially Radiohead. Music affects him deeply, and the band has been the greatest creative influence on his work. Apart from music, Gross is inspired by movies and other visual artists, usually painters. The list of his favorite artists includes his friends Aron Wiesenfeld, James Jean, Jeff Soto and Ben Mara.
2015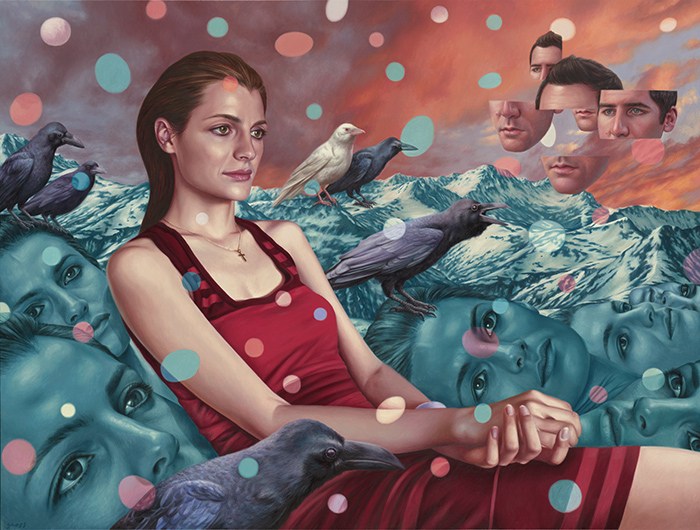 In October 2019, the artist is releasing Transformations, a follow-up release to his popular book Now and Then, capturing the before and after of antique cabinet cards reimagined into fantastical contemporary pop characters.
He is represented by Jonathan Levine Gallery in New York.
Alex Gross lives and works in Los Angeles, California.
All images copyright © the artist