An interest in art usually develops at an early age. We have seen countless stories of successful artists that started their life journey simply by drawing when they were three of four years old. Alex Hoffmann, a German contemporary artist, did not enter this magical world like that. When he was 16, a little bit late (but certainly not too late), he was introduced to graffiti and was immediately hooked. Now he deals with things that are raw, rough and primitive. These unadulterated and essential ancient rites, past and forgotten cultures dominate in his oeuvre.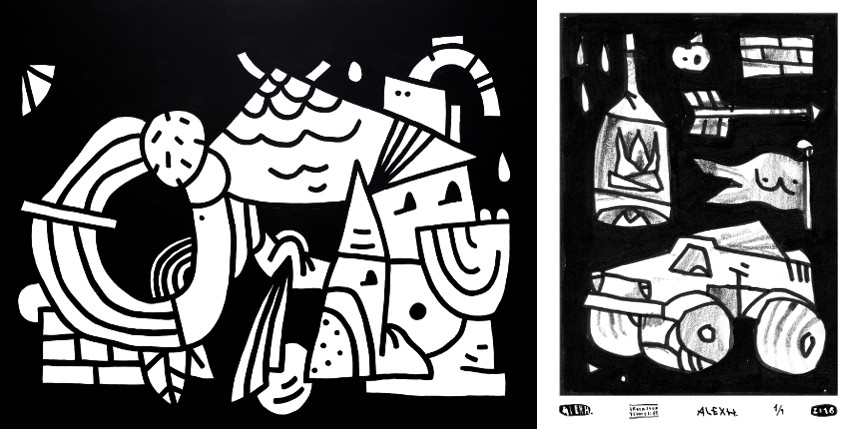 Biography and Inspirations
Born in Landau, Germany, and after being exposed to graffiti, Hoffmann was faced with his fast-growing interest in interior design, but also the other mediums and unusual music. Around that time the idea of studying design and illustration was born, and he got into the Hochschule der Bildenden Künste Saar, where he graduated in 2015. Danny Fox, Miroco Machiko, Stefan Marx, Kinki Texas, and the omni-present Basquiat are among his artistic influences. With firm goal of forcing himself of finding new ways to create pieces that are more and more original, raw, direct, not conceptual, naive, primitive. In terms of inspiration, nature plays immensely important role for him. Since he loves to hike, he goes to these trips at least twice a year. For a brief period of time, everything cams down, and the painter begins to feel humble. His mother is also very inspirational to him. Being a type of person that is able to manage everything looks easy, she constantly smiles and spreads positive energy, despite having worked very hard her whole life. The themes that the artist usually tackles in his work are the things that are somehow mystical, such as amphorae, daggers, helmets, snakes crawling around, etc. Without establishing relationship with the background, he is just interested in the feelings those things can create. Sometimes the pieces feel as a stretch of time in the present, when everything stops for a second and there is unmistakably a feeling of infinity.
The artist is a master at discovering what are the feelings created by the themes he's interested in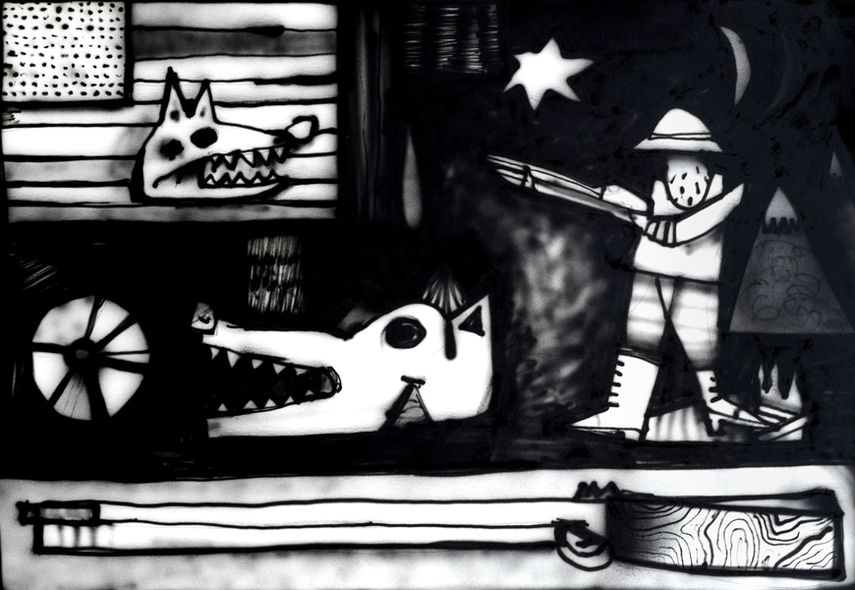 An Artist That Finds Beauty by Mixing Genres
Speaking of his style in terms of techniques, mediums and materials used, the artist most often creates pieces that are simple, monochrome, black-and-white, direct, honest, and with a lot of contrast. As for the materials, there is graphite, liquid acrylics, oil sticks – in fact everything that can be used to create different textures. Being a full-time tattoo artist, his day is pretty much packed from an early morning. Quite often he just works impulsive, starting with a freestyle directly applied on a large scale surface. Sometimes these pieces turn out great and sometimes they appear bad, so he has to start again. Hoffmann needs to work fast, and he never spends several weeks on one canvas, not even several days. The drawings on a super small scale have also caught his attention, with details being limited, before re-scaling the piece, increasing its size. In September 2016, he's going to have his first major solo exhibition at the Galerie Neuheisel, titled After the World Ends. The title itself describes the mode that is the basis of his work. What will happen after the world ends? After the explainable end, where the subjective reality disappears and spontaneous thoughts and energies dominate our perception.
He is represented by Galerie Neuheisel.
Featured image: Alex Hoffmann – portrait
All images courtesy of Galerie Neuheisel