Is there a connection between art and math? At first glance, they are not so similar. First dealing with emotions, the latter with numbers. And yet, both somehow address the issues that no words can resolve or even approximately describe. Alex Kanevsky is a contemporary representative painter, born in Russia, educated in Lithuania, and currently living in the United States. Influenced by some parts of both Russian and European culture, on one side, and the American culture, on the other, he was ultimately artistically shaped by his inability to fully identify with either of those completely.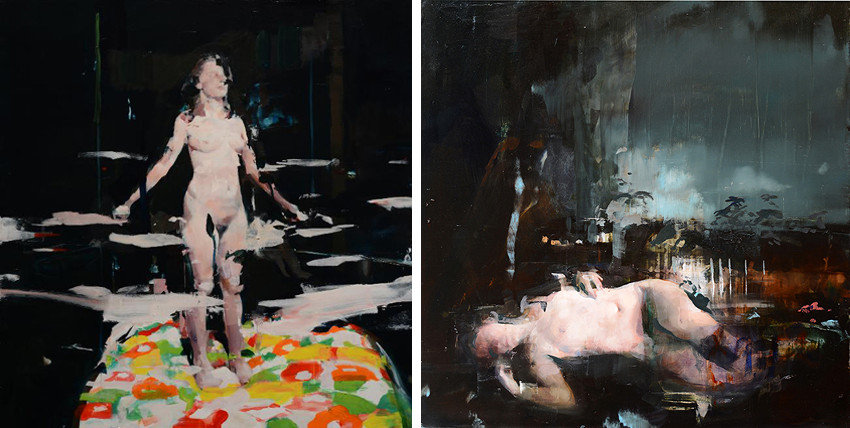 Who is Alex Kanevsky
As mentioned above, the painter was born in the provinces of Russia and studied Mathematics at the Vilnius University, Vilnius, Lithuania, where he graduated in 1983. Having been fortunate to departure Europe at the right moment of his development (well familiar with the traditions of Russian and European painting, but reluctant do dedicate himself to working that tradition), he arrived in the United States, where he studied at the Pennsylvania Academy of the Fine Arts, Philadelphia, PA, graduating in 1993. With one foot in Russia and Europe and the other in the USA, the issue of being only half-formed artist gradually evolved into "a liberating situation where I did not feel particularly deeply indebted to either culture, so I had to create my own artistic environment in which to function."[1] At this point of his life, he feels very connected to the American way of living, its art, literature, music. He enjoys it all and it's a big part of who he is as an artist, be hasn't grown out of it, so he is actually free to pick and choose how seriously he wishes to take any aspect of it.
Alex Kanevsky has created his own artistic environment in which to function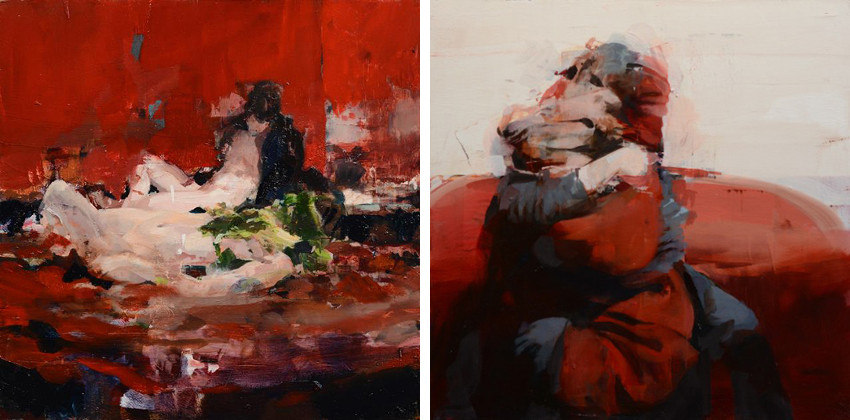 Personal Style
After winning the Pew Grant, he was able to dedicate all of his time to painting, and it resulted in evolution of his art, easily recognizable in his work. The idea of continuity dominated his thoughts ever since, and he "realized that I was now committed to this kind of life and would rather be very poor, but paint every day than return to the part-time world."[2] Asked about his style, he replies he's not sure that he even has a style, stating that the fashion industry deals with that sort of stuff as they constantly try to make something stand out in the world where pretty much is all the same. Compared to that, he is an artist, without goals of making a product. As a painter with a unique view on the world, he's trying to arrive at the extreme clarity of that view and then tries to find visual means, capable of expressing that clarity. If somewhere along the way, his work obtains any recognizable traits, they are "mostly a byproduct of always trying to be very clear and concise about my personal view of the world."[3] A naïve painter (as he describes himself), he works with first-hand experiences, untainted by the process of self-analysis.
He is represented by Dolby Chadwick Gallery in San Francisco, USA.
Alex Kanevsky lives and works in Philadelphia.
References:
Seed J. Alex Kanevsky: 'Unstable Equilibrium' at Dolby Chadwick Gallery, The Huffington Post [September 7,2016]
Plotkin N. Interview with Alex Kanevsky, Painting Perceptions [September 7,2016]
Anonymous. Alex Kanevsky Is 'On Our Radar': Philadelphia Painter Reveals Why An Art Career Kills All The Fun, The Huffington Post [September 7,2016]
Featured image: Alex Kanevsky – J.F.H. with Four Doors (detail)
All images courtesy of the artist