An iconic figure of the 20th century New York scene, Alex Katz is an American painter and printmaker who developed his highly stylized visual vocabulary as a reaction to the ideas of Abstract Expressionism that were blossoming in the United States during the 1950s. Katz's brightly colored, large-scale figurative and landscape paintings are rendered in a flat style that oftentimes resembles the aesthetics of the everyday visual culture commonly found in advertising and cinema - a feature that regularly linked Alex to the norms of Pop art despite the fact his work predates this movement by a relatively big margin. Throughout his career, Katz has managed to avoid any sort of deeper or psychological level within artworks, instead opting to simply portray what he loves the most in this world - his family. That way, he was able to develop his simplistic style and allow the visuals to become the core of every artwork[1], offering a Pop-like and refreshing approach to art making.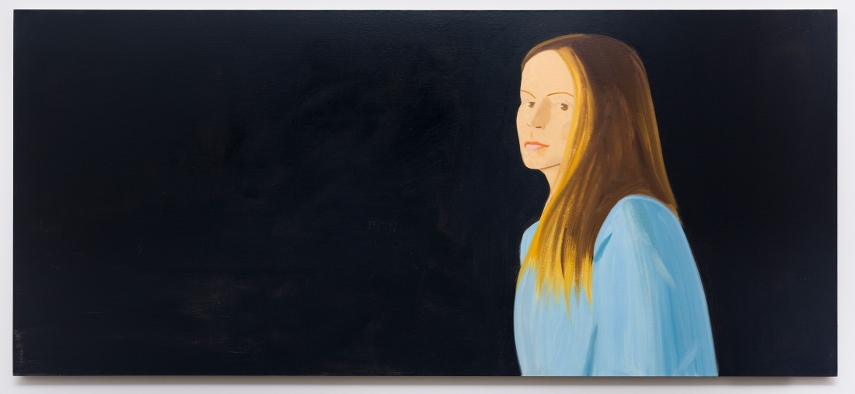 The Road to His Own Style
Alex Katz was born in the year of 1927 to a Jewish family living in Brooklyn, New York[2]. A year after his birth, the Katz household relocated to St. Albans, Queens, where Alex spent most of his childhood. He attended classes at the Cooper Union in New York before enrolling at the Skowhegan School of Painting and Sculpture in Maine. The Skowhegan institution exposed the aspiring artist with a concept of painting from life - an idea that will prove to be pivotal when Alex develops as an author. Furthermore, Katz himself admitted that the Skowhegan's plein air practice gave him a reason to devote his life to painting. From 1954 to 1960, Alex made a number of small collages of still life compositions, local Maine landscapes and small figures[3]. Slowly but surely, he was developing his own particular style - a process that requited him to destroy over a thousand of his paintings created during the first ten years of his career. This interesting fact was admitted by the author himself and it was, as he explained, all in an effort to reach his own perfect style. In the year of 1960, Katz had his first and only son, Vincent.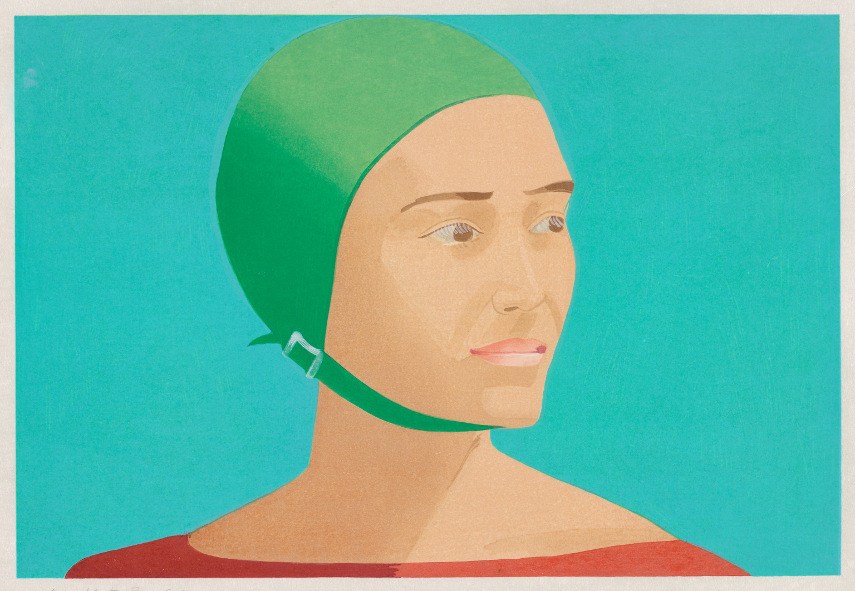 Alex Katz's Lack of Complexity
Since the time of the 1950s, Katz experimented with the idea of painting faster than he can think. His artworks from this era are simple, but according to Katz they are much more reductive than any other collection of his pieces ever made. His themes were also simplistic as he was avoiding adding any psychological element to his work - Alex explained such a decision with the following: The one thing I don't want to do is things already done. As for particular subject matter, I don't like narratives, basically.[4] Although he worked for years prior to that period, Katz reached great public prominence in the 1980s when he became known for his large paintings whose striking simplicity and the heightened sense of colors are now seen as early precursors to Pop Art. His pieces are usually divided into the genres of portraiture and landscape as these are the focal points of Alex's body of work. All of these artworks are defined by their flatness of both the color and the form, sporadic use of lines and the surprisingly seductive emotional detachment. One of the few main sources of inspiration Alex told was a factor in his own art was the woodcuts produced by the Japanese artist Kitagawa Utamaro.
For the majority of his career, Alex Katz claimed that his art is only concerned about the surface, both in terms of flat painterly fields and the absence of psychological complexity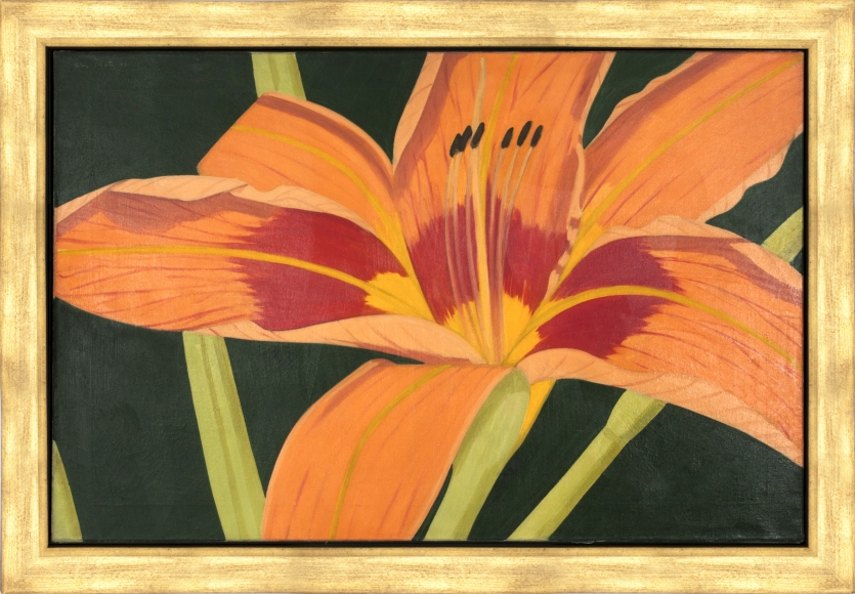 Expanding His Body of Work
Beginning in the late 1950s[5], Katz developed a method of painting on cut panels, initially on wood and then later on aluminum. These kinds of artworks were simply called cutouts by Alex who adored working with them. These would occupy space like sculptures, but would still have their physicality compressed into planes as the case is with paintings. The choice to work predominantly on large scale pieces came to be during the 1960s and Alex explained such a decision as a reaction to films, television and billboard advertising. Ada Katz, whom he married during the year of 1958, has been the main subject of over 250 different portrait pieces signed by Katz. Alex would start increasingly portraying groups of figures after the year of 1964.[6] He continued painting these complex groups well into the 1970s. In 1965, Katz also embarked on a prolific career in printmaking, exploring new creative grounds.[7] He would go on to produce many editions in lithography, etching, silkscreen, woodcut and linoleum cut, producing over 400 prints made by different techniques in his lifetime. Katz started designing sets and costumes as well, primarily working with a celebrated choreographer Paul Taylor. After that period, Alex decided that landscape pieces should receive more of his attention, believing that the next step of his career should have a goal of making the impression as if the viewer was inside the very piece he of she was observing.
In many ways, both conceptually and technically, the art of Alex Katz can be considered to be the bridge that gaps the traditions of abstraction and figuration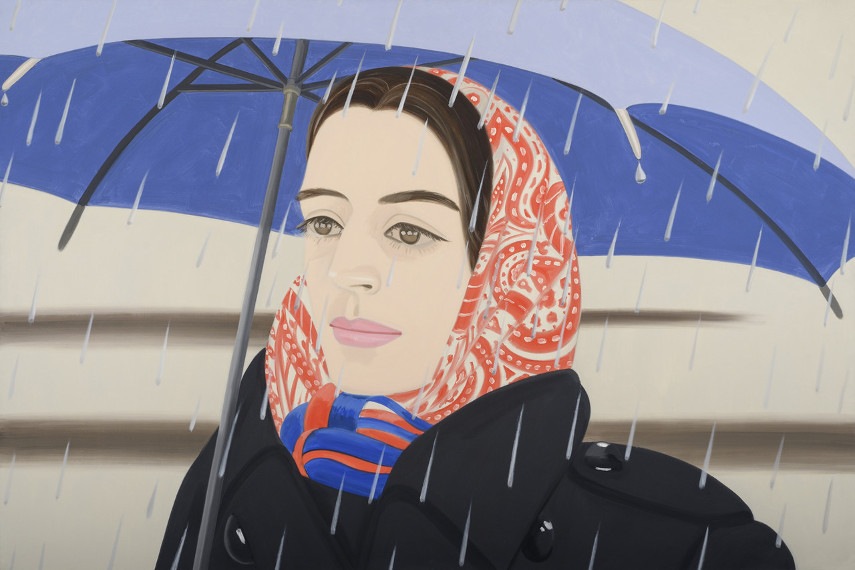 Recognition and Legacy of Alex Katz
In the late 1980s, Alex took on a new subject a lot different from anything with what he worked earlier in his life - fashion models in designer clothing. Such a practice allowed Katz to work alongside some of the biggest names in the industry, like Kate Moss and Christy Turlington. Personally, Alex enjoyed the fashion world because of its unique ephemeral nature that appealed greatly to the painter and his own set of ideas. Due to his successful works in many fields of art making, Katz has been the recipient of numerous awards during his lifetime. Just to name a few, he received The John Simon Guggenheim Memorial Fellowship for Painting in 1972 and, in 1987, both the prestigious Pratt Institute's Mary Buckley Award for Achievement and The Queens Museum of Art Award for Lifetime Achievement. These are only some of the exceptional recognitions Alex was on the receiving end of during the course of his career as listing all of them would take quite a while. His art is only further underlined by the fact Alex was the inspiration behind many noteworthy artistic movements and individual authors emerging from the younger generations.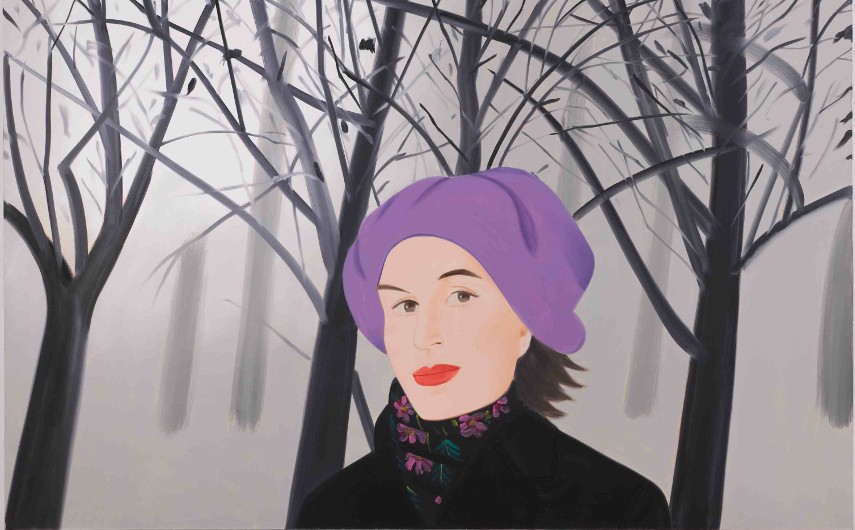 The Successful Struggle with the Abstract Expressionism
It's interesting to think about how Alex Katz's simplistic, unique and utterly different style was able to rival the Abstract Expressionism at the height of its development and at a time that most of the authors were opting to say something deep and meaningful via their work. In fact, this painter/printmaker was so sure of himself that he once famously stated the following: As artists, we compete for audiences. I'm competing with the Abstract Expressionist guys. I'll knock 'em off the wall. If you put my work next to an aggressive A.E. painting, I'll eat most of 'em up. Against all odds and alone with his style, Katz managed to achieve widespread critical acclaim and commercial success that only a handful of other 20th century artists have managed to obtain. Nowadays, Alex is still very active as an author[8] and plays the role of a conceptual guiding star to many younger generation artists such as Elizabeth Peyton and Julian Opie.
This artist is represented by Gregg Shienbaum Fine Art Miami, Robert Fontaine Gallery Miami, Woodward Gallery New York, Weng Contemporary, Puccio Fine Art, Galerie Fluegel-Roncak and Galerie Thaddaeus Ropac Paris.
Alex Katz lives and works in New York and Maine, United States.
References:
de Chassey, E., Mönig, R., Tosatto, G., Alex Katz: An American Way of Seeing, Kerber; Bilingual edition, 2010
Juncosa, E., Bonet, J., Katz, A., Alex Katz: New York, Charta / Irish Museum of Modern Art, 2007
Sandler, I., Alex Katz, Harry N. Abrams; First Edition, 1998
Rappolt, M., Alex Katz: Face the Music, Galerie Thaddaeus Ropac, 2012
Schröder, K. A., Zdenek, F., Katz, A., Markhof, M. M., Alex Katz: Prints, Hatje Cantz; First American Edition, 2010
Tuite, D., Corwin, S., Siegel, K., Shiff, R., Diaz, E., Brand-New and Terrific: Alex Katz in the 1950s, Prestel, 2015
Schwabsky, B., Alex Katz: The Sixties, Charta, 2006
Marshall, R., Katz, A., Alex Katz, Rizzoli; 1st edition, 1986
Featured image: Alex Katz - Photo of the artist standing in front of his work - Image via pattifridayphotography.rs
All images used for illustrative purposes only.