Born in 1982 in Orlândia, Alex Senna is a Brazilian street artist who creates vivid expressions of human love, romance, and relationships through youthful black and white illustrations. Combining the languages of illustration, comics, and graffiti from the 1990's, this artist builds a playful, almost poetic narrative, giving his works strong popular appeal. His murals, observing human relations loaded with emotional baggage and intertwined with satire, have in recent years been lending a cartoony look to the streets of São Paulo (and many others). Using symbols taken from the imagination of children – hearts, musical notes, balloons, birds - Alex adds "color" to his art which is markedly colorless. Colorblind, Senna continuously used one color in his drawings and sketchbooks, which later reached the city walls, marking the urban setting with a simple and clear emotional visual flavor. By transposing his sketches to city walls around the globe he ignites urban settings with feelings of love and happiness by exposing his viewers to the intimate lives of his characters. The art's resonating black and white tones make his messages come across simple, clear, and straight from the heart.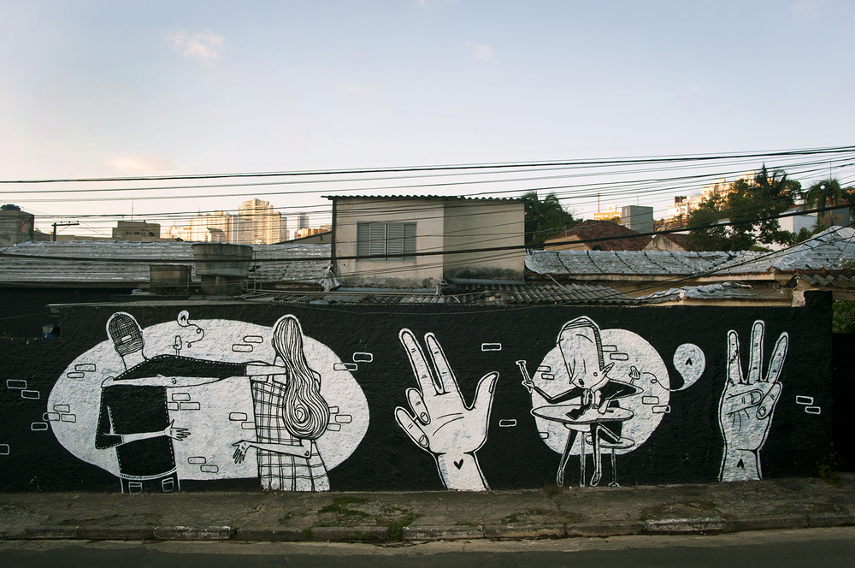 Extraordinary Everyday Art
His heroes and personalities are lovably charismatic - young couples dating, falling in and out of love; elderly people going about their days; melancholic girls and boys; everyday people in ordinary and extraordinary situations that we can all relate to; Alex Sena's characters establish a romantic dialogue with the viewer and represent dream notions of subjectivity, drama, and faith. As if parts of the same novel, fragmented into various media, but easily interpreted as ideological variations of the same character: the artist himself. The languid shapes of its protagonists seek balance with calculated doses of tragicomic mood. The moments of exposed weakness imagined by Senna contrast with the aggressive hardness of style expected by urban art. São Paulo, impregnated by cultural vanguards, contrasts with the bucolic essence of the home city of the artist: provincial Orlândia. And just like the contrast between the black and white, Alex Senna attempts to make contrasts and opposites meet in as much harmony as possible.
Love Building Stories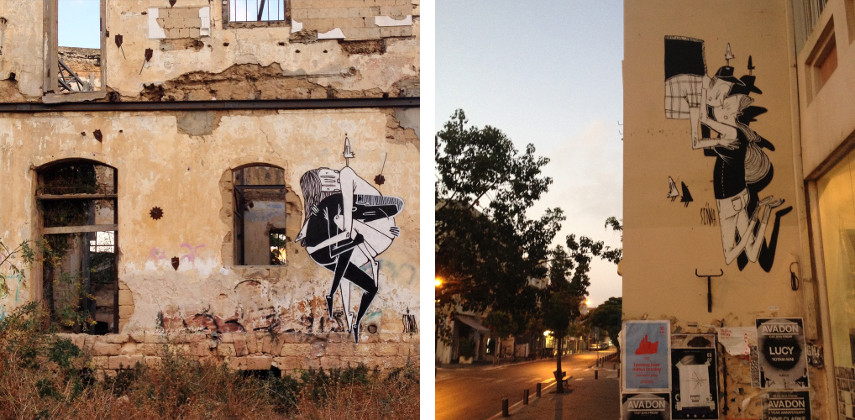 Drawing Life Story
Self-taught, Senna has been drawing ever since he was a kid. Never having undergone formal education, comics served as textbooks in his learning process and his teachers were artists of the likes of Moebius, Quino, Charles Burns, David Clowes, Mauricio de Sousa, Walt Disney and Will Eisner. Forming his style as a mix of many different approaches and emotions, his favorite themes to explore on city walls are daily life, politics, melancholy, and love. He hopes to evoke a thinking process with his art, make people reflect and ponder on the possible meanings. All the small stories are interconnected, Senna says, and if one pays close attention, the threads that link them together come to light.
Alex Senna lives and works in São Paulo, Brazil.
Featured image: Alex Senna, on the streets, photo by Henrique Madeira.
All images courtesy of the artist