Alexander Kaletski is a New York-based Russian contemporary artist who works in a wide range of media including painting, collages, sculptures and videos.
Alexander Kaletski's Background
Kaletski was born in Russian town Monchegorsk in 1946. His father, who died when Kaletski 13, was the president of a construction company, while his mother taught German at several high schools and universities. Although he was born in the family of dedicated Communists, Kaletski always felt strangled by the regime's practice of excessive restrictions. During his studies of acting in Moscow he composed political protest songs and hold underground concerts.
As an actor he had a successful career and worked professionally in films and television in USSR. One of his well-known role was in a movie about life of four time Olympic gold medalist, gymnast Olga Korbut.
Cardboard Paintings
Because his freedom of pure expression was limited to the underground, Alexander Kaletski decided to leave the USSR, so in 1975 he emigrated to the United States. During his first years in the US he didn't have money to buy expensive art supplies, so he had to use the cardboard boxes strewn around the city as the basic materials for his works. The artist has transformed the commercial cardboard packaging through the use of line, color and collage. The boxes provided original components for the creative process.
Since then, Alexander Kaletski has explored mediums and techniques such as burlap, oil on canvas, pastel and watercolors on paper, and acrylic on wood, gaining a reputation of an internationally acclaimed artist.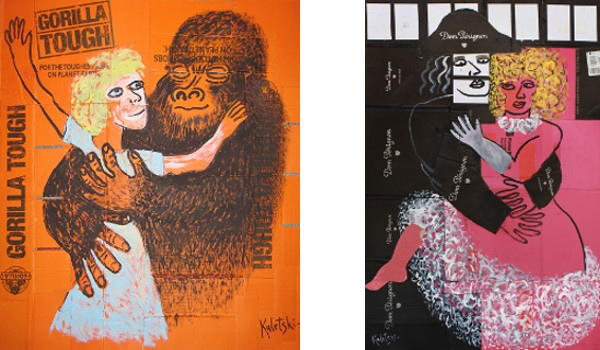 Alexander Kaletski is most famous for his series of works entitled Cardboard People presenting the people that the artist encountered in the city. The artist captures their images with the lines and hints of color, utilizing the lavish thrown materials of the streets of New York City.
Kaletski has exhibited his Cardboard works in many galleries and museums around the world, including the Cardboard People, Dillon Gallery, New York City, 1996; Paper Heroes, Museum of Contemporary Art, Minsk, 1999; Cardboard Box, the Aldrich Museum, Ridgefield, Connecticut, 2001; and Cardboard Museum at the Nassau County Museum, Roslyn Harbor, New York, 2002, to name a few.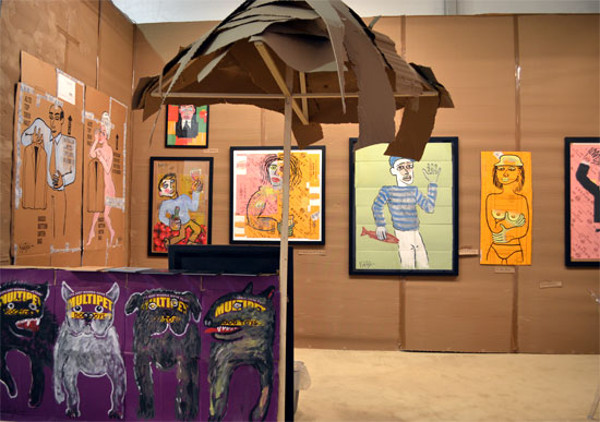 Red Carpet
One of Kaletski's recent solo show entitled Red Carpet was on view in concurrent exhibitions at Anna Zorina Gallery and Mary Boone Gallery in 2014. The exhibition featured Kaletski's latest body of work inspired by the American culture fueled by celebrities, fame and red carpet iconicity. Kaletski grew bitter toward the color red due to the years he spent in the USSR where red embodied authority. With Red Carpet, the artist has produced a collection of paintings that are amusing, refined and thought provoking, as well as complex and culturally telling.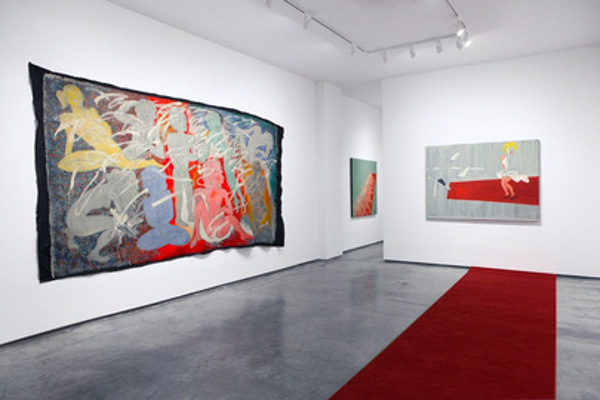 Kaletski has also participated in many individual and collective exhibitions around the world, including Dillon Gallery, New York City; Mary Boone Gallery, New York City; MAD, Saint Gervais, France; Kato Gallery, Tokyo, Japan; Valette Foundation, Martigny, Switzerland; and Looshaus, Raiffeisen Bank, Vienna, Austria.
His work is in many notable collections including Caldic Collection, Rotterdam, The Netherlands; Linklaters and Paines Corporate Collection, New York City; Museum of Contemporary Art, Minsk, Belarus; and Contemporary Museum of Miniature Art, Amsterdam, The Netherlands, among others.
Metro: A Novel of the Moscow Underground
Alexander Kaletski's semi-autobiographical novel Metro, pulished by Viking Books in 1985, became an international bestseller. In the book, Kaletski deals with serious issues which pervaded Soviet Union, including corruption, hopelessness, desperation and alcoholism.
Kaletski also published Darkness of Light, Love Thief (Darkness of Light Book 2), and Fallen Angel, a poetic diary in poems and songs, 1963-2004.
Other Works
Amongst artistic practice in the United States, Kaletski taught Russian, designed many fashion fabrics, and illustrated numerous books. He also gave a nationwide concert tour of his Moscow underground songs, and was on the American television talk show Merv Griffin Show twice, once with Arnold Schwarzenegger.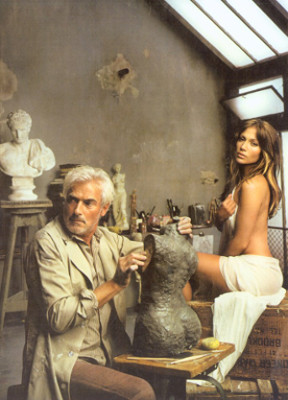 Alexander Kaletski lives and works in New York City.