Alexi Torres is a Cuban artist, known for his paintings and portraits that appear to be formed from intricately woven fabrics. Born in 1979 in Matanzas, Cuba, the artist got his education from the National School of Arts and the Elemental School Art in Havana, Cuba.
Employing his unique painting technique characterized by an exceptional complexity, the artist incorporates social, military, science, educational, philosophic and art symbols and personas. Torres creates his body of work by building up minute details of intertwined strands portraying the features of famous figures ranging from Mick Jagger and Marilyn Monroe to Pablo Picasso or an unnamed soldier. In such way, the artist immortalizes influential figures and symbols of past and present.
Pursuit of Happiness Flag, 2015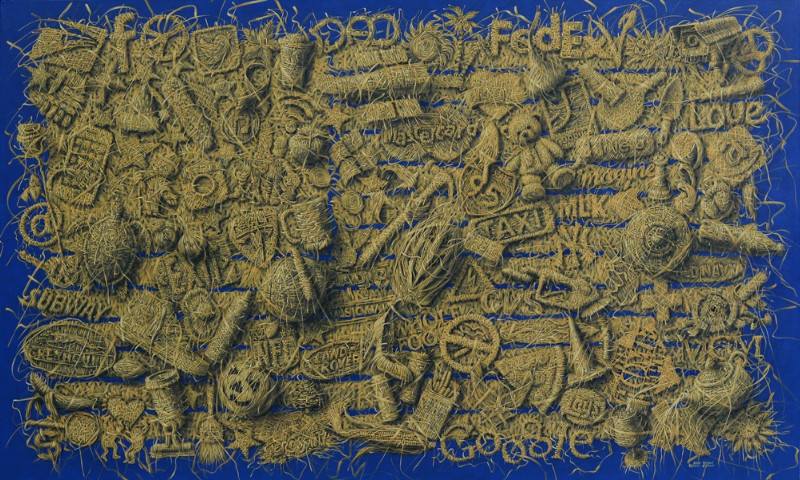 Composed from detailed-painted leaves, feathers, and other organic materials, he changes the context of the original forms and identities into ecological, fragile, ephemeral and natural elements. In his own words, Torres states that "…that's my way to show our interconnection with each other, we are all interconnected with each other on a physical and spiritual level."
Washington and Lincoln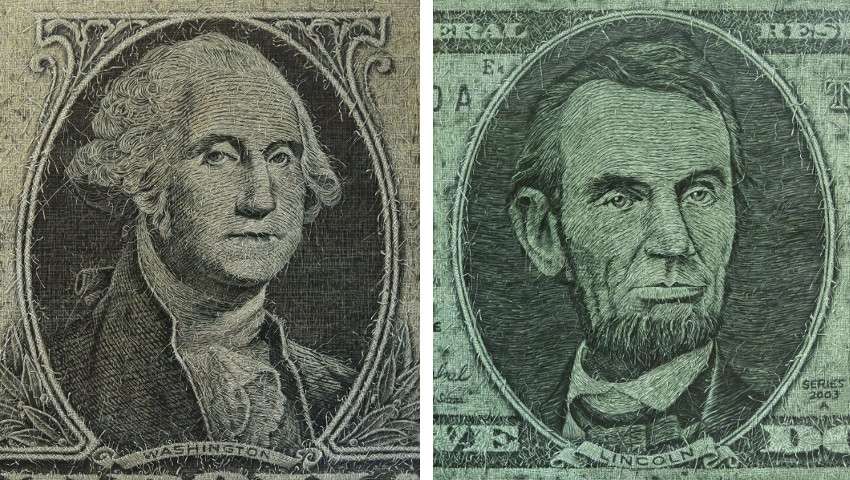 For Torres, the process of creation starts from zero – he builds stretchers by himself, stretches the canvas, and primes them. Alexi usually works on five canvases at the same time, with each one taking approximately 6 to 8 weeks to complete.
His artworks are a part of several major private collections, including the ones of Oprah Winfrey and Will Smith, David Mills, Michael and Julie Mills, Lewis Brisbois Bisgaard & Smith, Ruth Bennett, as well as public collections of Hoover Public Library, Addo Foundation, Museum of Art Matanzas in Cuba, and Besharat Contemporary.
Alexi Torres' Art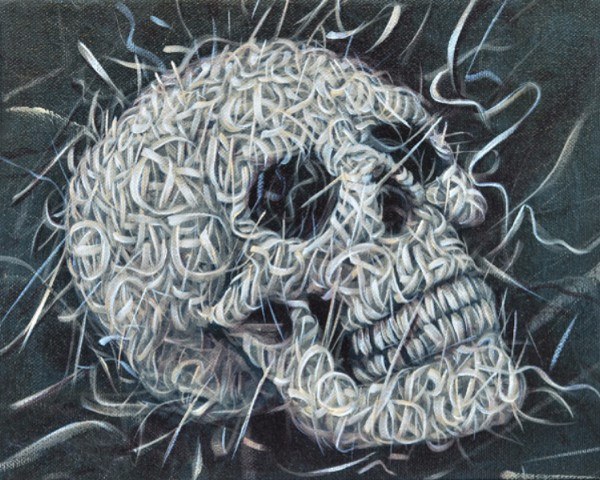 Works of Alexi Torres have been exhibited in many group and solo shows, and art fairs across the world. Venues that have featured his works include DMoMA Lausanne, Switzerland; Rush Gallery, New York; Kai Lin Art, Atlanta; Naomy Silva Gallery, Atlanta; UNIX Gallery, New York, and Evan Lurie Gallery. He is represented by UNIX Gallery.
Alexi Torres divides his time between Atlanta, Georgia and Zancudo, Costa Rica.
All images copyright © the artist