Although he is mainly regarded to be a vital force in the development of modern photography in America, Alfred Stieglitz's significance can just as much be attributed to his work as an art dealer, exhibition organizer, publisher and editor. Hell-bent on proving his medium of choice deserves to be considered a fine art form, Alfred's own work showed great technical mastery of tone and texture, underlined by a strong ability of atmospheric explorations. Through a broad list of duties and roles, Stieglitz grew into an important modernist figure of America's early photography art and is responsible for introducing many European modernist painters and sculptors to his fellow Americans[1]. The photographer was feverishly devoted to his creative mission and produced thousands of pictures in his lifetime, covering numerous themes that captured different periods of rapid transition in American society.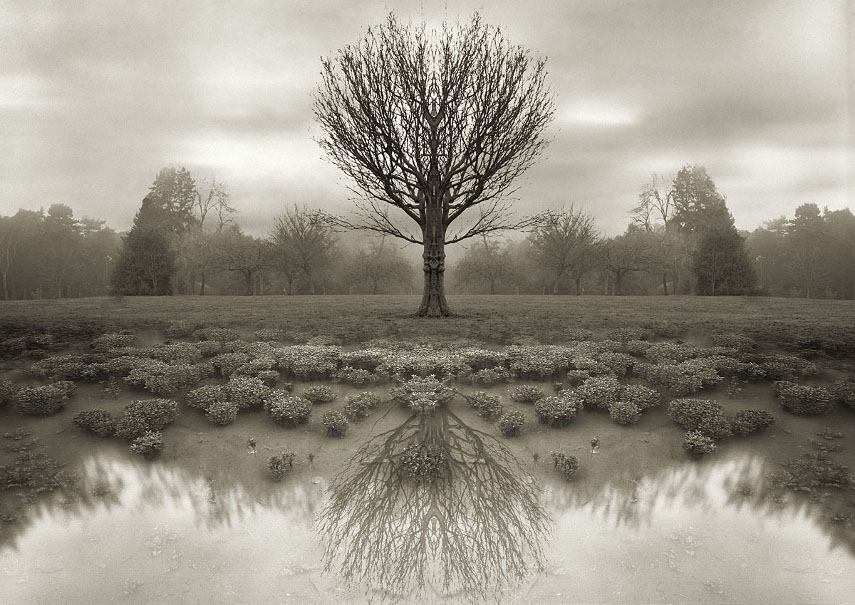 Alfred Stieglitz and his Childhood in Hoboken
Alfred Stieglitz was born in the famous neighborhood of Hoboken, New Jersey, during the year of 1864. He was the first son of a German-Jewish couple whose names were Edward Stieglitz and Hedwig Ann Werner. In the moment of Alfred's birth, his father was a retiring lieutenant in the Union Army. To put it more precisely, after three years of fighting as an officer, his impressive salary allowed him to literally buy an exemption from future fighting. This allowed Edward Stieglitz to stay near home during his first son's childhood and to have an active role in seeing that he was well-educated, nicely mannered and brought up right. Over the course of the next seven years, Stieglitz family had five new arrivals. The children's names were Flora (1865–1890), the two twins Julius (1867–1937) and Leopold (1867–1956), Agnes (1869–1952) and Selma (1871–1957). By his own admission, Alfred was said to have been very jealous of the closeness between the two twins and, as a result, spent much of his youth wishing for a soul mate of his own. During the year of 1871, young Stieglitz was sent to the Charlier Institute, which was the best private school New York could offer at that time. Alfred rather enjoyed his studies but rarely felt challenged by them as he was usually able to cope with the demands quite well. In the meantime, Edward Stieglitz started investing his money into stockings and managed to get a hold of a promising young firm dealing in various markets.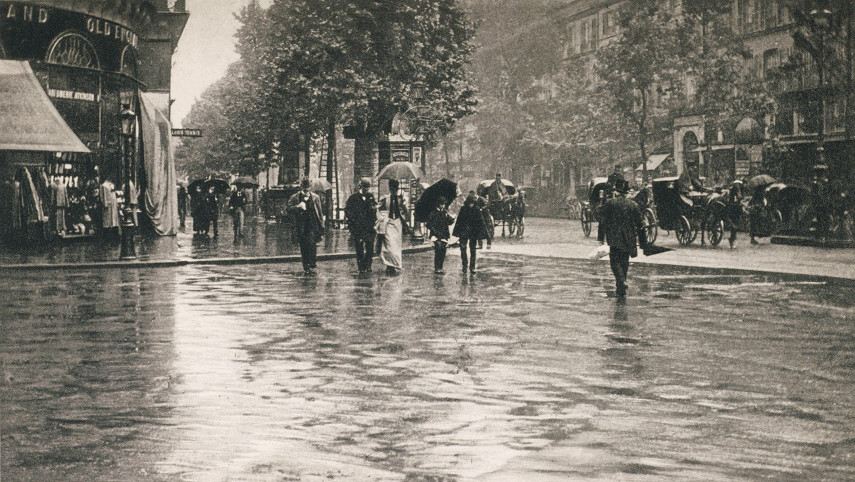 A German Education
About a year time prior to his graduation, Stieglitz's parents sent him to a public high school so he would qualify for admission to the City College CCNY. This was done in order for young Alfred to end up under his uncle's wings who worked as a professor at the said college. However, both he and his father considered the classes at the high school far too easy to challenge the young man's mind and came to an agreement that the only way Stieglitz Jr. would be able to get a proper pre-college education was to enroll him in the rigorous schools of his German homeland. This was a well-timed decision, no doubt, as Edward just sold his company for about 400,000$ and was more than able to afford his son's education. Furthermore, Edward had his entire family moved to Europe for the next several years as Alfred attended classes at the Realgymnasium in Karlsruhe. In the meantime, his younger brothers and sisters studied in Weimar whilst Alfred's parents toured around Europe, going to museums, spas and theaters. At one point, Alfred Stieglitz began studying mechanical engineering at the Technische Hochschule in Berlin. In his spare time, he would spend his lavish allowance and discuss intellectual theories with similar minded fellow colleagues[2].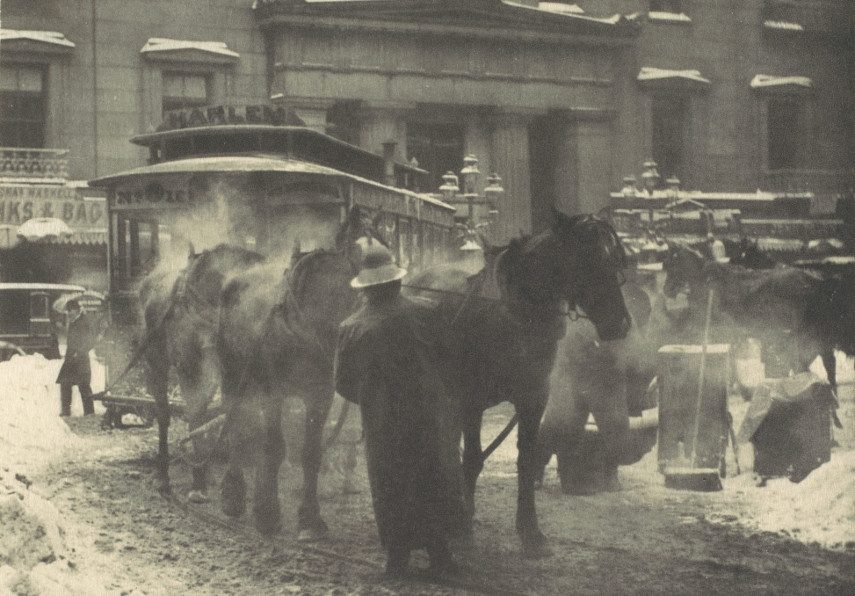 Witnessing Photography for the First Time
While he was still a student in Berlin, Stieglitz met German artists Adolf von Menzel and Wilhelm Hasemann. The new duo of friends introduced Alfred to a completely new idea - the concept of making art directly from nature. This was, of course, Stieglitz first contact with photography. Fascinated by the possibilities which seemed virtually limitless, he bought his first camera and traveled through the German countryside, taking many photographs of landscapes and peasants. His photographic explorations even took him as far as Italy and Netherlands at one point. In 1884, Edward Stieglitz and Hedwig Ann Werner grew tired of Germany and decided they would return to America. However, they left their 20-year-old son as Alfred remained in Berlin for the rest of the decade. During this time, the young photographer began gathering the first books of what would become a very large library about photographers in Europe and the United States. In 1887, Stieglitz wrote his very first article, titled A Word or Two about Amateur Photography in Germany. It was published by the avant-garde magazine called The Amateur Photographer, a newspaper which soon decided letting Alfred write for them on regular basis might not be such a bad idea. Additionally, the year of 1887 was another milestone for the young artist - he submitted some of his photographs to the annual holiday competition and several German and British photographic magazines began publishing his images[3]. It was during this first personal peak that Stieglitz received a grim news from home as the word reached him that his sister Flora died while giving birth. Subsequently, Alfred returned to New York despite not being comfortable with coming back to a place he described as highly uncultured at that time.
Appearing first in the milieu of Pictorial photography, Alfred Stieglitz sought to gain recognition for his chosen medium by producing effects that paralleled those found in other fine arts such as painting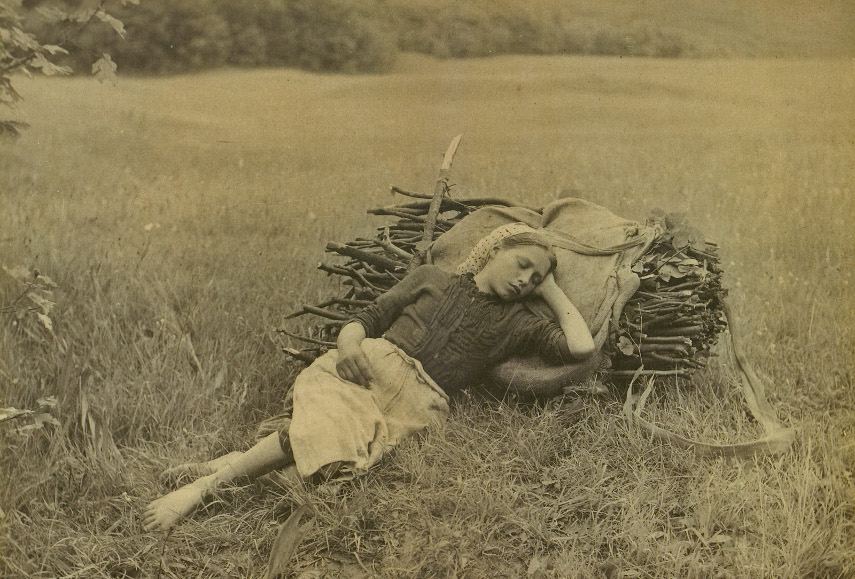 Alfred Stieglitz Takes New York by Storm
By this time Stieglitz returned to The Big Apple, he already considered himself a top artist with a camera and actually refused to seek employment doing anything else. His father was extremely disappointed, to say the least, as he had much higher goals in mind for his first born than to have him snapping images. However, Edward did buy out a small photography business where Alfred could indulge in his interests and perhaps even earn a living on his own as much as possible. However, Stieglitz demanded such high quality in the production of his tiny firm's images that he was forced to pay his chosen employee very high wages. This, naturally, reflected heavily on the company's profits which were rather rare at this point. In the meantime, Alfred continued to win awards for his photographs at various exhibitions. During the year of 1892, Stieglitz bought his first hand-held equipment - a Folmer and Schwing 4x5 plate film camera. This was a nice change from his regular 8x10 plate film camera that always required a tripod and was difficult to carry around. Invigorated by the freedom provided by the new camera, Stieglitz made two of his best-known images: Winter, Fifth Avenue and The Terminal. Soon, the rising American artist society noticed Alfred for both his images and essays, declaring him to be the leading figure of the continental photography medium. In the spring of 1893, he was offered the job of a co-editor for The American Amateur Photographer, which Stieglitz quickly accepted. It was during that same year that Alfred married Emmeline Obermeyer, a sister of his close friend and business associate Joe Obermeyer. Stieglitz did not love the particular young woman in question but was pressured by his father into marriage. Stieglitz biographer Richard Whelan summed up the relationship between the newlyweds as extremely bad, stating that Alfred resented her bitterly for not becoming his twin in an artistic and cultural sense of the word.
Alfred Stieglitz's early work often balances depictions of soft, ephemeral, natural processes with motifs drawn from American industry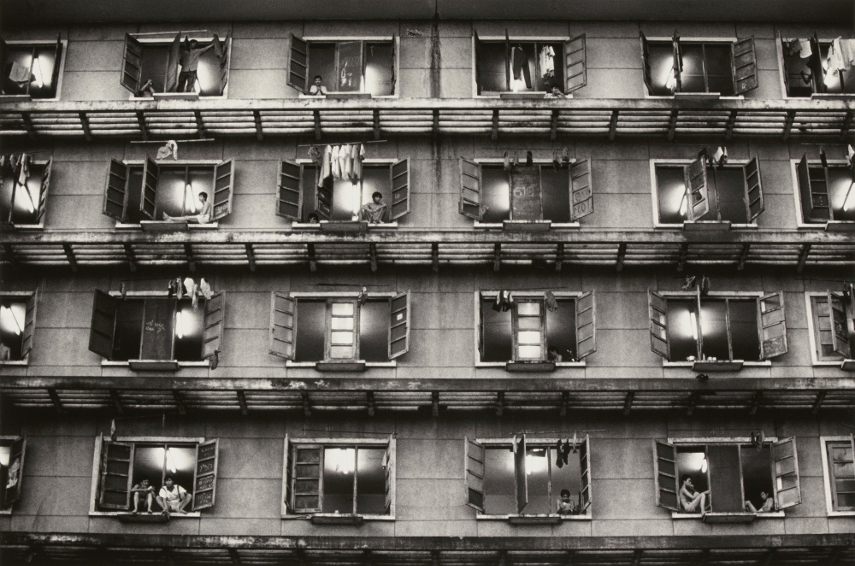 Camera Notes
During the year of 1896, Stieglitz crowned his all-consuming creative endeavors by joining two separate organizations into a newly formed Camera Club of New York. Although he was a vice-president of the new club, Alfred was literally in charge of running all aspects of the organization. Additionally, he also turned the Camera Club's current newsletter into a greatly expanded magazine that would set a new standard for excellence both in the photos it published and in the writing about photography. The new paper was titled Camera Notes and it soon became revered as the finest photographic magazine in the world by its contemporaries. Stieglitz's goal, and by extent the Camera Notes' aim as well, was to promote photography to the rank of fine art, placing it alongside painting and sculpture. By being in charge of such a fine magazine and due to the fact he authored what can easily be described as the best photos of the era in question, Alfred became the leading figure of the youngest art medium on a worldwide level[4]. European avant-garde scene picked up on the photographer's work as well, often presenting Stieglitz's pictures alongside works of Edvard Munch and Henri Toulouse-Lautrec. Because of the Secessionists whose pieces often accompanied Alfred's exhibitions, the young photographer star was regularly attached to the new movement - which was more than fine for him, apparently, as he agreed with the social views on the world shared by these artists. And while all of this was going on, his wife Emmy led a completely separate life as the two obviously agreed that the only reason for their relationship was getting the wealthy parents of their back.
Alfred Stieglitz can be described as a true pioneer of a dedicated photographer, evidenced by the image bellow for which the artist stood still in a blizzard for over three hours in order to get the perfect shot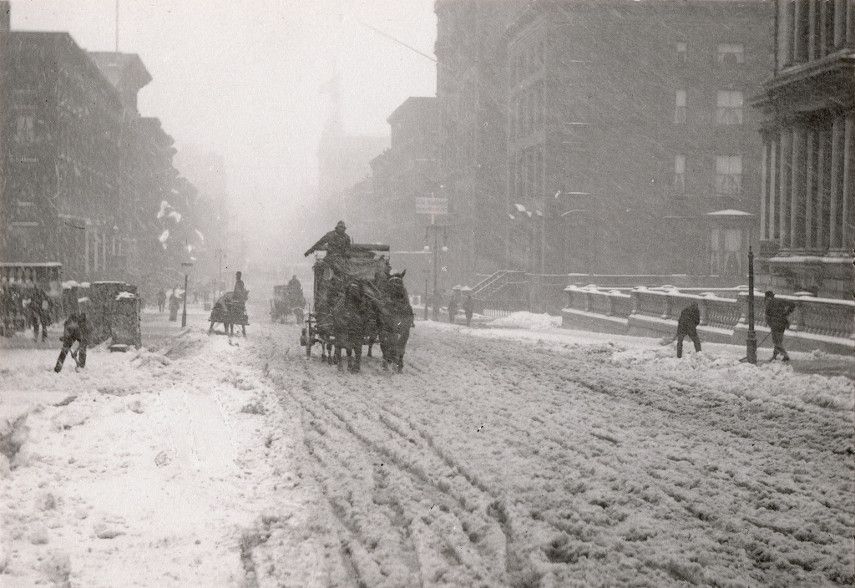 First Issues of Camera Work
Stimulated by all the positive responses coming his way, Stieglitz began formulating a plan for the next big move of his artistic career – to publish a completely independent magazine of pictorial photography. This new edition would be an upgraded version of Alfred's previous journals, dedicated to carrying forth the same fine artistic standards of photography. He resigned his role as an editor of Camera Notes, and one month later he published a prospectus for a new journal, giving it the name of Camera Work[5]. It was supposed to be the best and most sumptuous of photographic publications and it actually lived up to those high ideals. The first issue was printed in December of 1902 and it contained beautiful hand-pulled photogravures, critical writings on photography, aesthetics and art. It also featured reviews and commentaries on photographers and exhibitions. Camera Work was the most obvious reflection of Alfred's perfection as an artist and a writer[6]. Of course, he held true to his ever-lasting high standards for the prints deemed worthy of publishing. He, of course, continued to attend and assemble exhibitions. Countless shows were held under his name as Alfred literally created a bridge between the United States of America and Europe. All exhibitions were driven by one single aim and that was proving photography as aa valid fine art form. As the artist himself explained at one point, the goal was the following: The intention was to set up a dialogue that would enable visitors to see, discuss and ponder the differences and similarities between artists of all ranks and types: between painters, draftsmen, sculptors and photographers; between European and American artists; between older or more established figures and younger, newer practitioners. Unfortunately, the high pace and overwhelming duties that came with running an entire magazine, making photographies, tending to family problems and both holding and visiting exhibitions took it's toll on Stieglitz. He once again became mentally and physically exhausted. The problems only worsened as Stieglitz's father Edward died in May 1909. However, Alfred managed to do what he always wanted - making the public aware of the photography's artistic potential.
Alfred Stieglitz relied more on compositional effects and mastery of tone then elaborate retouchings of an image, concentrating on natural effects to create qualities similar to those of the Impressionists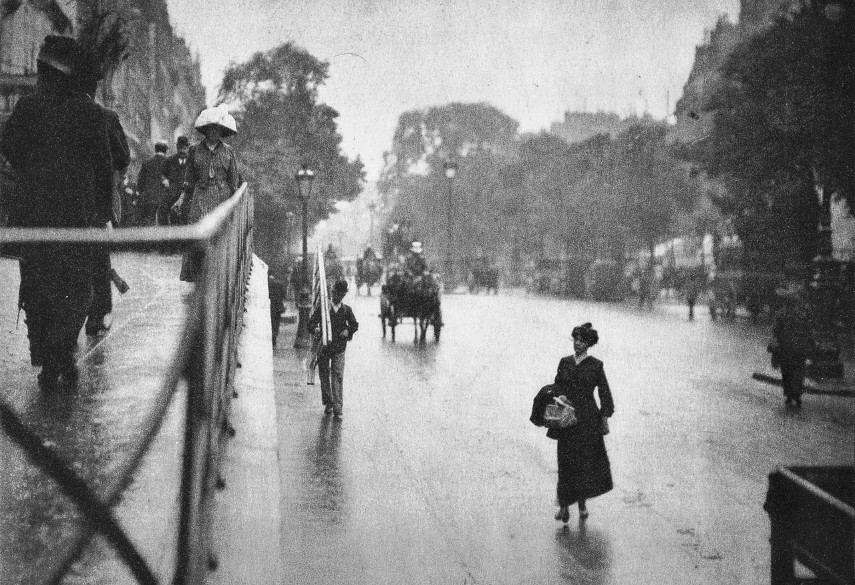 Alfred Stieglitz and Georgia O'Keeffe
At one point of January in 1916, Stieglitz was presented with a portfolio of drawings authored by a young artist named Georgia O'Keeffe. Alfred was instantly attracted to her pieces and decided to include her work in one of his shows. Georgia O'Keeffe did not approve such an exhibition and was furious about Stieglitz's unauthorized presentation of her work[7]. The two exchanged angry letters and met in order for the young painter to express her anger. However, the moment he saw her, Stieglitz fell in love with Georgia O'Keeffe. Eventually, the two began a relationship and the painter moved to New York City after Alfred promised to provide her with a studio in which she can paint without anything bothering her. The two lovers were inseparable from the moment she arrived. After Emmy found out her husband Alfred had no problem with bringing his girlfriend into her home, she decided to kick Stieglitz out and finally divorce him after all the loveless years. The photographer was pleased with such a turn of events as he was handed a new freedom for his relationship with O'Keeffe. One of the most significant things that Georgia O'Keeffe provided for Stieglitz was the muse he had always wanted - in other words, he had finally found his artistic twin he always sought. He photographed her constantly and obsessively between the years of 1918 and 1925 which can be described as the most prolific period in his entire life[8]. Alfred produced more than 350 images of O'Keeffe in various settings, portraying a wide range of her character, moods and overall beauty. Their relationship can easily be considered as one of the most passionate and active duos modern art has in its arsenal.
In 1925, Stieglitz was invited by the Anderson Galleries to put together one of the largest exhibitions of American art that had ever been assembled. The title of the show pretty much sums up its entire content: Alfred Stieglitz Presents Seven Americans: 159 Paintings, Photographs, and Things, Recent and Never Before Publicly Shown by Arthur G. Dove, Marsden Hartley, John Marin, Charles Demuth, Paul Strand, Georgia O'Keeffe and Alfred Stieglitz. This iconic exhibition was a true milestone in American modern art. The next decade of his life was marked by financial struggles, a few new lovers who could never truly live up to O'Keeffe's standards and experimentation which blended photography with avant-garde concepts. However, Stieglitz was well aware that his creative peak was long gone despite not being able to cope with that fact. He did continue to arrange various exhibitions and arranging quality shows was one of his aspects he never truly lost. In early 1938, Alfred was struck by a serious heart attack. Unfortunately, this will only be the first of at least six coronary or angina attacks he would suffer in the remaining years of his life. He spent most of his later days attending to his own gallery, called An American Place. During this time, O'Keeffe was mostly in her Southwest home with her own family, being with her lover only during the summer and spring. In the summertime of 1946, Stieglitz suffered a fatal stroke and fell into a coma state. As luck would have it in such a dire situation, he managed to stay alive ling enough for O'Keeffe to arrive and see him breathing for one last time. Georgia took over An American Place and dedicated it to assembling the best and most complete set of photographs Stieglitz made in his lifetime.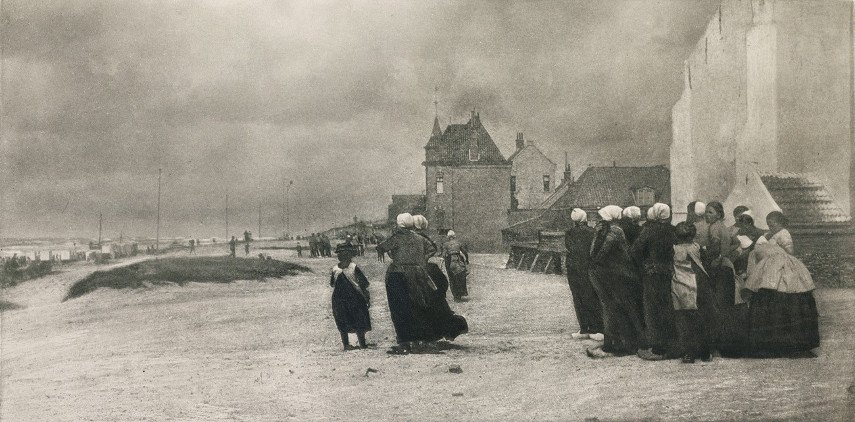 A Genuine Legend of the Medium
However one decided to articulate it, there is no disputing the undeniable fact that Alfred Stieglitz spearheaded the rise of modern photography. And we do not only mean he did this just in the United States of America - due to his incredible talent and vision, Stieglitz's art exploded beyond the USA borders[9]. His images set the stage of European photography as well, especially the development of the street photography. Alfred influenced countless generations on a worldwide level, showing them that photography can be just as easily utilized as painting in fine art making. Ultimately, his mission was a successful one - Stieglitz's imagery and writing were instrumental in establishing photography as a recognized fine art form. Stieglitz achieved his goal to have photography shown alongside painting and, due to such efforts and achievements, is also known as an important proponent of early modernism and not just as a promoter of photography.
References:
Innes Homer, W., Alfred Stieglitz and the American avant-garde, New York Graphic Society , 1979
Bry, D., Alfred Stieglitz Photographer, Little Brown & Co, 1965
Stieglitz, A., Alfred Stieglitz: Masters of Photography Series (Aperture Masters of Photography), Aperture, 1997
O'Keeffe, G., Stieglitz, A., Two Lives: A Conversation in Paintings and Photographs, Harpercollins, 1992
Roberts, P., Stieglitz: Camera Work, Taschen, 2013
Hamilton, J., Greenough, S., Alfred Stieglitz: Photographs and Writings, National Gallery of Art, 1999
Hoffman, K., Alfred Stieglitz: A Legacy of Light, Yale University Press, 2011
Whelan, R., Josephy, J., Alfred Stieglitz: A 291 Biography, Little Brown & Co, 1995
Waldo, F., Stieglitz, A., America And Alfred Stieglitz: A Collective Portrait (A Collective Portrait), Doubleday, Doran & Company, Inc, 1934
Featured image: Alfred Stieglitz - Photo of the artist, 1934 - Image via moma.org
All images used for illustrative purposes only.