Nikko Locander, better known as Ali 6, is a young American street artist, based in Chicago. He illustrates and paints a smiling raccoon called "Richie". Since 2013, the artist's furry mascot has appeared all over Chicago. Ali 6's intention is to put a smile on the face of passerby who see Richie. The raccoon is a fictional representation of the artist himself. Locander wanted to draw a character who was nocturnal, just like him, and who could stand, so that he could express his sense of fashion through the mascot.
Richie and Jin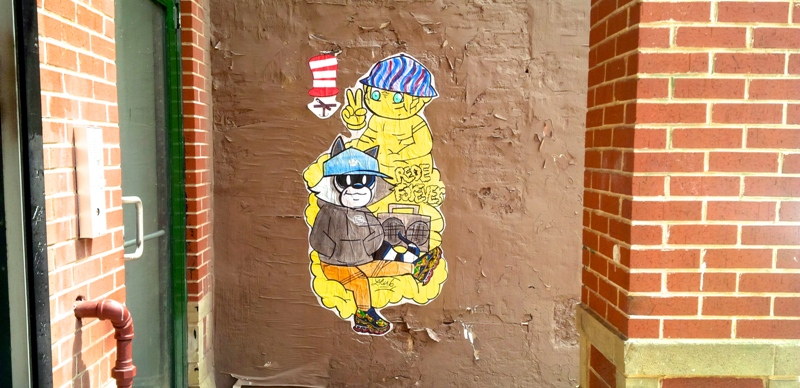 His interest in art began in childhood, with kindergarten art projects. He kept on drawing, and in high school, since they didn't have art classes, he became interested in graffiti culture and typography. Now, the artist is working on a graphic novel, which is based on the Chicago street art culture and aimed at encouraging the youth to make better choices and use their art skills.
Richie in Chigaco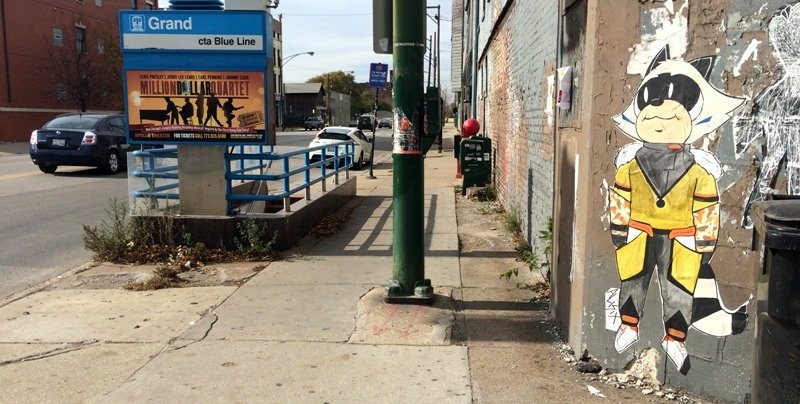 Ali 6's murals have been commissioned by Alderman Joe Moreno, Lollapalooza festival and Threadless. His works have been exhibited at Soho House's U27 show, Paper Crown Gallery's Works on Wood and Smalls show, Underground Unseen at Flats Studio, the exhibition Artmageddon at Vertical Gallery, and For the Love of Music show at Flower Pepper Gallery in California.
He is represented by Vertical Gallery in Chicago, Illinois.
Ali 6 lives and works in Chicago.
All images copyright © the artist