Alias is German street artist, based in Berlin, who cleverly uses the geographical advantages of urban location to place his stencils. His works are often found behind bars, fences, or at the corners, so they get a new dimension from a deliberately chosen set and setting. He passionately follows political and economic fluctuations, social development and is familiar with contemporary human rights situation. He fights for a noble cause, for the protection of those in need and underprivileged people who are often invisible to a modern man. He is very clever and powerful at using random urban space to expose his stencils, so the viewer will have a more powerful emotional reaction with an element of surprise.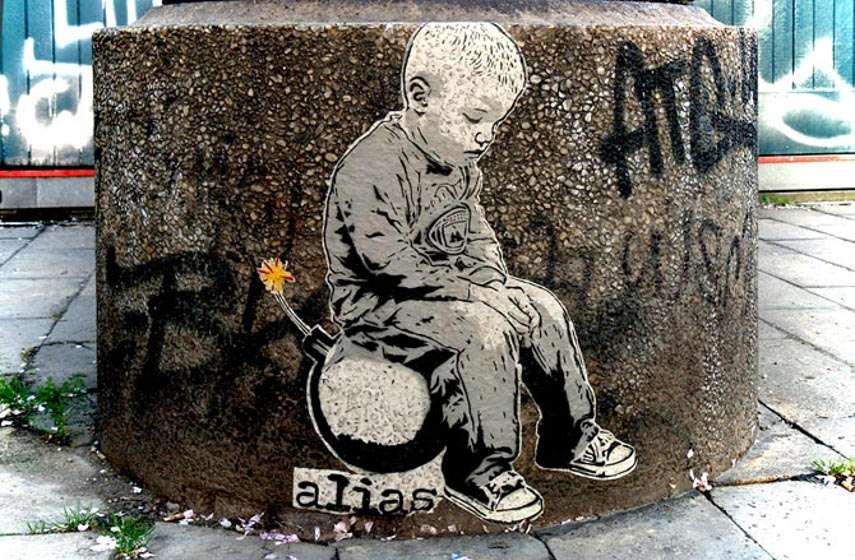 Stencils are not a Hobby, They are a Lifestyle
In the golden era of street art, in two-thousands, Alias was one of the most active street artist in Berlin. His style continues to evolve, and so does the political situation in Europe and all over the world. He has been working in other cities in Germany, also France, Italy, Spain, Greece, and Netherlands. At the beginning of his career, he worked in Hamburg and his stencils and graffiti were exclusively political. In Berlin, he became Alias and defined his theme for the first time. Alias is a true example of a person who lives his philosophy. For him, street art is not a hobby, but not just a job. It is a lifestyle. He organizes his life in accordance with his job, so he travels, explores, visits art festivals and fairs.
Alias' works are often found behind bars, fences, or corners, so they get a new dimension from chosen location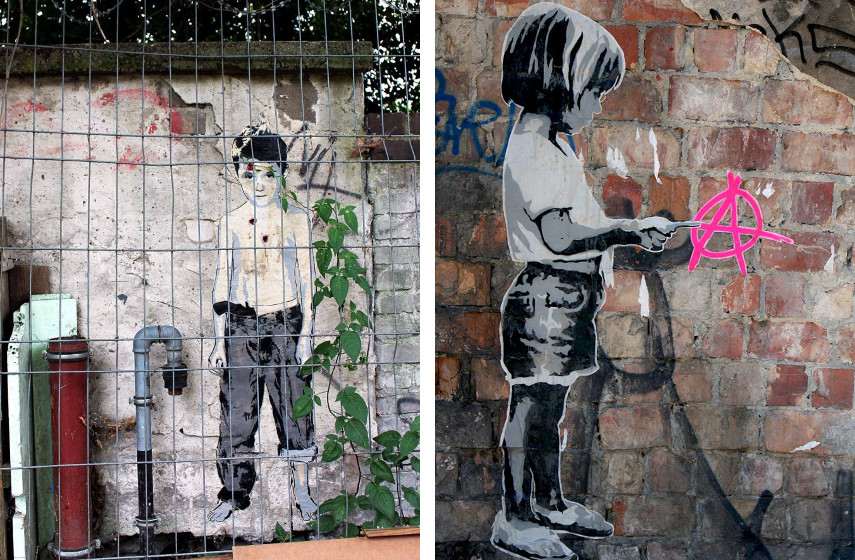 From Global to Personal
Inspiration and creative drive, he finds in a desire to offer an alternative to mainstream media view on events. Also, using poster and stencils kinda interferes with paid advertisements and billboards. His theme covers the range of global social and political issues, to struggles of personal development and self-exploration. Alias' work is full of emotions. Whether they are hiddenly inferencing and targeted at the viewer, or they belong to his experience, emotions play a big role in his creations. The artist uses spray paint and sometimes he works on a piece directly while other times he uses prepared cut outs. He makes images of innocent children who are either being victims of bad global politics or are being spoiled by the same establishment.
Alias' theme covers the range of global social and political issues, to personal development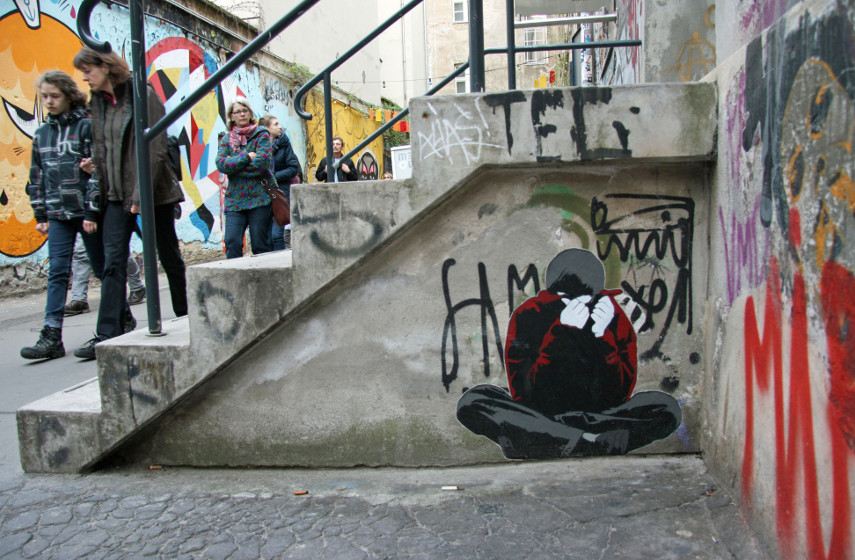 Location Factor and Well-defined Theme
The message is sometimes enigmatic, other times brutally obvious. What is always the case is that it stays in the minds of the observer. He loves playing with locations and found objects, and his stencils are often that good because of the interplay of location factors. Criticism of wars, neglecting child upbringing, and struggles to keep up the fast-paced living are often his subject. There are exceptions, more sentimental ones, where he shows the strains of being broken hearted. Everything he does has been adequately premeditated and even strongly placed. From streets to gallery walls, Alias' work continues to inspire and affect with its profound symbolism.
Alias lives and works in Berlin.
All images used for illustrative purpose only © Alias.