Working with a wide range of media–sketches, video, installations, and performances–is not unusual for the young Belarus artist Alina Kunitsyna. She has constantly explored new directions and introduced new techniques and media throughout her practice, but, in recent years, paintings and watercolors play a key role in work. By depicting a human figure enveloped in the wide materials, she creates art that rests on the edge between abstraction and representation. The area of tension between body, form and envelope is what defines Kunitsyna's works, as her subjects never show themselves to those viewing the piece.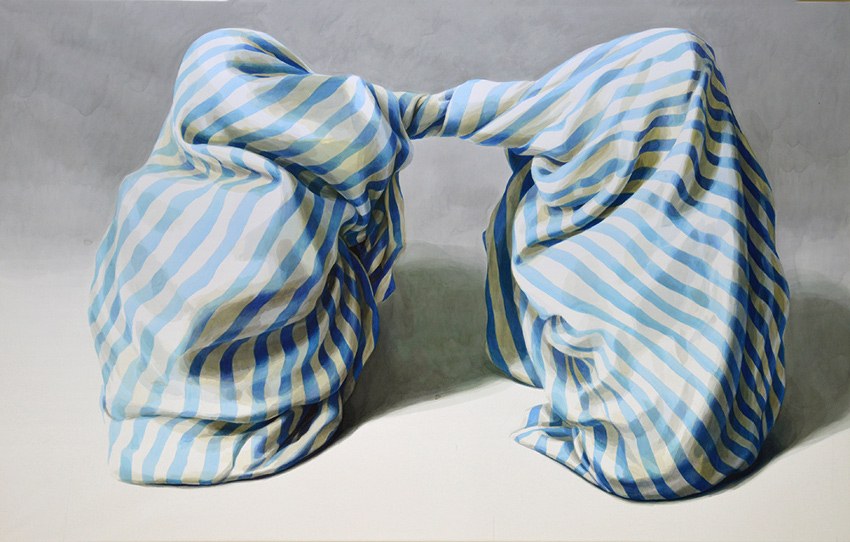 Concealment and Exposure in Kunitsyna's Oeuvre
Born in 1981 in Minsk, the capital of Belarus, Alina Kunitsyna graduated from the Academy of Fine Arts in Vienna in 2007, and was previously a student at art schools in Linz and Minsk. As an artist and observer of everyday life, Kunitsyna has a fundamental interest in people – our being and our existence. She wants to take a look at what is visible behind the curtains and how people can express something through concealment and the associated abstraction so that the observer can get a certain inner image via the form, structure and folds without actually seeing someone and their portrait.
Alina Kunitsyna's work rests on the edge between abstraction and representation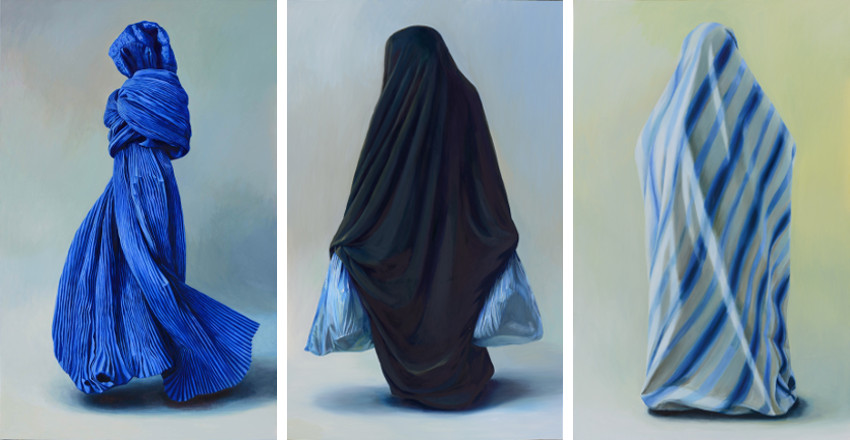 Mundane Items in Kunitsyna's Work
Amongst human figures, Kunitsyna also portrays simple mundane items with a contextual focus on pieces of clothing such as coats, material, and shoes, and on leftover pieces of packaging like boxes. Although she depicts everyday objects, they are far removed from the realities of usual life and serve as a starting point for conceptual contemplation. By being at the very center of the painting yet only hinting at the causal connection, the object becomes part of something fragmentary behind its visible surrounding.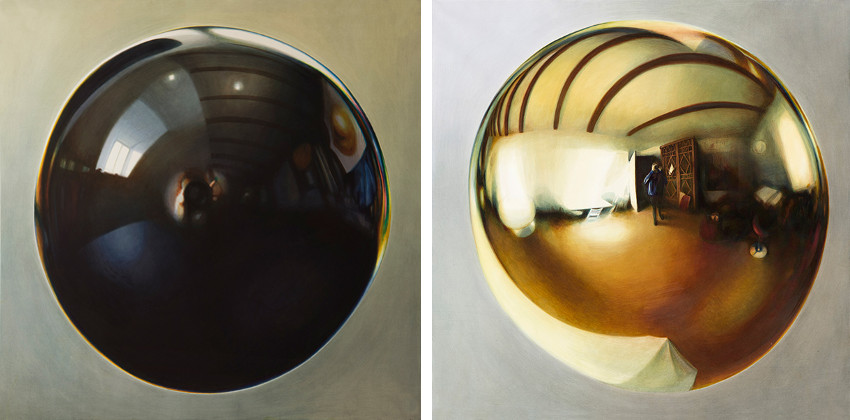 Intertwining of Thought and Meaning
Alina Kunitsyna is already well-known among contemporary art lovers: she has exhibited her work in individual and collective shows in such galleries as LisaBird Contemporary, Wien; Galerie 3, Klagenfurt; Galerie Eugen Lendl, Graz; Galerie Karenina, Moscow; and Haertgalerie, Paris. Her work is included in collections in Austria including Austrian Gallery Belvedere and Museum of Modern Art Carinthia. In 2014, the Belarus artist was featured artist of the Kapsch Art Calendar. The highly talented artist continues her search for ways to get at the very essence of the characters and objects she portrays. In this way, Kunitsyna creates a dynamic intertwining of thought and meaning that goes far beyond just a simple representation.
The artist is represented by Lisabird Contemporary in Vienna.
Alina Kunitsyna lives in Damtschach and Vienna.
Featured photo: Alina Kunitsyna - portrait of the artist - photo by © Andrea Lambrecht
All images courtesy of the artist and Lisabird Contemporary