ALO is an Italian street artist who usually paints middle-size portraits, as his style is quite detailed. ALO's work often looks like paste ups. They are not, every one of them is drawn in situ but he often chooses to paint over old posters that have been fly posted already onto the walls. And that is what gives the effect of a paste up. ALO describes his style as "Urban Expressionism".
ALO's Portraits
Background
ALO was born in Italy and he is a self-taught. He took some drawing lessons at "Industrial Design" while living in Florence, but quit soon as he did not appreciate making art for advertisement purposes. In Italy, he began with oil painting to then move towards a mixed media one, using in particular acrylics and marker pens. His work is mainly focused on human figure in a portrait-style and his characters started to appear on the walls really soon: first all over Italy, in particular Perugia, Milan and Rome, and then London.
Technique
Although it may seem contradictory, ALO is a "street art painter". He adapted his indoor techniques, mainly acrylic based, to the outdoor surfaces. The use of brushes and markers determine the striped pixelated look of his portraits that deliver a strong sense of loss and defeat. The bright tones of the backgrounds, most of the time primary colors, define the meaning and emotional range of each artwork. ALO's outdoor pieces are slowly processed; the work is diluted in many phases of preparation of the surface and details are carefully layered.
ALO's Highly-Detailed Portraits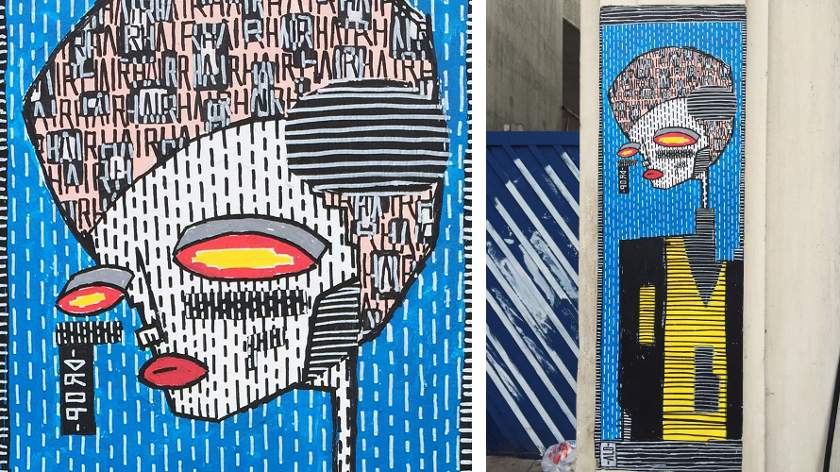 After a short period based on different street art techniques, ALO began painting his portraits directly on walls using the same technique employed for his indoor works, based on brushes and markers. When he moved to London he started painting his striated box characters on the East-End area, mostly on the streets of Shoreditch, Brick Lane and Hackney. His work is a provocative blend of the tribal and the conceptual. With statements like Poor vs Poor and False Flag adorning some of these paintings, he is adding a political tone to his art's expression. ALO's works are not merely just paintings; they are a social commentary of the age.
Style
Even though he is well known by his carefully crafted details, he has painted huge works as well, but generally the middle-size paintings are quick enough to be painted properly and illegally. The aim of his street art is to bring a painting-style on walls. His street-portraits have often a painted frame that cages the character and gives the impression of a framed painting. His style is characterized by line-textures and color contrasts, he usually replaces objects or parts of the human body with the equivalent words. In this way the viewer will imagine the object through the word symbolizing the object itself.
ALO and Street Art
Subjects: Outcasts of Society
ALO's style is unique and immediately identifiable, but he says that he is never able to really describe his style: "I need to paint people, characters of the reality I live; it's like a research into a human being's feelings and troubles." He uses the same technique each time but each character still has its own personality. Dotted around the East End, his work can be seen: "I like the idea of doing something for everyone" he says "something not sellable".
As ALO comes from the streets, it was natural to him to bring his paintings on walls, as he feels much closer to the street world than the "traditional painters" one. ALO spots his characters in the streets, where he brings them back in the form of works of art: Hail to the Looser, as the title of ALO's last exhibition invites to do. "I've always been drawn to this outside society. Myself, I feel I belong most to this aspect of mankind." He's often inspired by the outsiders living his own area. At the same time, he portraits not only beggars, prostitutes and junkies but also the so-called "normal" people who suffer life but tend to hide and renegade their own inner feelings. His whole work is based on bringing to surface the deeper human feelings through colors and shapes.
"I like the idea of doing something for everyone... Something not sellable"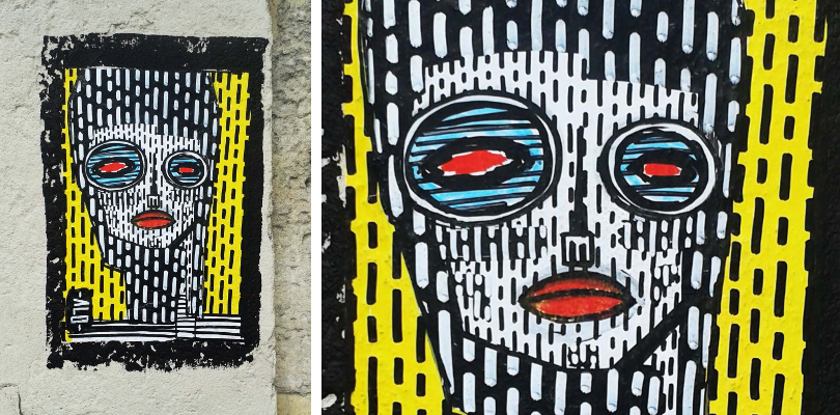 His views on street art are forthright: "I think anyone has the right to paint walls" he says, "overcoming the so-called 'experts' who are supposed to decide who's an artists and who's not." Yet at the Saatchi, it will be the 'experts' who will end up judging his work, it's a big step up but it's the one that's been given with the support of art insiders who have obviously seen something special in this quiet abstract street painter.
Influences
Regarding the intentions of street art in general, ALO says "it's revolutionary". He talks through his art; his canvases and street pieces have an incredible communicative power. Despite him being a self-taught artist, ALO's works are largely inspired by the milestones of art history. A careful observer can't avoid noticing the connections with many of the artistic movements born just before World War II all over Europe. ALO is influenced by African art where its "losers" try to send us messages through a labyrinth of cubist rebus of words and objects; they stare at us under a never ending brush strokes rain. All portraits have the same void Demoiselles d'Avignon eyes, but they are at the same time full of emotions: sweetness, love, desperation, anger, madness. Long necks and beautiful stylized women; people in the city corners, at the very margins of life, the same favorite subjects of the German Expressionists. He has mostly been influenced by the idea of working on something not sellable and for anyone. Even if he appreciates many street art styles, his aim is to bring something different to street art, detaching from pop-art, cartoon style and stencils.
ALO's Street Art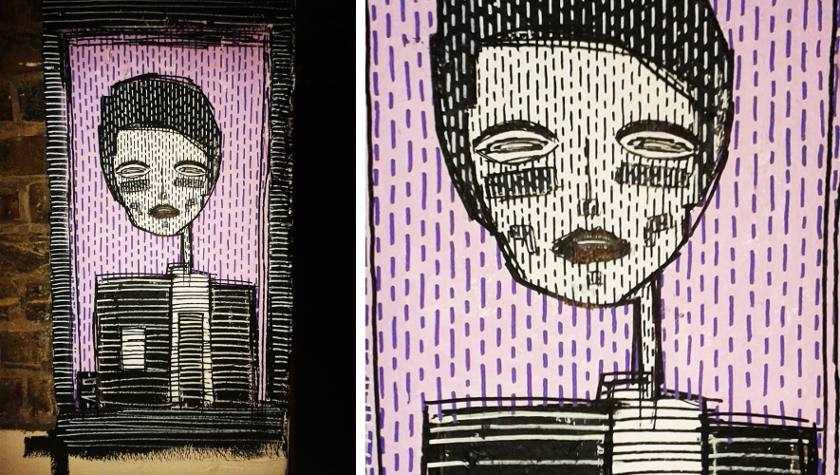 Exhibitions
Hail to the Loser
Another big influence is the concept of street art itself explaining that he likes the idea of the artist taking back the spaces we live in for the purpose of creation. He states Kirchner as his prime role-model, and if looked carefully, one can catch a glimpse of the great painter's contour in ALO's portraits as well. His modern characters thus become symbolic, transforming from supposed individuals into archetypes. When ALO explains these influences I find myself understanding his art more. I can see how the combination of expressionism and African art works and when you put in on the street, how the three fuse together. The style that distinguishes him has been developed step by step in about ten years, and his most important art has been developed in the UK capital. In London, his work has been shown at the "Stolen space" gallery in the "Winter group show" in 2013 and in his first UK solo show "Hail to the loser" (this title is implicating the thematics and the philosophy of this street art renegade) at the Saatchi Gallery in July 2014.
Exhibition View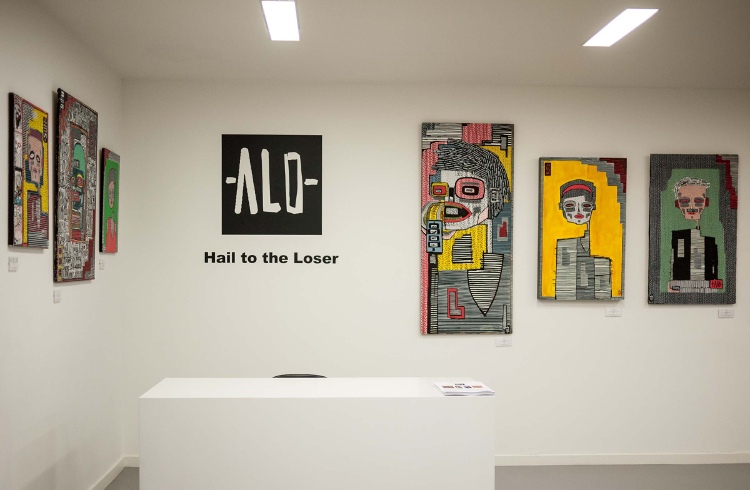 ALO has been living in London since 2011.
All images are courtesy of the artist