Establishing the basis of the Art Nouveau style, Alphonse Mucha was famous for his commercial posters with dense patterns that initiate the interest in natural forms and decoration instead of the anonymity of mechanical production. From Vienna and Paris to Chicago where he introduced the American audience with new art, Mucha worked in various mediums, including jewelry, furniture design, and theater scenography. Celebrating femininity, the Femme nouvelle was a favorite subject, used in both allegorical and decorative purposes, glorified as the counterbalance in the masculine world. Besides his commercial work, Mucha was a great patriot, often dedicated to projects of nationalist character, celebrating the history and culture of his country.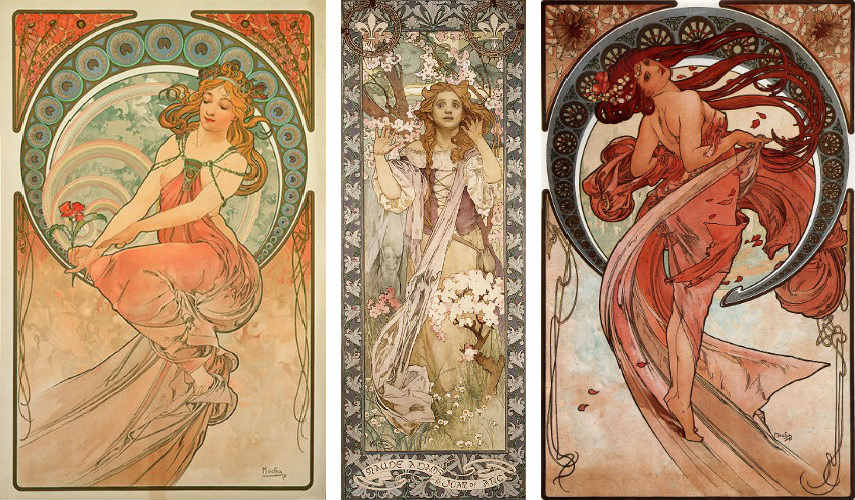 From Moravia via Vienna to Paris and Back
Mucha was born in 1860, in the town of Ivancice, Moravia, today Czech Republic. As a chorister at the Saint Peter's Cathedral in Brno, he experienced his first revelation, confronting the richness of baroque art. Since drawing was his favorite preoccupation as long as he remembered, in 1879, he moved to Vienna to work as a stage-set painter for a major theatrical design company. Unfortunately, the business was destroyed in fire, and Mucha was forced to return to Moravia and accept the job of a decorative and portrait painter. Still, the Austrian capital left a great impression on the young artist who particularly admired the work of Hans Makart. Making portraits, he met Count Khuen of Mikulov who hired him to paint murals in Emmahof Castle and was so impressed by Mucha that paid for his formal training at the Munich Academy of Fine Arts. During his Munich period, the artist worked as an illustrator for Krokodil magazine, among the others, that helped him to develop distinctive calligraphic style. By 1887 he was in Paris studying at the Academia Julian and Academie Colarossi, where the painters Eduard Vuillard and Pierre Bonnard were among the most respected. They introduced the art as something that should be normality of everyday life, forming the basic ideas of future Art Nouveau conception of art in daily life. Mucha earned a living doing a job of illustrator for different magazines and advertisements and shared the studio with Paul Gauguin. Two artists created under the very interesting conditions, assembling the room with music, exotic objects and entertainment, gathering bohemian writers, artists, and musicians. The is one old photograph that shows the scene where Gauguin in his underwear plays the Harmonium, reflecting the positive mood in their studio. Thanks to the various company, it was here that Mucha had a chance to experience the occult with August Strindberg, experimenting with hypnosis with Albert de Rochas and Camille Flammarion.
Mucha worked as decorative and portrait painter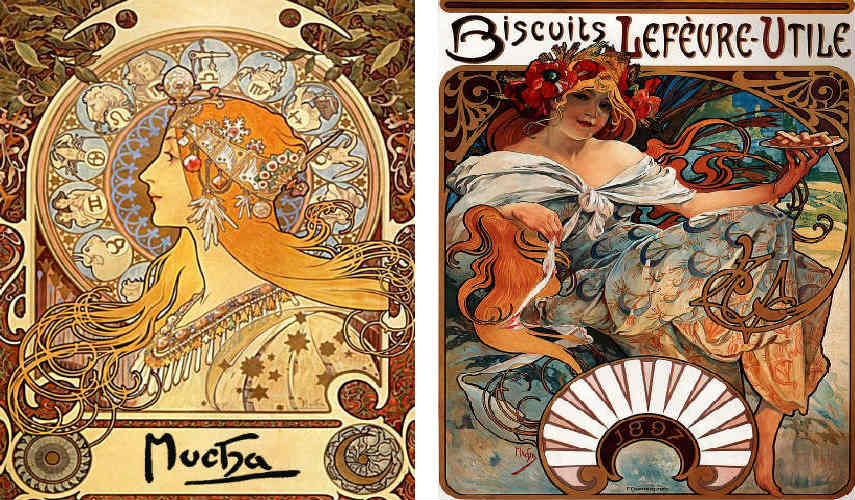 The Acquaintance With Sarah Bernhardt
His career drastically changed in 1894 on the day before Christmas. According to legend, young Mucha was working for printer Lemercier when Sarah Bernhardt, the most famous actress of that time, came into their office desperately looking for somebody to design the poster for her new show Gismonda. Since all employees were home for Christmas, Mucha took the opportunity and created his first poster. The diva was so pleased, that she signed a six-year contract with the artist who produced many promotional posters, costumes and stage sets for her and quickly became famous himself. "Le Style Mucha" as people started to call his style, was so popular that collectors stole his posters from billboards. Advertising perfumes, beer, bicycles, biscuits, and cigarettes, he erased the difference between fine and commercial art, merging the consumerism with philosophy by claiming that art must be more than visual pleasing. Under the influences of the Pre-Raphelites, Hans Makart and Japanese graphics, Mucha created innovative and distinctive approach that particularly distinguish his female representations with flowing hair, pastel clothes and haloes of light or flowers that evoke the religious scenes he saw throughout his childhood. His style was dynamic and graceful, emphasizing its elegance with curving lines and Byzantine borders, lettering and frames. During this period, he was also experimenting with a different kind of sculpture and applied arts, associating with the goldsmith Fouquet in whose store he created so-called "Mucha world ", a unique decoration made of statues, stained glass, mosaics, fountains and special lightning.
Working for Sarah Bernhardt, Mucha produced many promotional posters, costumes and stage sets
The Seasons and Art Nouveau Bible
The first, and the most famous series of his decorative panels, The Seasons (1896), became so popular that he produces it in at least two more sets. Although the theme of personification of the seasons was nothing new, Mucha's female characters incorporated into nature have brought the freshness by showing their moods in accordance with the season they represent. After successful exhibitions in Vienna, Budapest, Prague, Munich, Brussels and London, he was already recognizable as the world's greatest decorative artist. With the aim of capitalization of his ideas, he published two books – Documents Decoratifs (1902) and Figures Decoratifs (1905), filled with design for jewelry, stained glass, wallpaper, furniture and figures that became the Art Nouveau bible. Mucha's spiritual side find his expression in his illustrated book Le Pater (1899), decorated with Byzantine, Catholic, and Masonic symbols. It also reflected his belief that art should have a moral and political purpose, considering its ability to spread the message. As a great patriot, he dreamed of creating an epic painting cycle as an illustration of the Slav history that would encourage the Slavic quest for freedom.
Mucha's female characters show their moods in accordance with the season they represent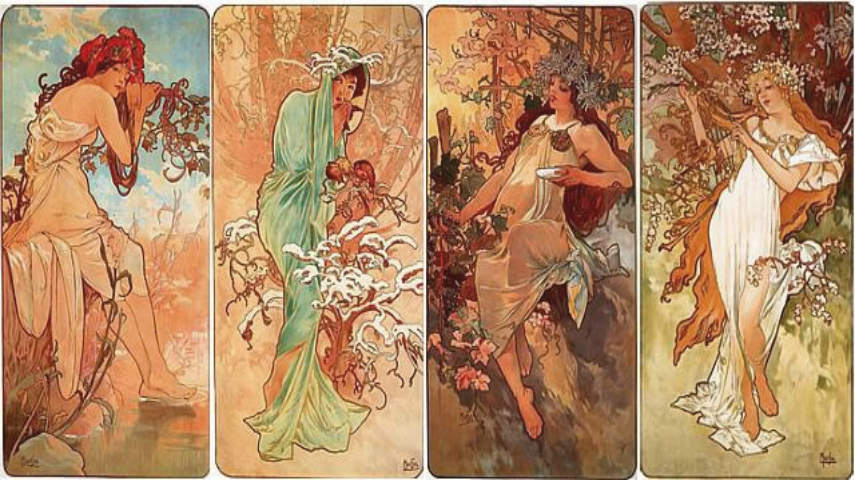 The Slav Epic
Collecting funds for his monumental intention, Mucha traveled several times to the USA, where, in 1909, finally met Charles Crane who became his financier for the next 20 years. Fully dedicated to his Slav Epic, he occasionally worked on some other projects, but with the same inspiration and message, as the Lord Mayor's Hall ceiling with an inscription "Though humiliated and tortured you will live again, my country!". In 1918, when Czechoslovakia finally gained its independence, Mucha started to design nation's postage stamps, banknotes, and coat of arms. His studio in Zbiroh Castle was overcrowded with his giant canvases whose painting requested extensive research because of which Mucha traveled throughout the Balkans, consulting with historians, ensuring that every detail was depicted precisely which gave international attention to his Pan-Slavic idea. In 1919, he finished the first phase which was a part of traveling exhibition through America, attracting 50 000 visitors per week. The final canvas, No.20, The Apotheosis of the Slavs, was done in 1926, representing the new republic under the peace rainbow, protected by Christ. This large series consisted of 20 paintings in total and he took eighteen years to finish them. In 1928, on the occasion of 10-years anniversary of the Czechoslovakian republic, Mucha donated the Slav Epic to the city of Prague, accepting also to create stained glass window in St. Vitus Cathedral.
The realization of his Pan-Slavic idea was the crown of his art
The Legacy of Alphonse Mucha
Although the war was all the more certain, he began the triptych The Three Ages – reason, wisdom, and love (1936-38) considering the first two as the extremes that could only be united through wisdom. In preparation for this monumental work, Mucha made numerous sketches of details, but his final touch missed as a result of his failing health. But even the bigger obstacle was the Nazi invasion of Czechoslovakia in 1939 when the artist was labeled as a reactionary and interrogated by Gestapo, which is even more undermined his lung infection. Alphonse Mucha died in Prague on July 14, 1939. Despite his today popularity, in the time of his death, his style was considered outdated and his greatest work, Slav Epic was stored for twenty-five years. The communists seen his art as decadent and bourgeois and his son Jiri Mucha devoted his life promoting his father's artwork and reviving his reputation. During the 60's, in accordance with the increasing interest in Art Nouveau, Mucha's style became popular and copied on posters of British bands and for one San Francisco happening in 1966. In spite of his association with Art Nouveau, Mucha rejected the label, insisting that art was eternal.
Featured image: Alphonse Mucha - Artist portrait, 1906, Image via en.wikipedia.org