Being an epitome of a tragic artist, Amedeo Modigliani had a life-long affliction with deviant beauty. This Italy-born artist was all his life subordinated by his fragile health, which was probably the reason for his self-destructive behavior. Dismissing his academic upbringing, he has willingly accepted the life of the poor vagabond. After he discovered narcotics, he believed that the only way to initiate the creativity was to violate social norms and live disturbed life. Living in Paris, the artistic center of that time, Modigliani widely exploited the dark side of the big city, drunk absinthe a lot, smoked hashish and had numerous affairs with women. Although he intentionally created chaotic and problematic life conditions, he was a productive artist. Sometimes sketching even 100 drawings in a day, his numerous works are lost or destroyed in his madness attacks. Favoring the form of the human body, his work is recognizable by elongations and mask-like faces, but the uniqueness of his expression is so unlike any other of his time, that makes it impossible to be classified with any specific style.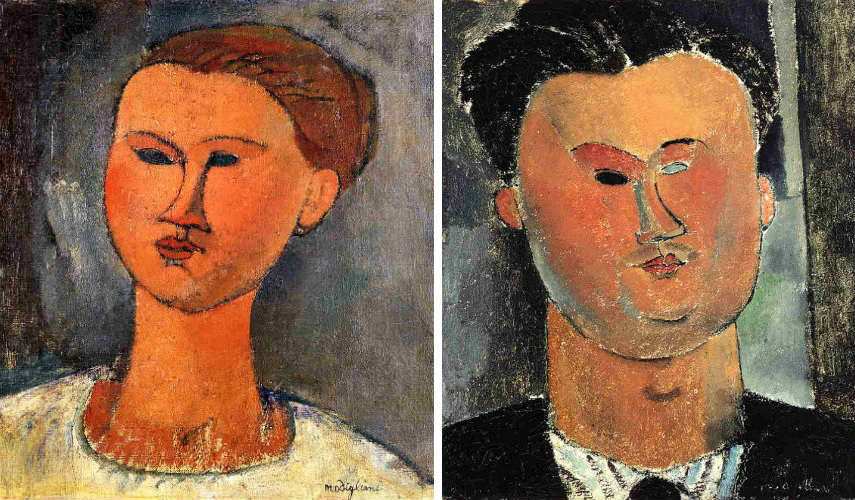 Classical Art as Therapy and Cure
Born as a fourth child in a Jewish family which had to declare bankruptcy just before his birth, Modigliani was specially connected to his mother who had a crucial role in his ability to pursue art as a vocation. Modigliani was dedicated to drawing and painting from the early age, thought himself as an artist even before beginning formal studies. After being diagnosed with tuberculosis in 1901, his mother took him to recovery trip where they have visited museums in Naples, Rome, Florence and Venice, admiring to classical art. Two years later, Modigliani moved to Florence to study figure drawing in Scuola Libera di Nudo, and then to Venice where he attended the Instituto di Belle Arti. It is in Venice where he for the first time felt the magic of life on drugs and alcohol, which courage him to move to Paris.
His work is recognizable by elongations and mask-like faces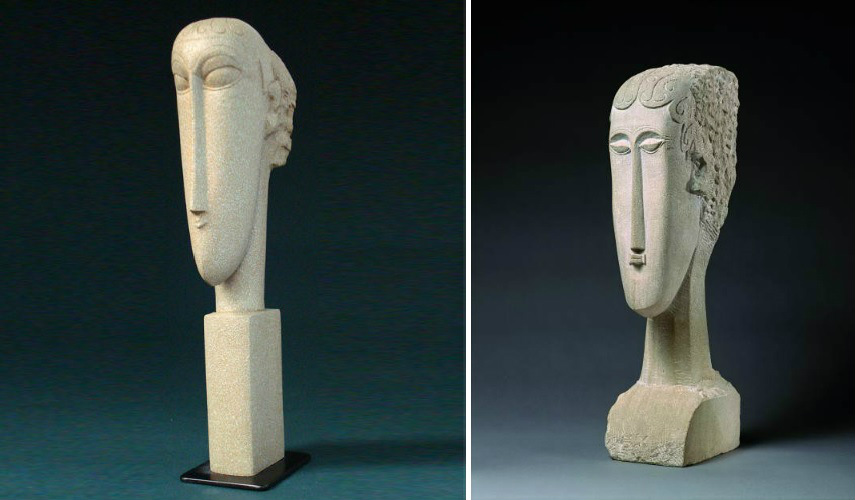 Paris: The Artistic Paradise
In 1906 Modigliani finally became a part of the artistic commune in the Montmartre, showing the influences of then already recognized artists Paul Cezanne and Henri de Toulouse-Lautrec. Rejecting artistic conventions, his style became a fusion of his earlier traditional knowledge and products of association with Pablo Picasso, Juan Gris and poet Max Jacob. But despite his dedication, a 1906 exhibition of three paintings in Laura Wylda Gallery failed to sell or even get interested people to Modigliani's work. He was forced to haunt galleries door to door, sometimes trading his pieces for food. His failure took him deeper into the world of drugs and alcohol, provoking the further worsening of his health. After receiving no attention in the twenty-fourth Salon des Independants, he decided to refocus on sculpture. The simple elegance and purity of form of his sculptural pieces reveal the borrowed elements from primitive arts, as well as the strong impression with Constantin Brancusi's work.
His style became a fusion of his earlier knowledge and products of association with Picasso and Gris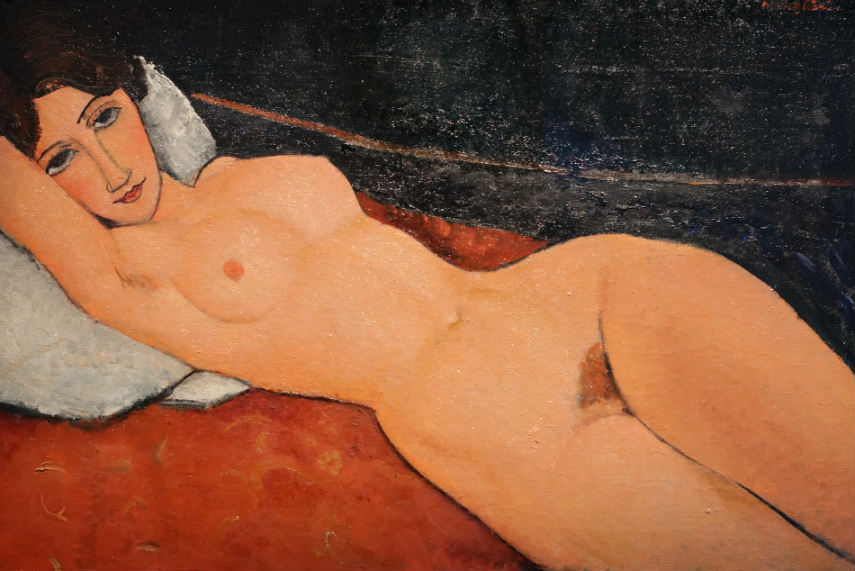 Solo Show, For the First and For the Last Time
His problems became more bearable in 1914 when Max Jacob introduced him to the art dealer Paul Guillaume whom he had sold several paintings with an agreement to promote his art. But the expansion of the World War II brought the new difficult situations and his poor health again got worse. Despite everything, during this time Modigliani created a couple of his finest works. Returning to painting portraits, he transferred the bold line and geometric abstraction from his sculptures. His association with Polish poet and art dealer Leopold Zborowski resulted with his first and only solo show during his lifetime. The exhibition has been held at Berthe Weill Gallery in late 1917, representing 30 female nudes in his new, original style. In order to attract the audience, Weill installed one of the paintings into the front window, which provoked the local police to shut down the exhibition. Still, unintended publicity led to an unexpected better sale.
Later portraits have a bold line and geometric abstraction transferred from the sculpture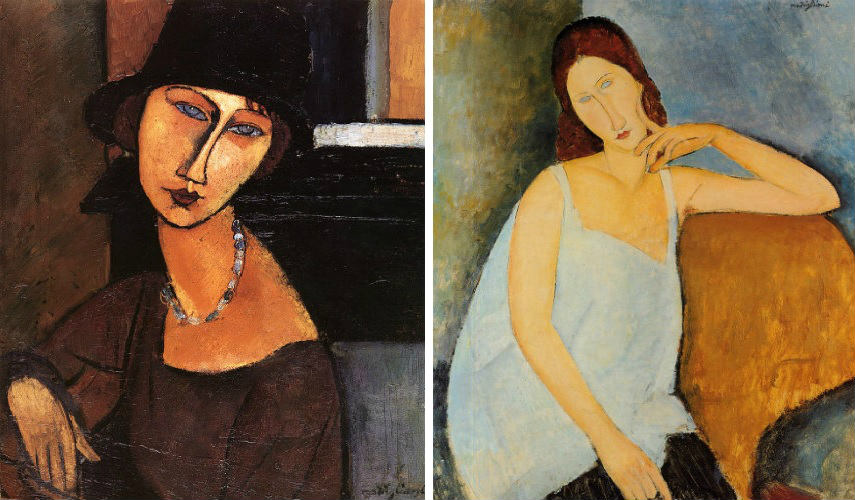 Jeanne Hebuterne: Love, Passion and Inspiration
Several months earlier, he had met a young art student Jeanne Hebuterne, who became his wife and main inspiration for the rest of his life. The portraits of his new muse show softer lines and brighter palette, reflecting a more peaceful state of mind. Next year they had a daughter named for her mother. In accordance with his deal with Zborowski, his productivity was increased and Modigliani became more confident in his work. Yet, his health is definitely started to fail, till he died of tubercular meningitis on January 24, 1920, at age 35. Holding him for the last moment, Hebuterne couldn't accept the fact and, despite being nine months pregnant, she threw herself from the fifth floor of their Parisian apartment, killing herself and their unborn child.
Jeanne Hebuterne became his main inspiration for the rest of his life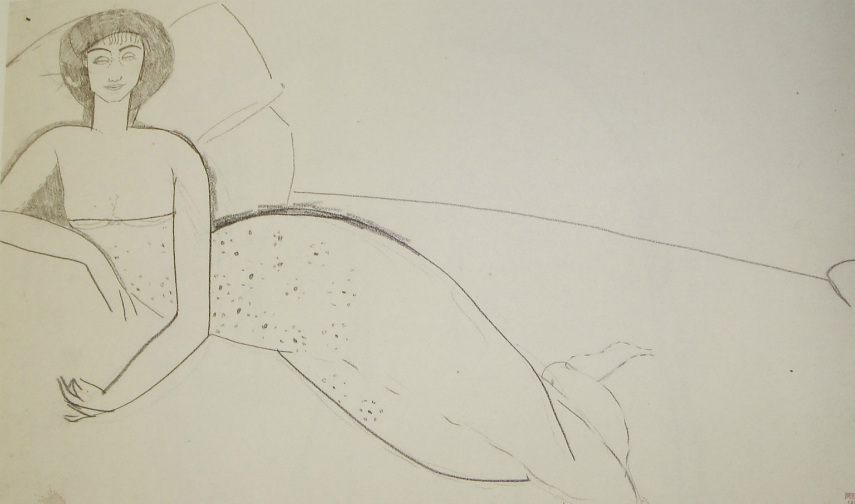 Tragic Destiny and Posthumous Fame
Unfortunately, the failure and problems were the only things Amadeo Modigliani got to meet during his lifetime, but his name still found the recognition and today, he is among the celebrated artists whose paintings reach incredible prices. There are several biographers who are dedicated to exploring his unusual nature and tree featured movies that portray him as a passionate individual with self-destructive lifestyle. His life was tragic from the very beginnings, until the end that affected not only him but his wife, unborn child and little daughter who lost her parents. However, his importance and the great contribution to the history of modern art are finally attributed to this extraordinary artist.
Featured image: Artist portrait (detail), photo via soverato.eu
All images used for illustrative purpose only