Anaïs de Contades, a young French visual artist, poet and muse, explores a wide array of universal topics, such as the meaning of beauty and the power of eroticism and romanticism. Through her paintings, drawings and videos she speaks about different aspects of her own life, including her difficulty to live in a banalised and destructive environments which are omnipresent nowadays. De Contades is also a part of the burgeoning art movements called The New Synthesis and her piece called Bain dans tes mains has been acquired by a top international collector.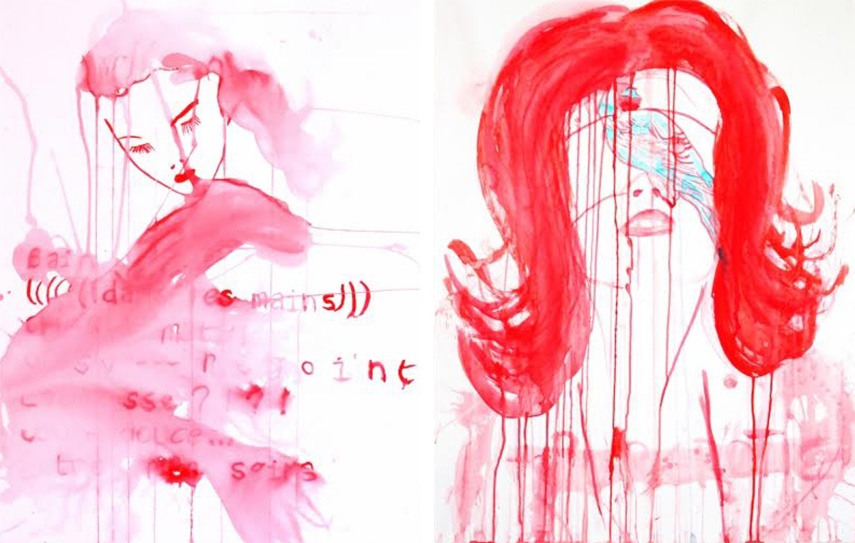 Fleur Succette: Symbol of an Unlimited Freedom
Since the early age of 14, Anaïs began writing contemporary, minimalist poems which reflect her emotional and spiritual life. She is also a self-taught painter, installation artists and an atypical rebel from an aristocratic French family. Even though her work has a lively free-spirited and passionate feel, she maintains the sophistication of her milieu. Her pieces are emotionally ambivalent, merging humor with tragedy, joy with pain, fragility with strength. Most of her artworks are born as poems written in a very deconstructed style. Consequently, such poems are transformed into drawings, paintings, installations, and poetry videos. De Contades' entire oeuvre is represented by her symbol, called FleurSucette, which combines the elements of the artist's family history, such as the family crest, together with the artist's personality, depicted with a symbolic lily flower and a lollipop.
De Contades' ambivalent pieces which merge joy with pain, as well as her video works, can be found on instagram and facebook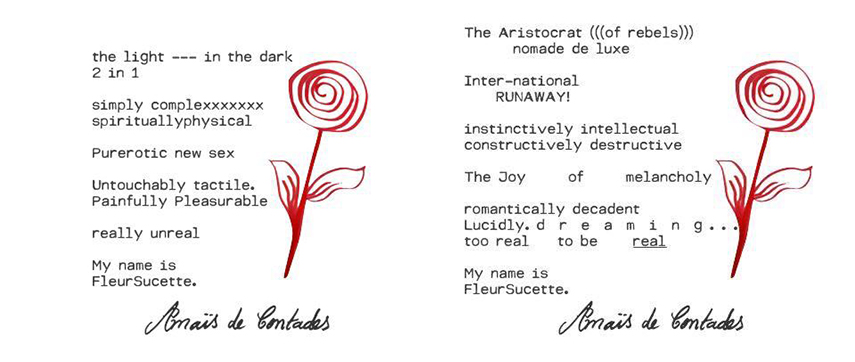 The Red String Series
The Red String is an important series of De Contades' paintings. The term red string is a symbol that one finds in the spiritual practices of many cultures, since the red color, because of its boldness, has a cross-cultural meaning related to passion and love. In De Contades' series, the string is a painted line, a drip or a sewn thread which symbolizes the deep connection between people, nature, and the universe. At the same time, the use of red elements emphasizes the surrealistic eroticism of the artist's approach. In addition to her paintings and poetry, Anaïs is also a muse who collaborates with other visual artists. She was one of the main sources of inspiration for a British painter Lans King and his series called The New Synthesis. De Contades is also interested in the world of fashion - she paints on silk and her silk works are specifically adapted for hand-made scarves of exceptional quality. The first collection of her scarves will be available as of July 25, 2016.
The term red string is a symbol that one finds in the spiritual practices of many cultures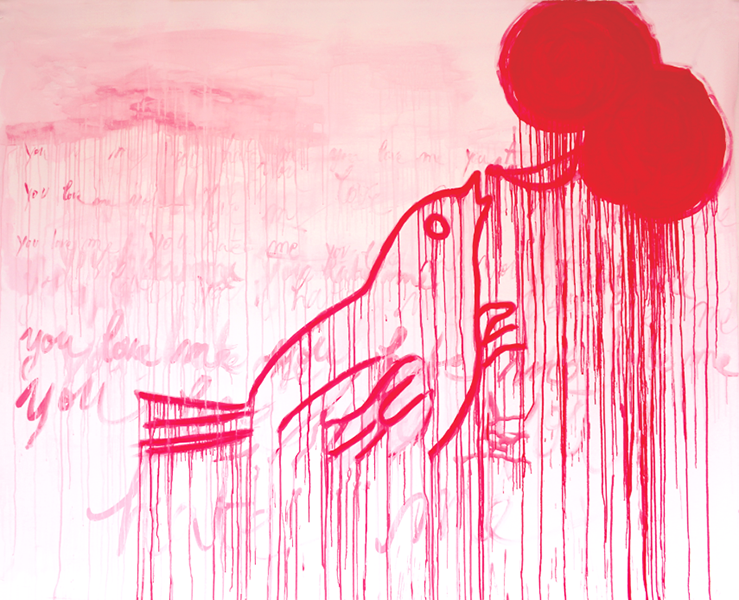 Romantic Revival through Video and Photo Works
Anaïs' work is free-spirited and passionate, but above all romantic in a truly modern and rebellious way. Her contemporary romanticism is the result of her continuous search for authentic beauty. At the same time, her arts promotes the fine blend of eroticism and spirituality. The young artist, who calls herself nomad de luxe, is a great example of the revival of romantic values and aesthetics and we hope to her pieces showcased in various shows in France as well as abroad.
Anaïs de Contades lives and works in Paris, France.
Featured image: De Contades' Portrait
All images courtesy of the artist.