An often overlooked founding member of Fauvism, André Derain was a painter whose innovative landscape and cityscape paintings heavily impacted the artist's contemporary scene. For the majority of his career, especially the early periods of it, Derain worked closely with fellow Fauves Maurice de Vlaminck and Henri Matisse. The latter actually played a major role in Andre's personal life as well as heavily influencing the younger author's stylistic decisions. Derain's art went through many creative and conceptual changes during the course of his life, covering everything from Georges Seurat-like dotted technique of Pointillism to more subtle portraiture and still life pieces[1]. It should also be noted that Andre was one of the closest colleagues as well as a friend of Pablo Picasso, despite the fact the legendary Spaniard and Matisse, Derain's mentor, did not get along very good, to say the least.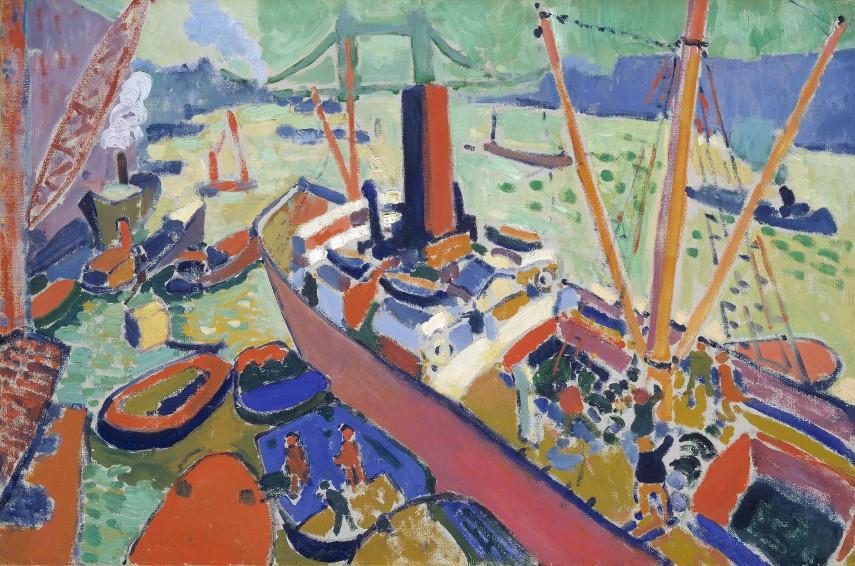 The Influence of Henri Matisse
André Derain was born in the year of 1880 in Chatou, Yvelines, an area just outside Paris. When he was about fifteen years old, young André began to study painting on his own. However, he also learned the trade of an engineer at the Académie Camillo. Painting pictures remained a big part of his life for the majority of his youth. In his spare time, Derain attended painting classes under the guiding hand of Eugène Carrière[2] and it was here that he met Matisse.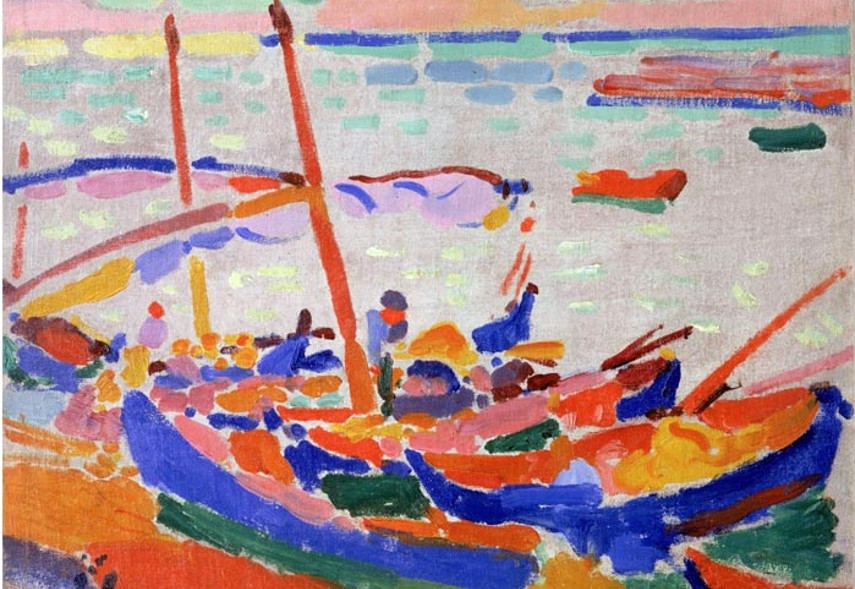 Landscape and Portrait Art of Maurice de Vlaminck
In 1900, André met and shared a studio with Maurice de Vlaminck where the two worked hard at developing their styles. Their growth was, unfortunately, put on a prolonged halt as the painters were recruited in military service in 1901. In 1904, after the service was completed, Matisse persuaded Derain's parents to allow him to abandon his engineering career and devote himself solely to painting, after which André started attending classes at Académie Julian. Andre was overjoyed and immediately started exploring many modern and contemporary techniques of depicting upon the canvas.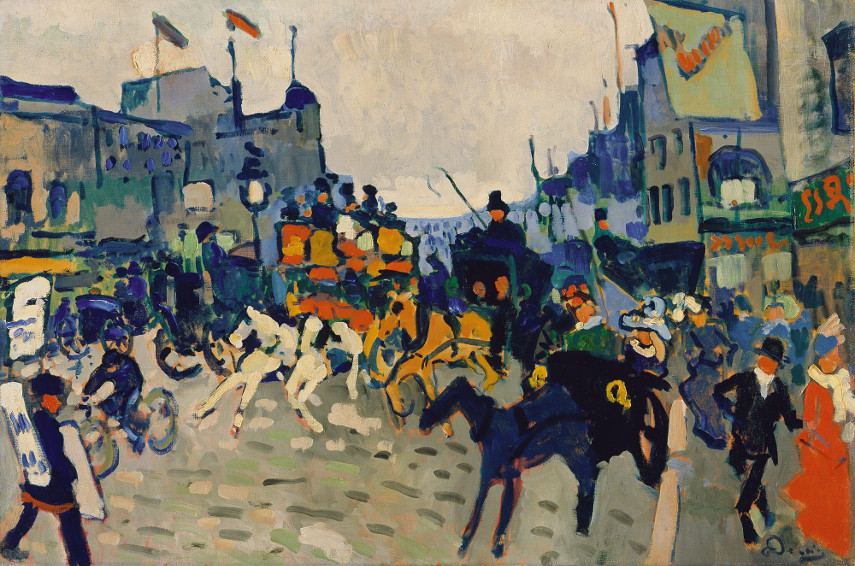 André Derain and Fauvism
Derain and Matisse worked together through the summer of 1905 and later that year displayed their highly innovative paintings at the Salon d'Automne - these works will be the reason why Louis Vauxcelles proclaimed them as les Fauves, or the wild beasts. Soon after that, Derain went to London to produce a series of paintings with the city as the main subject[3]. Upon his return to France, André was granted a studio and financial stability. He moved to Montmartre to be near his friend Pablo Picasso and other noted artists. Here, Derain began to shift from the brilliant Fauvist palette to more muted tones, combining the influence of Cubism and Paul Cézanne with his own style.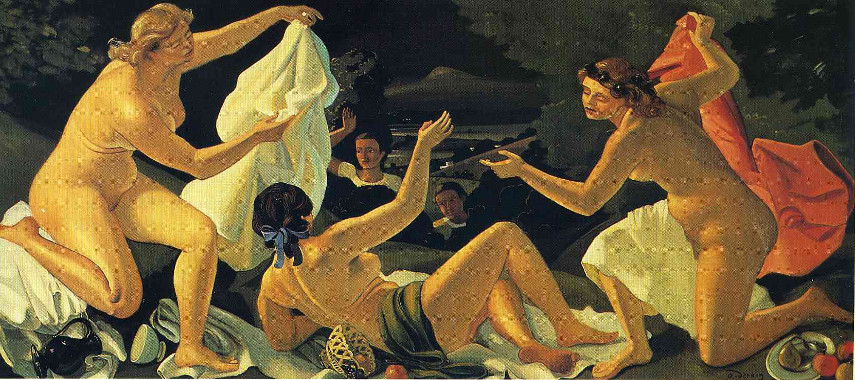 Representing the French Art
In 1914 he was mobilized for military service in World War I and had little time for painting - however, he did provide a set of illustrations for André Breton's first book, Mont de Piete (1916). The 1920s marked the height of his success. During the German occupation of France in World War II, Derain lived primarily in Paris and was much courted by the Germans for his art - in fact, Andre was proclaimed to be a collaborator after the war ended. He died in Garches, Hauts-de-Seine, in 1954 when he was struck by a moving vehicle.
The art of André Derain earned him widespread recognition throughout Europe for its dense, vibrant brushwork and unique stylistic decisions that combined many modern techniques of painting

A Great Artistic Mixture
The specific situation in which Derain created his work is what makes this author's art so special and intriguing. He was very eager to apply different styles and techniques, like the dotted system of Seurat and German expressionistic features, but was also under the influence of Picasso's Cubism and Matisse's Fauvism - a unique combination that earned Andre widespread recognition throughout Europe and the United States. He was also recognized as an important figure of the school of Symbolism and all the concepts behind it. All of these radically different factors blended within the art of Andre Derain who managed to align them in a way that resulted in the creation of art that focuses much more on the beauty of what is described on the canvas, regardless of unnecessary specifics and irrelevant details[4].
References:
Lee, J., Derain, Universe Pub, 1991
Monod-Fontaine, A., Monod-Fontaine, I., Garinei, S., Derain, C. V., Andre Derain, Ferrara Palazzo dei Diamanti, 2006
Labrusse, R., Munck, J., House, J., Ireson, N., Andre Derain: The London Paintings, Paul Holberton Publishing, 2005
Kalitina, N., Maximova, E., Andre Derain: A Painter Through the Ordeal by Fire, Parkstone Press Ltd, 1999
Featured image: André Derain - Golden Age - Image via wikiart.org
All images used for illustrative purposes only.