Andrea Wan is a Hong Kong-born illustrator and visual artist, known for the dream-like illustrations created in her unique surrealist style. Raised in Vancouver, and now based in Berlin, Andrea brings to the table some of the most amazing artworks, articulated through her signature visual language, and backed up by the cultural diversity within her. Apart from illustrations, she has also created several murals in Hawaii and Geneva, Switzerland.
Early Life and Formative Years
Andrea was born in 1985 in Hong Kong, and then moved to Vancouver, Canada with her parents when she was ten years old. Seeing that the parents were graphic designers, it comes as no surprise that Andrea was interested in art, and encouraged to pursue a career in it from an early age. She started her academic training at Emily Carr University of Art and Design, from which she graduated, obtaining a degree in Film, Video and Integrated Media. She later went to Denmark to continue with her education at Designskolen Kolding, where she studied Design and Illustration. While living and learning in Europe, Andrea began to explore and broaden her style, developing her artistic expression. In 2012, she moved to Berlin, Germany, where she lives to this day. The constant change of scenery and cultures in her life will prove to be an invaluable, never-ending source of inspiration to the artist.
Dream On, Little Ghost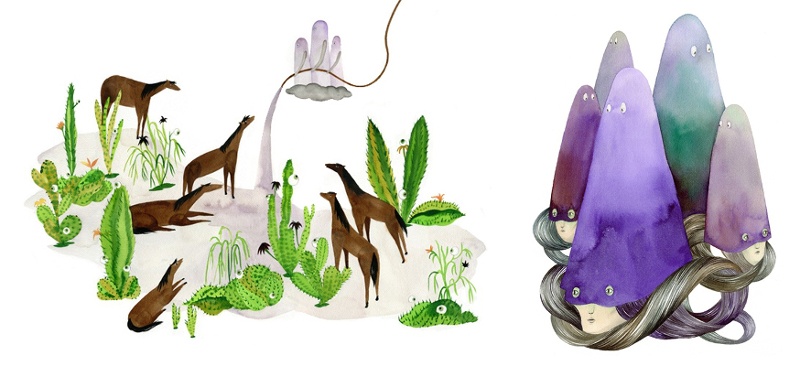 Andrea Wan's Surrealism
Style
The art of Wan serves as a sort of the artist's personal diary. Through an emotional landscape, people, animals and ghosts, Andrea communicates her most private emotions and thoughts, conveying them on watercolor paper. A distinctive visual language emerges from her illustrations, made from acrylic ink. The mixture of the Chinese, the Canadian and the European, three very distinct cultures, gave rise to a new, dreamy world, realized through Andrea's fantastic, surrealist style. The concept of a constant change is also a prevailing theme in her art. Even our identity eventually succumbs to it.
Fakelore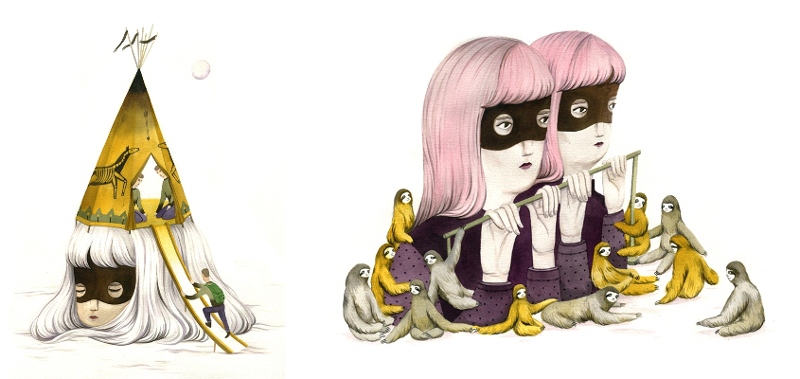 The artist also draws inspiration from the subconscious mind, as well as her daily life and travels. The characters in her drawings and illustrations are representations of the people in her life interpreted through "dream visions". The color also plays an important role, as she successfully manages to fuse together black and white with a little more vibrant colors.
Process of Creation
Wan often begins her pieces with sketches in pencil. She explores the concept and lets her imagination run wild, until she gets the idea for the composition. However, she never makes a precise sketch of the piece, because she dislikes drawing the same thing twice. It is not so rare that she begins working directly on the paper. Next comes the application of layers of ink. The choice of colors also comes while Andrea is creating; it is not aforethought. Her subjects, however, usually have bright hair colors, which is something Andrea is famous for.
Mirror Mirror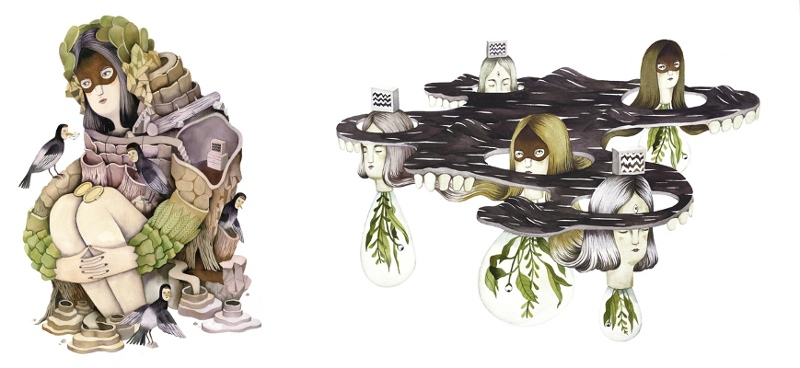 While her work serves as a form of expressing her feelings, Wan's art establishes a connection with the audience, yielding very different reactions – from pleasing to disagreeable.
Exhibitions and Collaborations
The Berlin-based artist has been praised for her extraordinary pieces by many critics. Her works have also been recognized by some of the world's most renowned publications such as The New York Times, Computer Arts Magazine, Nylon and The North American Review, to name a few. She has also participated in numerous exhibitions (both solo and group) and was featured in various festivals. In 2013, Wan participated in Pictoplasma Berlin festival, organized by The Pictoplasma Portrait. A year later, in 2014, her work was a part of Knotenpunkt festival, organized by Affenfaust Gallery from Hamburg.
One-person Exhibitions
Andrea had her first solo show in 2011 at Collage Collage in Vancouver. Since then, many successful exhibitions took place all over Canada, the US and Europe. When she moved to Germany in 2012, she immediately had her first European exhibition titled Pen Pals, held at Idrawalot Gallery in Germany. That same year, another acclaimed exhibition occurred. Night Travelers was organized by Galeria Cosmo from Barcelona, Spain. However, the two most recent solo shows proved to be the most successful ones.
Fleeting Season Exhibition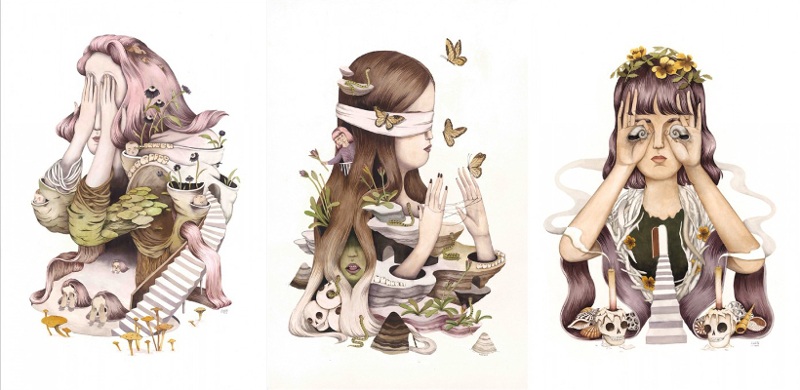 Mirror Mirror was Andrea's 2014 exhibition, and it was organized by REM (also known as Rabbit Eye Movement) in Vienna. In 2015, another show followed. Fleeting Seasons was organized by and held at BC Gallery.
Awards and Representations
Wan received many awards and honors. Her work was nominated for Western Magazines Award for Best Illustration. She received Alberta Magazines Award, and her work also won the Creative Quarterly 20 Professional Illustration. It was also selected for American Illustration and 3x3 Professional Illustration. The artist is represented by two galleries: BC and Urban Spree.
Andrea Wan resides and creates in Berlin, Germany.
Featured image by Ana Santl.
All artworks are courtesy of Andrea Wan and BC