One would think that sculpture requires a high level of precision simply because the pieces are easily accessible from all sides and every single imperfection is exposed and extremely vulnerable, wide open to criticism. Andreas Kuhnlein is a German contemporary sculptor who has cut off precision from his art. Literally, since he works exclusively with a chainsaw, which enables him to show all the cuts, disintegrations, protrusions, and grains of the hardwood. The themes are centered on man, but they also reflect many facets of a modern life, such as pride and power, or suffering and humiliation.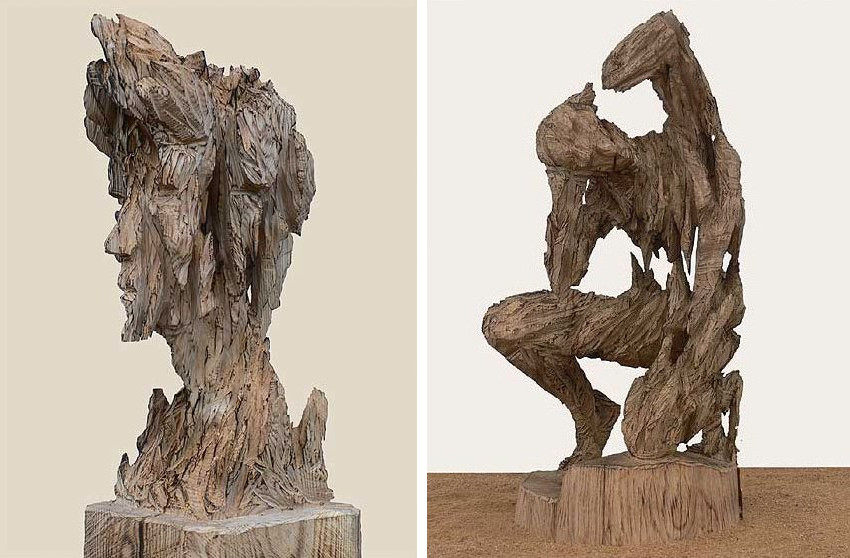 Abandoning the Details
There are many similarities between Kuhnlein and sculptors from ancient Rome and Greece. They are both concerned first and foremost with the man himself, the fundamental questions of life, and its imperfections. But, where the Ancients worked in marble or bronze, wood is the material that best suits Kuhnlein. His sculptures cry out their emotions, pain, grief, and despair, while the pieces of the past are seemingly putting on a brave front. Wood also provides the element of impermanence, symbolizing that human life has its end.
His entire work is based on a realization that the ability of a specific sculpture to express doesn't require or depend on the fine details, and it's rather determined by the main lines. The choice of a chainsaw of a medium forces the artist to place a limit upon himself and seek only the essentials. Kuhnlein's style is very distinctive and unique. It includes fissuring the sculptures with his chainsaw and then scorching them, producing eroded surfaces.
The ability of a specific sculpture to express doesn't depend on the fine details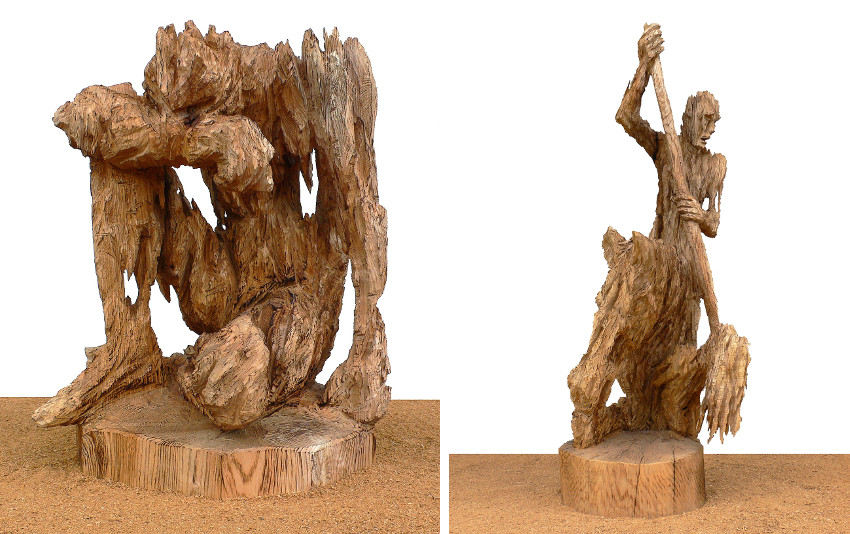 Discovering the Possibilities
He's a self-taught artist without any kind of training in the field of arts. Kuhnlein grew up in an agricultural family and has learned carpentry from an early age. He worked for the Federal government and also fought terrorism before announcing his decision to the officials in 1981 that he's going to return to his land to work in agriculture. In addition to farming, he once again started working as a carpenter, but had discovered his sense of form and proportion, and also began understanding the possibilities of the wood as a way for artistic expression. His transition to sculpture was difficult in the beginning, mainly financially, but he endured everything with the constant support from his wife. Since 1990, he works as a freelance sculptor.
While working as a carpenter, he discovered his sense of form and proportion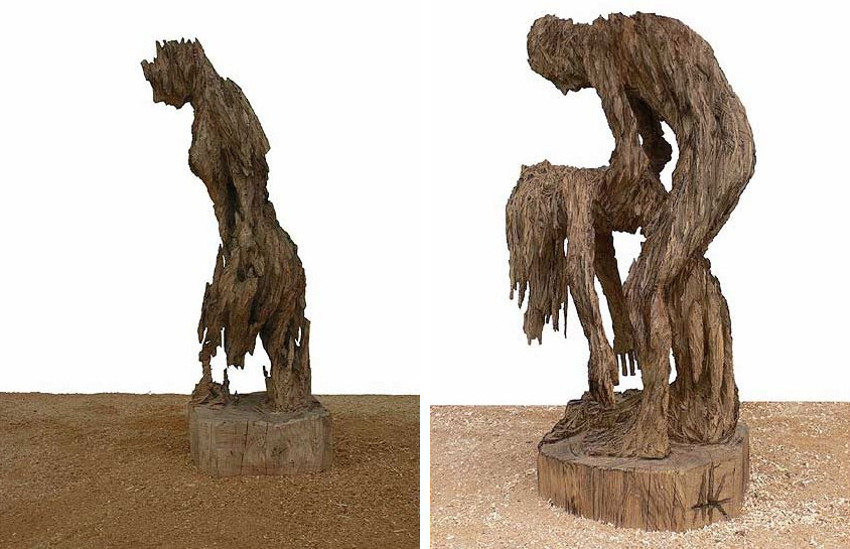 Irreproducible Art
Even though he claims he's given up on details, the emotions in Kuhnlein's artworks are portrayed with a surprisingly high level of attention and are very detailed. Due to his style of making the sculptures using a chainsaw, the pieces end up as quite unique and completely irreproducible. The reciprocal action between content and space is apparent to the viewers and that impression is augmented by the firm shaping of the wood. During the process of creation, the pieces lose their static character, something that only the masters of sculpture can achieve. Kuhnlein is certainly one of them.
He is represented by Galerie Hegemann in Munich.
Andreas Kuhnlein lives and works in Unterwössen, Chiemgau.
Featured image: Andreas Kuhnlein – portrait, photo credits Wolfgang Zielonkowski
All images © Andreas Kuhnlein