Andrew Antonaccio has become a strong force for urban art in Miami in recent years, the fame that resulted primarily from his collaborations with Filio Galvez, a fellow street artist. The two work together under the banner of 2Alas. Andrew Antonaccio is mainly known for his black and white linear portraits and colored geometric abstractions, both of which are a frequent element of his 2Alas creative output. 2Alas's main focus is creating work that focuses on the juxtaposition of conventional aesthetics and the digital medium.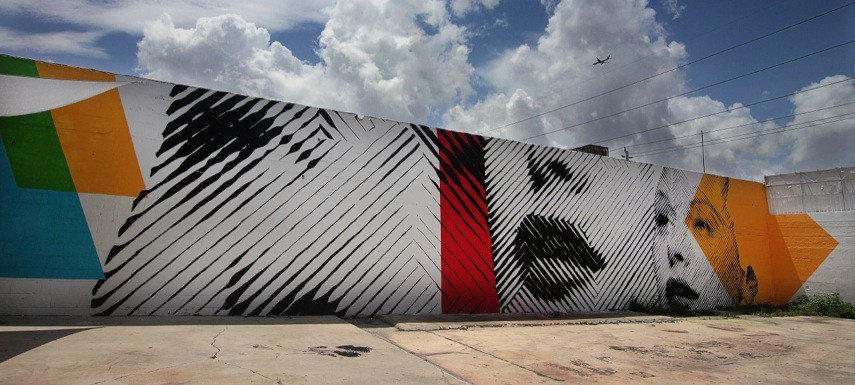 Andrew Antonaccio and Filio Galvez
There really is no talking about the art of Andrew Antonaccio without talking about Filio Galvez - and vice versa - as the two have been working under the name of 2Alias for quite some time now. This street art collective comprised of two urban painters is mainly concerned with creating unique portraits and colored geometric abstractions. Miami serves the role of their endless canvas, but Andrew Antonaccio is originally from New York City. However, while many of their brilliant murals can be found in South Florida, 2Alas is fond of traveling and painting all over the world - Andrew Antonaccio and Filio Galvez painted in places such as Italy, Switzerland, Montreal, Puerto Rico, Dominican Republic and Cuba.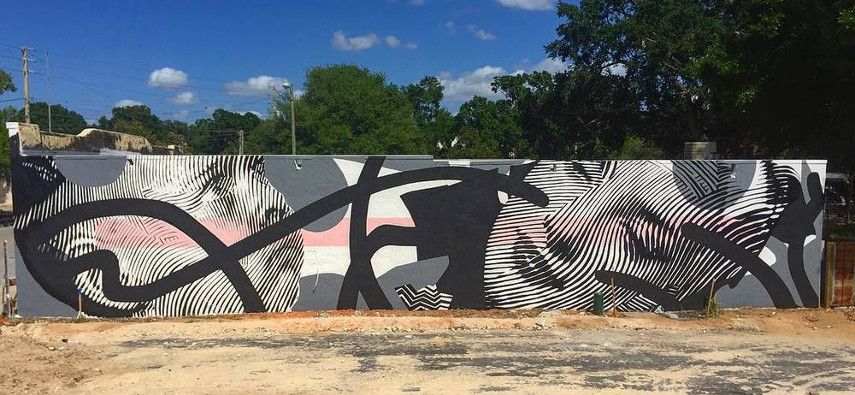 His Successes and Artistic Guidelines
Andrew Antonaccio has had several gallery and museum exhibitions so far in his career, including the shows at the Fabien Castanier Gallery in Miami and at the Art and Culture Center of Hollywood. He also participated in street art fairs and festivals like the Viavai Project, The Mural Arts Festival, Downtown Hollywood Mural Project and more. Beside working with Filio Galvez, Andrew Antonaccio has also been turning some attention his way for solo works. Although visually similar to 2Alas' portfolio, some of Andrew's pieces have been known to factor in an interactive element, in which capturing his pieces digitally will present an alternate appearance on the viewer's camera. Antonaccio utilizes this unique characteristic as a commentary on the overwhelming digital experience of our current generation. It should also be noted that, along with his brilliant street work, Andrew has gained attention for his smaller studio pieces as well.
Andrew Antonaccio is a street painter primarily known for being a part of 2Alas, a Miami-based two-man collaboration that focuses on portraits and colored geometric abstractions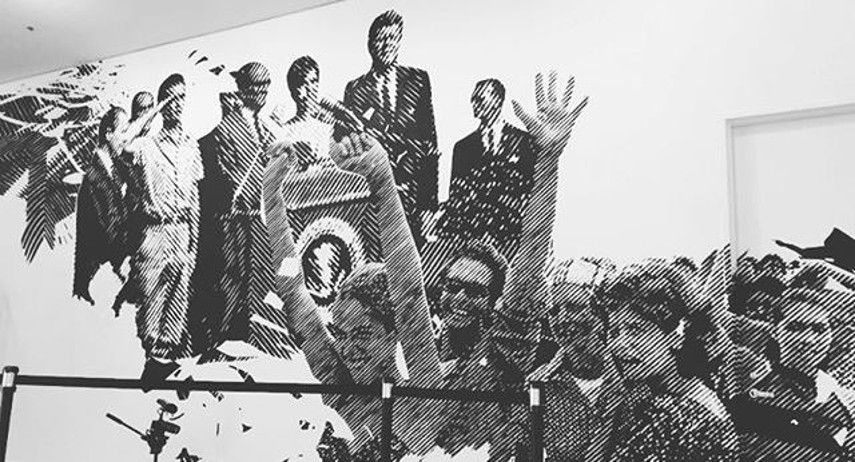 The Current State of 2Alas
In more recent times, Antonaccio and 2Alas have been interested in creating work that focuses on the juxtaposition of traditional aesthetics and the digital medium - Andrew and Filio combine archived images with the new era or modern photography, creating abstract compositions. This is the most recent step in their collective career and we are excited to see what they will have in store for us in future - there is no reason why we should not expect big things from 2Alas as this two-man show has already proven they are quite capable of setting the urban art world on fire with their works.
This artist is represented by Fabien Castanier Galleries.
Andrew Antonaccio lives and works in Miami, Florida, the United States.
Featured image: Andrew Antonaccio - Untitled mural (2Alas) - Image via wynwoodtourguide.com
All images courtesy of Fabien Castanier Galleries.