Despite having grown up a small town in South Africa where arts were not high on the agenda, Andrew Kayser always showed a serious level of talent in drawing, so without much consideration , he decided to study art. This took him on a slippery slope, a path on which he experienced success, but also the dark side of human existence, including the intensive drug and alcohol abuse. After getting back on the right track, he is more than certain that the career of an artist is the trajectory he wants to stay on. His goals are to simply work, produce, exhibit, and to gain more international exposure.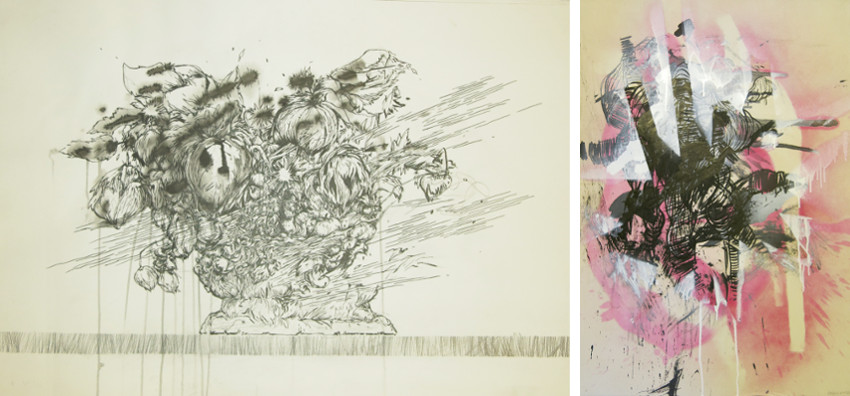 Style, Themes, and Creative Process
Kayser could conjure a list of specific influences when he was a lot younger. However, in the contemporary age, he is exposed to a barrage of information, and he looks, listens and reads a lot. It all filters into the subconscious, but when he's in his studio, it's his own voice that Kayser is interested in. With an eclectic style, he uses a variety of different materials on his surfaces. The works often differ visually in their appearance but are held together by a particular sensibility. Uniqueness and originality, at least in a visual sense, are difficult concepts in our current age. As he says: "If I can compel, amuse, intrigue or even confound the viewer with my particular visual language then that's enough for me." His creative process looks like a guy sitting around the studio staring at the work or pacing up and down in a rather anxious state. Frustration often builds to the point where he'll jump up and work in short bursts, then it's back to sitting or pacing. He always has several works going at the same time, so if he's stuck on one piece, he can just move to the next one. Some works are finished over a couple of days, while others will sit around for weeks or months until he resolves them. Kayser spends a lot of time in the studio, trying to work continuously so he can get into a rhythm and reach a point where the work comes easier and he doesn't have to think too hard about what he's going to do or how he's going to do it. If he tries and focuses too specifically on themes, the work becomes illustrative and derivative, so he tends to avoid specific themes. If there are themes, they are concerned with ambiguity and absurdity, filtered through a darkly comedic perspective.
After achieveing sobriety and signing with Kalshnikovv Gallery, Kayser's career is back on the right track, with a lot of plans for 2016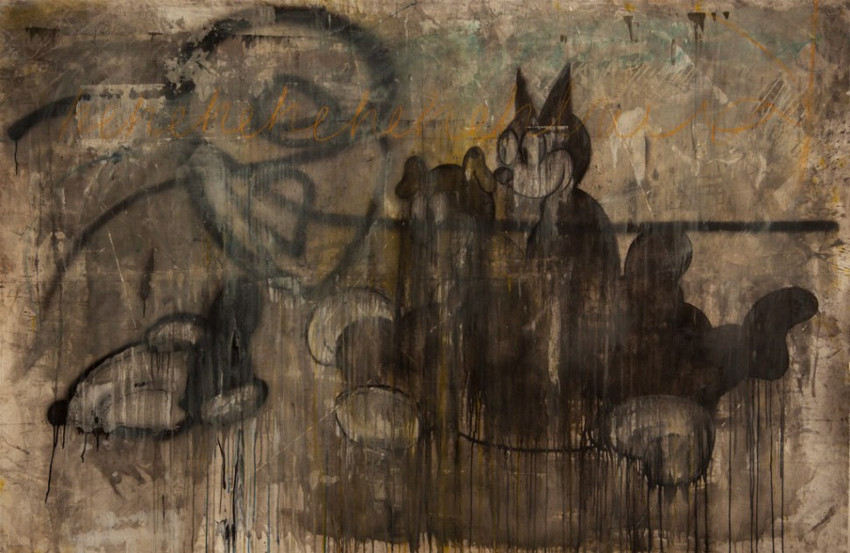 Andrew Kayser – Personal Life and Education
Born in East London, Kayser drifted through a couple of tertiary institutions before moving to Holland in his twenties to study at Koninklijke Academie van Beeldende Kunsten (Royal Academy of Art), Den Haag, Netherlands, where he graduated in 2001. Between 2002 and 2004, he participated in numerous group exhibitions in Netherlands, but also in the neighboring countries. Yet, after finishing, the artist found himself woefully unprepared and with little conception of what it means to work and function as an artist in the outside world. In 2005, the artist returned to his homeland, settling in Johannesburg. Soon after, he gave up any artistic intentions, drifting away from art making and descending into alcoholism and drug abuse. A decade was swallowed up before he finally achieved sobriety and started making art again. In 2015, he signed with the Kalashnikovv Gallery and participated in several group shows that were held there, including Death of the Old and The Painters Show.
He is represented by Kalashnikovv Gallery.
Andrew Kayser lives and works in Johannesburg.
Featured image: Andrew Kayser – State of the Nation 2
All images courtesy of Kalashnikovv Gallery