Perfectly capable of working indoors as well as outdoors, Andrew Schoultz is an American artist known for his densely layered artworks exploring patterns in history related to war, natural disasters, and globalization. Exceptionally detailed, his work manifests various social, political, and economical crises. Lacking overt references to any singular historical event, his oeuvre rather explores a collective unrest, pulling from disparate global affairs and histories such as the 2016 U.S Election, the wars in Iraq and Afghanistan, the rise of China as an economic giant, natural disasters, the pangs of the recession in the United States, to the fall of the Persian and Roman Empires. Although the artist's themes are unequivocally universal, the work is instantly recognizable through Schoultz's distinctive, illustrative style.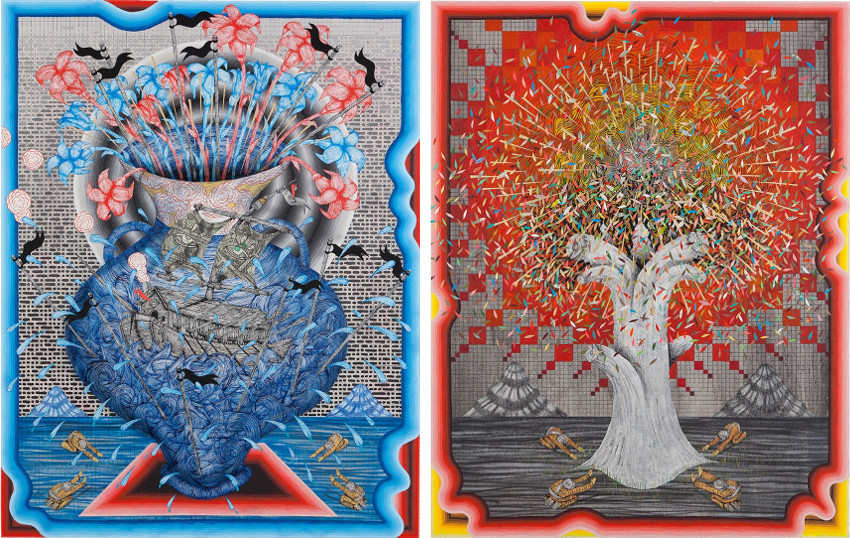 The Art of Andrew Schoultz
Drawing inspiration from graffiti, underground comics, the archaic illustrations of the Nuremberg Chronicle of 1492, German map-making, and Persian Miniatures to name a few, the artist's work is profoundly chaotic both visually and thematically. Schoultz himself elaborated the themes of chaos and destruction that are dominating his practice: "Chaos and destruction are reoccurring themes in my work because I feel like these things are happening all around us constantly. Whether it is the multiple wars being fought all over the world, the natural disasters that seem to happen on a somewhat regular basis, the man-made environmental disasters that are becoming more and more prevalent, to the economic crisis that has been crushing this country's poor and middle class for years. I feel like you really cannot talk about one of these things without talking about all of them, so it becomes a monster of a subject."[1] He's simply trying to depict what drives and motivates him, stating that his choice of themes does make him feel a bit self-defeated and admitting the desire for the existence of something else, thematically different but equally inspiring and motivating.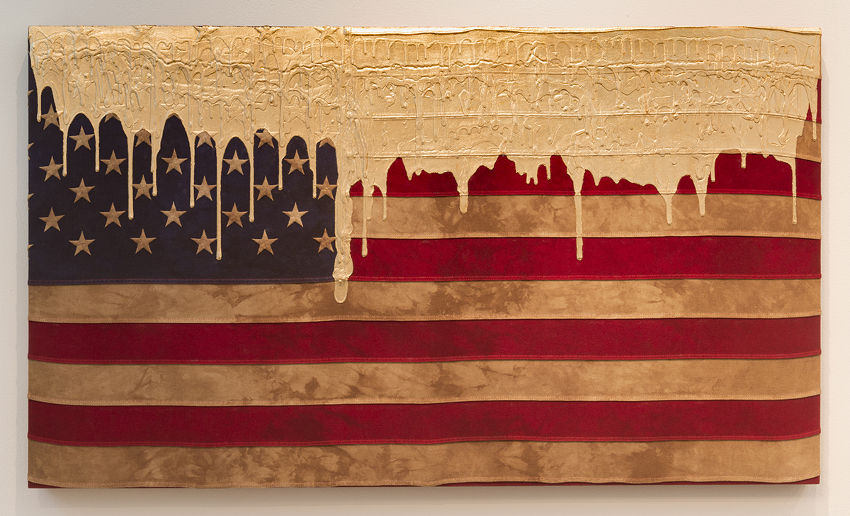 Murals and Installations
Schoultz has always been very interested in the idea of an open space, from painting murals in public and writing graffiti on walls, to utilizing public plazas for activities like skateboarding. The majority of his early works were outdoor-oriented, dwelling on a territory designated for graffiti, street art, and murals. As he admitted in an interview some almost a decade ago: "I also paint murals where ever I can, when I can."[2] This approach hasn't changed over years, it simply suffers from the lack of funding and appropriate walls. As for the most recent murals, Schoultz completed a project in Los Angeles' Chinatown district in collaboration with Converse for their Blank Canvas Program in January 2016, and just several months later, in May, he traveled to the Philippines, where he completed a new mural for the ArtBCG Mural Festival in Manila. At 92 feet by 100 feet, the enormous wall is Schoultz's largest public work to date. Most of his exhibitions feature large on-site installations, which often include sculptural components, thematically similar to the rest of the exhibited artworks.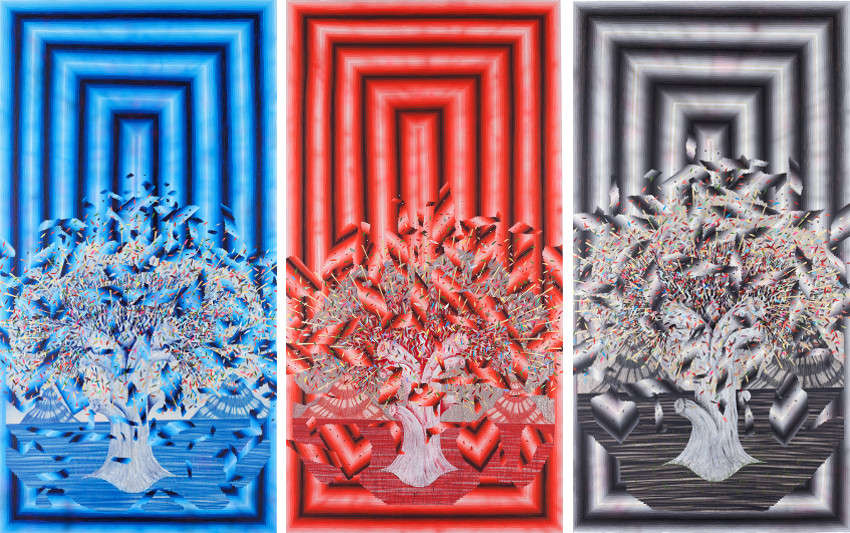 Settling in San Francisco and Living a DIY Life
Born in Milwaukee, WI, Andrew Schoultz roamed the US before settling in San Francisco in 1997. He received his BFA in Illustration from the Academy of Art University in San Francisco, CA. Speaking of himself and his personal inspirations, the artist states: "There have been many real-life events and experiences that have affected my work. I would definitely say just living a certain type of lifestyle for so many years has really shaped the person I am and has made me into the artist that I am. I have always subscribed to a more DIY ethos in life and this has really benefited me greatly in my path as an artist."[3] Having recognized a cyclical course of a human history, Andrew Schoultz creates frenetic imagery coated in a distinctive visual style – altogether earning him a place in our list Top Ten Bay Artists You Need To Know.
Andrew Schoultz lives and works in San Francisco.
References:
Zio, Cyclical Nature: An Interview with Artist Andrew Schoultz, The Hundreds [November 28,2016]
Pollock J., Andrew Schoultz Interview, fecalfacedotcom [November 28,2016]
Zio, Ibidem

Featured image: Andrew Schoultz - portrait - image via arrestedmotion.com
All other images courtesy of Joshua Liner Gallery