Andrzej Zieliński is an American contemporary artist known for his paintings depicting everyday electronic devices such as mobile phones, laptops, ATM machines and paper shredders.
Born in 1976 in Kansas City, Missouri, USA, Zieliński earned his BFA at The School of The Art Institute of Chicago in 2002 and his MFA in painting and printmaking at Yale University in New Haven, Connecticut, in 2004.
Paintings of Electronic Gadgets
During his studies at Yale University, Zieliński's work transformed from orderly black and white collages, often made from cloth, into intense luminous paintings of electronic gadgets that have become the part of our daily life. Some of his first works were the paintings of laptops which were witty in their presentation - the lines were crooked, perspectives were tilted, while the colors were absurdly bright.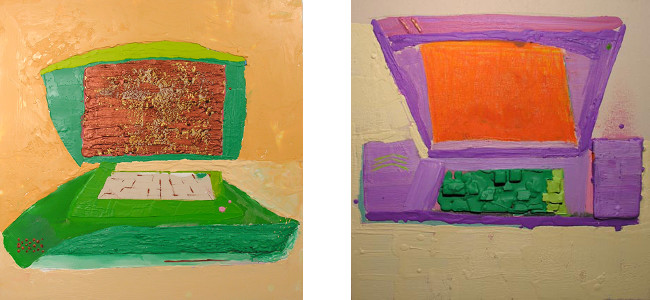 The young artist then became interested in the presentation of other everyday electronic devices including ATM, paper shredders, and cell phones. Again, Zieliński painted in dense wild colors. He focused on how these inventions hide their complexities behind their uncomplicated exteriors. Althought we could hardly imagine one day without electronics yet most of us hardly know how they function.
Positive and Negative Sides of Technology
In his paintings, Andrzej Zieliński wants to show both the positive and negative sides of technology. Some of his machines are depicted like "monsters" presenting the detrimental applications of technology, while, at the same moment, the joyful colours express the advantages of modern technology. Depicted at a 1:1 ratio as compared to the real time objects, these paintings display a distortion between actual and perceived space which in turn highlights the dichotomy between the digital and the hand crafted, as well as our dependence on machines with constantly updating functions and capabilities.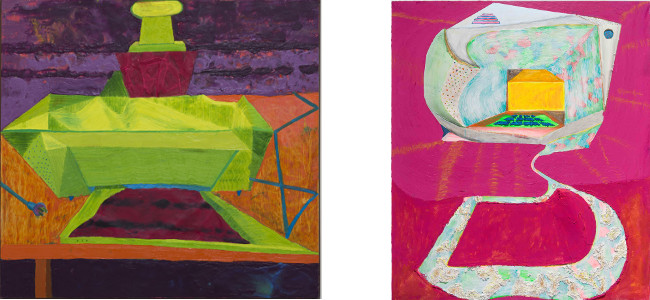 Zieliński's pieces are mixed media, which includes a variety of materials. The artist seeks to update painting by using 21st century acrylics, transparent gels and mediums and his inimitable painting style means each scrape of the palatte knife parallel suggests description, abstraction and bas-relief. All of his heavily textured paintings have a sculptural quality.
Andrzej Zieliński's Exhibitions
Andrzej Zieliński's work has been included in many individual and collective exhibitions at Nerman Museum of Contemporary Art, Overland Park, Kansas (2015; 2011); Mottahedan Projects, Dubai, United Arab Emirates (2014); The Dolphin Gallery, Kansas City (2013; 2012; 2011; 2010; 2009); Motus Fort, Tokyo, Japan (2013; 2011; 2010); Gallery 9, Sydney, Australia (2012; 2011); Canberra Contemporary Art Space, Canberra, Australia (2011); DCKT Contemporary, New York, NY (2011; 2009); Nicole Klagsbrun Gallery, New York, NY (2008; 2006; 2005; 2004); Marc Selwyn Fine Art, Los Angeles, CA (2005), amongst others.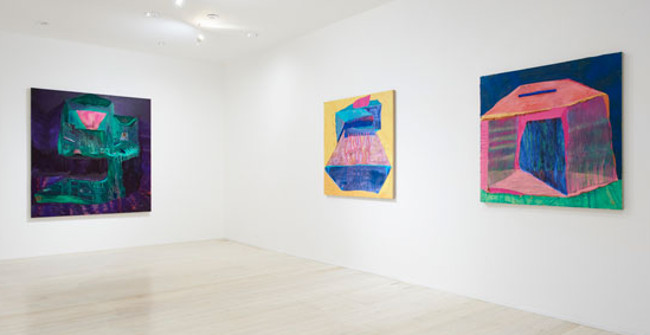 Andrzej Zieliński's art is in many notable public collections including Nerman Museum of Contemporary Art, Overland Park, KS; Canberra Museum and Gallery, Canberra, ACT, Australia; Daum Museum of Contemporary Art, Sedalia, MO; Portland Art Museum, Portland, Oregon; and Johnson County Community College School Collection, Overland Park, KS, among others.
Chopin: Desire for Love
Andrzej Zielinski played Albert Grzymala, Fryderyk Chopin's closest friend in the Polish movie Chopin: Desire for Love (Polish: Chopin. Pragnienie miłości), created by director Jerzy Antczak and based on the life story of the famous Polish composer and virtuoso pianist of the Romantic era, Fryderyk Chopin.
Andrzej Zieliński lives and works between Berlin, Germany, New York, NY and Canberra, Australia.