It was the beginning of the 1950s when the art world got a new movement which became one of the greatest among those of the 20th century. Inspired by the imagery of popular culture, Pop Art both celebrated and criticized consumption choices and mass (re)production achieving the enormous success in the course of the next five decades and beyond. The artist who played a major role in the development of the new movement was American artist Andy Warhol. He was a true mastermind of his time creating some of the most iconic images of the 20th century that re-defined many concepts and introduced fresh ones that became new standards in no time. Almost thirty years after his death, his life and art that embraced consumerism and a culture of mass production continue to fascinate creative thinkers and art lovers worldwide. Working in a wide range of media including printmaking, painting, hand drawing, silk screening, sculpture, photography, music and film, Warhol gained an international recognition for his images of soup cans, soda bottles, dollar bills and iconic paintings of celebrities like Mick Jagger, Elvis Presley, Jimmy Carter, Prince, and Elizabeth Taylor.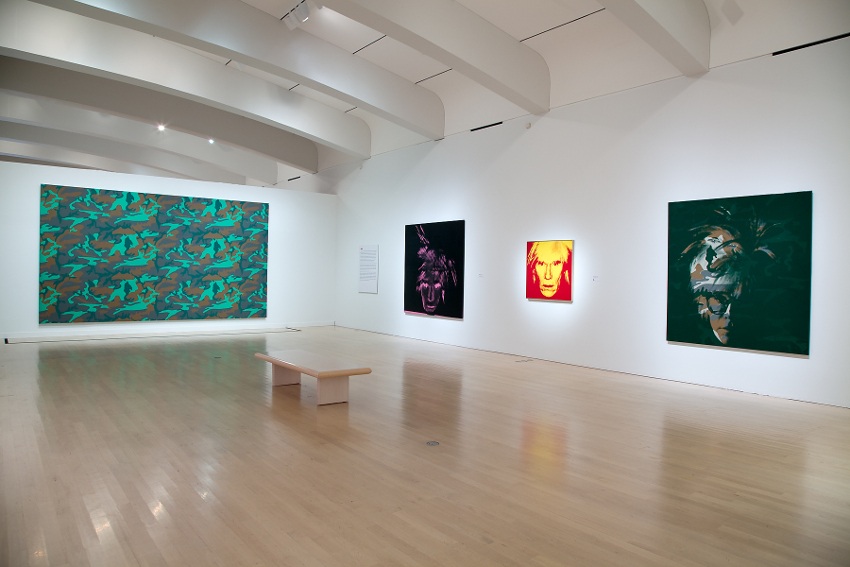 Childhood and Academic Background
The youngest child of three, Andy was born Andrew Warhola on August 6, 1928, in a working class suburb of Pittsburgh, Pennsylvania. His parents, Julia, and Ondrej Warhola were Carpatho-Rusyns who immigrated from what is now known as eastern Slovakia in the early 1920's. He learned to draw when he was six years old and bedridden with illness. Stricken at an early age with a Chorea — also known as St. Vitus's Dance — a rare and sometimes fatal disease of the nervous system, the young Warhol was suddenly bedridden for several months. It was during these months, that his mother and brothers would entertain him for hours by showing him how to draw, trace and print images. Drawing soon became his preferred childhood activity. He was also an avid fan of popular celebrity magazines, movies and DC comic books, imagery he would return to years later. After his father died in 1942, Warhol graduated from Schenley High School in Pittsburgh in 1945, and enrolled in the Carnegie Institute of Technology (presently Carnegie-Mellon University), graduating in June 1949 with a major in pictorial design.
"Everybody must have a fantasy"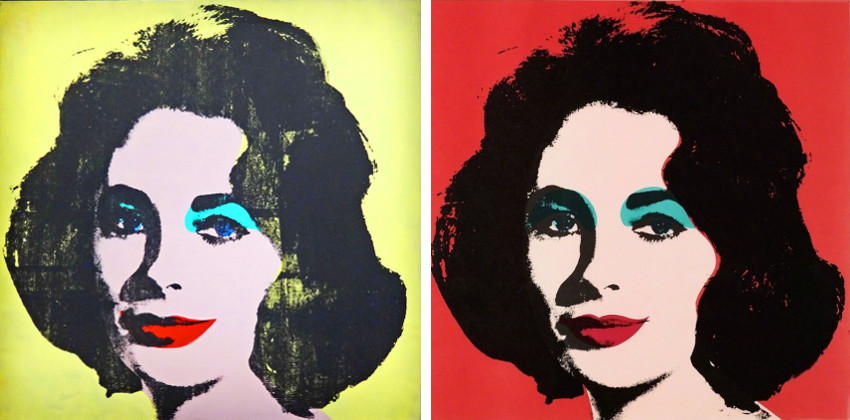 Illustrations
Shortly after graduation, Andy boarded an overnight train to New York City to pursue the world of art. It was also at this time that he dropped the "a" in his last name and began his professional life as a commercial illustrator. His first assignment was for Glamour magazine, an article called Success is a Job in New York in September 1949. Additionally, he was commissioned by some of the major fashion magazines including Glamour, Vogue, The New York Times, Tiffany & Co., and Harper's Bazaar, which led him to become one of the most sought-after American illustrators of the 1950s. He won numerous awards for his uniquely whimsical style, including Art Directors' Club Medal in 1957 while he was hired as the exclusive illustrator for I. Miller, a shoe company.
Andy Warhol was one of the most sought-after American illustrators of the 20th century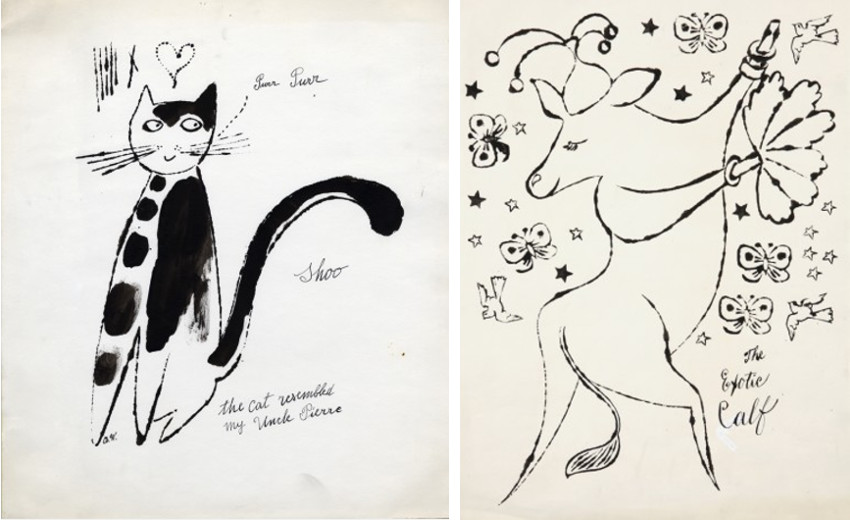 First Exhibition and The Factory
After establishing himself as an acclaimed graphic artist and illustrator, he turned to painting and drawing in the 1950s. His first one-man exhibition was held in 1952 at the Hugo Gallery. Entitled Fifteen drawings based on the writings of Truman Capote, the show included many of these sketchbook drawings of a young writer, which appear as a precursor to his later depictions of celebrities. In 1956, his work was included in a collective show at MoMA in New York. Following this success, Warhol opened his own studio, The Factory, in 1962. It became a meeting place for artists and musicians such as Lou Reed, Bob Dylan, and Mick Jagger. Less frequent visitors included Salvador Dalí and Allen Ginsberg. Warhol collaborated with Reed's influential New York rock band the Velvet Underground in 1965 and designed the noted cover for The Velvet Underground & Nico, the band's debut album.
He turned to painting and drawing in the 1950s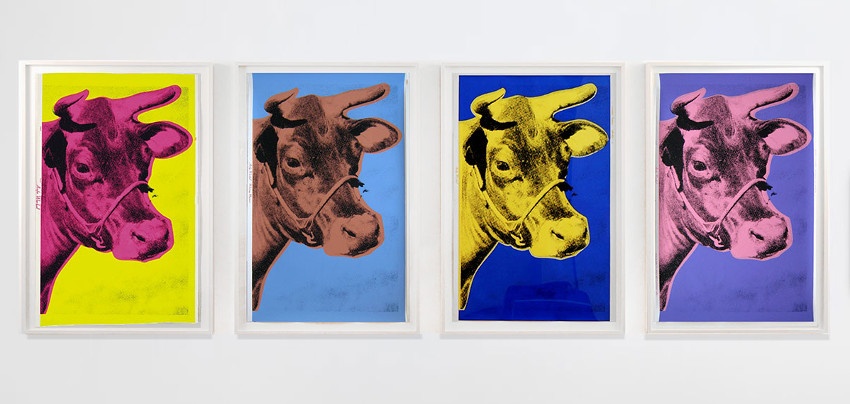 Pop Art by Warhol
In the early 1960s, Warhol established his reputation as the world's foremost Pop Artist. He began to make fine art by transferring images onto paper or canvas using the silkscreen process, a method of creating an image on paper, fabric or some other object by pressing ink through a screen with areas blocked off by a stencil. Formerly artists were using this technique as a simple means of reproducing their own work. Warhol made it his own by choosing existing images he found in newspapers and magazines and then transferring them onto paper and fabric. The paintings of dollar bills, mushroom clouds, electric chairs, Coca-Cola bottles as well as images of celebrities such as Marlon Brando and Mao Zedong, are just a few works from Warhol's huge oeuvre which are now considered to be amongst the most important and influential pieces in the post-war era. Amongst silkscreen printmaking, he also concentrated on producing paintings, photographs, films and videos and his very own Interview magazine.
Campbell's Soup Cans, also known as 32 Campbell's Soup Cans, canvases are among Warhol's earliest paintings based on American consumer goods, and some of his first works that feature serial images. Produced in 1962, Warhol's soup cans raise the simply popular or everyday to the status of art. At a glance, Campbell's Soup Cans looks like a series of repetitions of the same can on similar 20-inch-by-16-inch canvases. The difference between them can be found on closer inspection of the names on both the cans and the paintings — these represent the 32 varieties that Campbell's sold at the time. The individual canvases were created by a printmaking method — the semi-mechanized screen printing process, using a non-painterly style. Campbell's Soup Cans' reliance on themes from popular culture helped to usher in pop art as a major art movement in the United States.
Warhol's dollar sign is one of the most iconic Pop art symbols, just along Coca-Cola bottles and Campbell's Soup cans. The first pieces from the series were executed in 1962. Front and Back Dollar Bills is the only diptych from the Dollar Bills series – a work where Warhol explored the graphic potential of the ubiquitous United States note to its fullest. He separated a dollar bill into its black and green constituent parts – whereby the left panel articulates the front of the bill in a sumptuous jet black and the right panel illustrates the back of the dollar in rich, hookers green. The work is characterized by the recognizable Pop Art aesthetic.
Warhol's artworks are now considered to be amongst the most influential pieces in the post-war era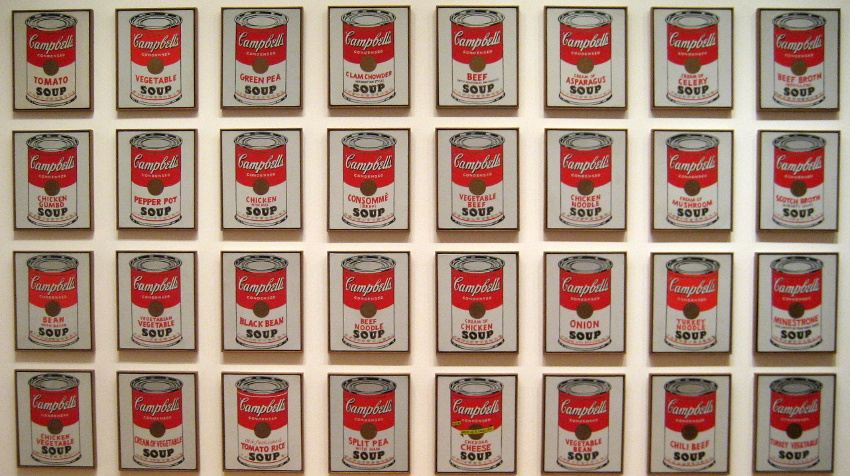 Coca-Cola and Andy Warhol
Green Coca-Cola Bottles — the image of a single Coca-Cola bottle repeated in regular rows, seven high by sixteen across, above the company's logo — was created by Andy Warhol in 1962. The repetition of the bottles not only reflects the dominance of Coca-Cola in the American society at the time but also helps to convey the message that the richest and the poorest share the identical product. The silkscreen technique artist developed, allowed him to produce his paintings through a mechanical process that paralleled his use of mass culture subjects. While the image can be printed endlessly, no one image is the same due to the nature of silk screening. The same year, Warhol created a unique hand-painted picture Coca-Cola (3). The piece depicts monumental bottle of Coca-Cola and is often considered to be a founding painting of the Pop Art movement, which celebrated popular culture and consumerism in post-World War II America.
Coca-Cola is often considered to be a founding painting of the Pop Art movement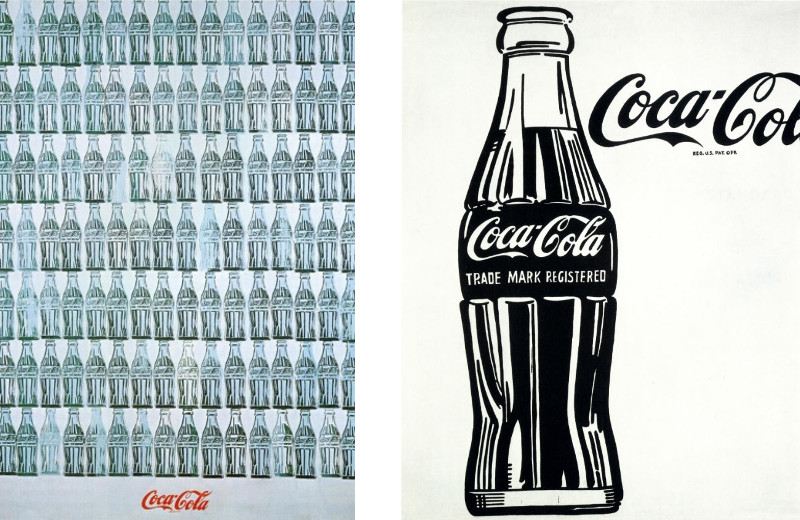 Warhol's Marilyn Monroe Pop Art
Marilyn Diptych painting by Warhol was created in 1962 as a tribute to the legendary Hollywood actress Marilyn Monroe who had died just weeks earlier. It contains fifty images of the actress, which are all based on a single publicity photograph from the 1953 film Niagara, in which Marilyn starred. The twenty-five pictures on the left side of the diptych are vibrantly colored while the twenty-five on the right are made in black and white evoking the relation between the celebrity's life and death. Marilyn Diptych was bought by Tate in London in 1980 and it's still part of the museum's collection. It is considered to be one of the most recognizable pieces of art created in the 20th Century.
Warhol took the film star and sex symbol Marilyn Monroe as his subject in a different media including silkscreen paintings and tapestry. The Shot Marilyns is a set of four canvases made in 1964, each a square measuring 40 inches and each consisting of a painting of the actress, each shot through in the forehead by a single bullet. Originally, the artist produced a total of five Marilyns – red, orange, light blue, sage blue, and turquoise and stacked four of them up against the wall of his NY studio The Factory. The artist's studio was the place where a lot of people hung out. One of them was Dorothy Podler who was a friend of one of Factory photographer. On an autumn day in 1964, Podler came in Factory and asked Warhol if she could shoot the paintings. Warhol thought that by "shoot" she had meant to photograph them, so he agreed, but she actually took the revolver from her purse and shot the pieces, which were named the "The Shot Marilyns." The fifth painting with the turquoise background was not in the stack.
Marilyn Diptych is considered to be one of the most recognizable artworks created in the 20th Century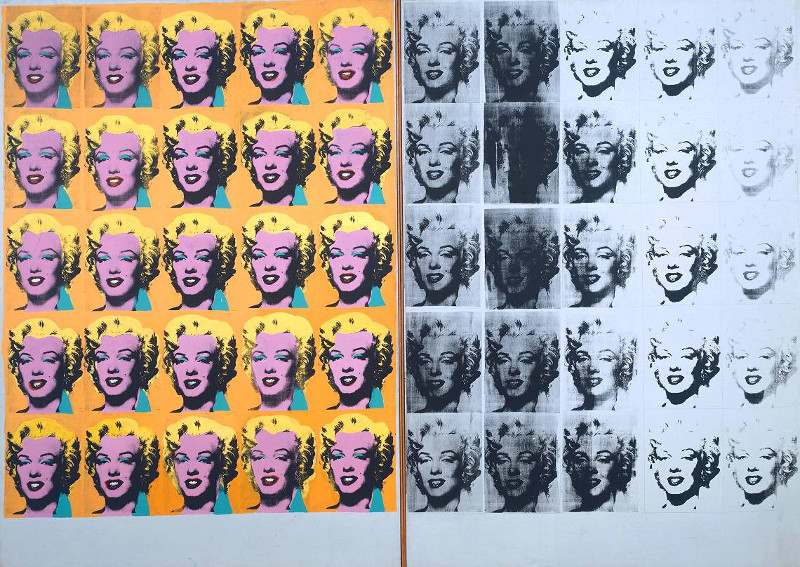 Valerie Solanas Shot Andy Warhol
In 1968, Valerie Jean Solanas, an American radical feminist writer attempted to murder Warhol. She had crossed paths with Warhol two years earlier, asking him to produce a play she had written. The artist, whose films were often shut down by the police for obscenity, thought the script was so pornographic that it must have been a police trap so he told her that he lost it. After Solanas demanded financial compensation for the lost script, Warhol hired her to perform in his film, I, A Man (1967). Outraged by his rejection and the fact that he had lost his copy of her play, Solanas went to The Factory on June 3, 1968. She found the artist and shot at him three times, with the first two shots missing and the final wounding Warhol. She also shot art critic Mario Amaya and attempted to shoot Warhol's manager, Fred Hughes. After the shooting, Warhol was pronounced dead, but doctors resuscitated him and he survived after emergency surgery. Solanis turned herself in to authorities and was placed in a mental hospital where she was diagnosed with paranoid schizophrenia. Later, she was sentenced to three years in prison. The attack had a profound impact on Warhol's life and his work, and security at the Factory scene became much stronger afterward. For the rest of his life, the artist lived in fear that Solanas would attack him again.
Valerie Solanas' attack had a profound impact on Warhol's life and work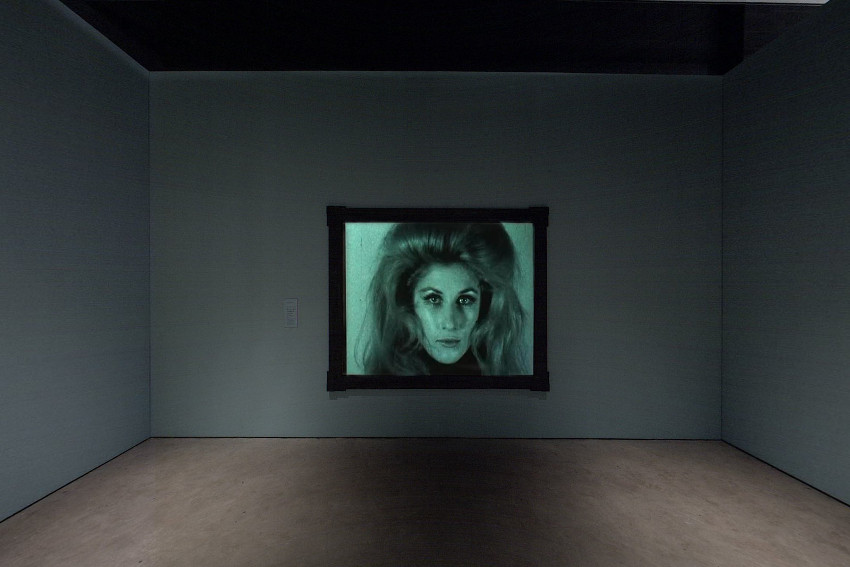 Portraits by Andy Warhol
In the early 1970s, he started to do commissioned portraits with his Polaroid Big Shot camera. The list of his subjects includes stars, artists and high-society types such as Diane Keaton, Gianni Agnelli, Marella Agnelli, Janet Villella, Marlon Brando, Joseph Beuys, Roy Lichtenstein, Robert Rauschenberg, Brigitte Bardot, John Lennon, Yoko Ono, Martha Graham, John McEnroe, Muhammad Ali, Francesco Clemente, Keith Haring, Diana Ross, Alfred Hitchcock, Albert Einstein, Princess Ashraf Pahlavi, Julia Warhola, Jimmy Carter, Prince and many others. One of his most famous portrait depicting Chinese Communist leader Zedong was created in 1973.
Warhol's creative process almost exclusively began with a Polaroid shots. After selection of his favorite image, it would be rephotographed, printed and silkscreened onto canvas by his assistants. The resulting image became the ground and basis of each painting. He would take several packs of film at each sitting, and then select his favorite image to be silkscreened onto canvas by his assistants. The resulting image became the ground and basis of each painting. Proving that the simplest tools are no impediment to creativity, Warhol's Polaroids are both a celebration of fame and an intriguing look at the cleverness behind the façade Warhol so often used to disguise the intelligence and innovation of his work. In recent years, Warhol's Polaroids have gained attention and respect in shows and books. In January 2015 his Society Portraits were on view at Jablonka Maruani Mercier Gallery.
"In the future, everyone will be world-famous for 15 minutes"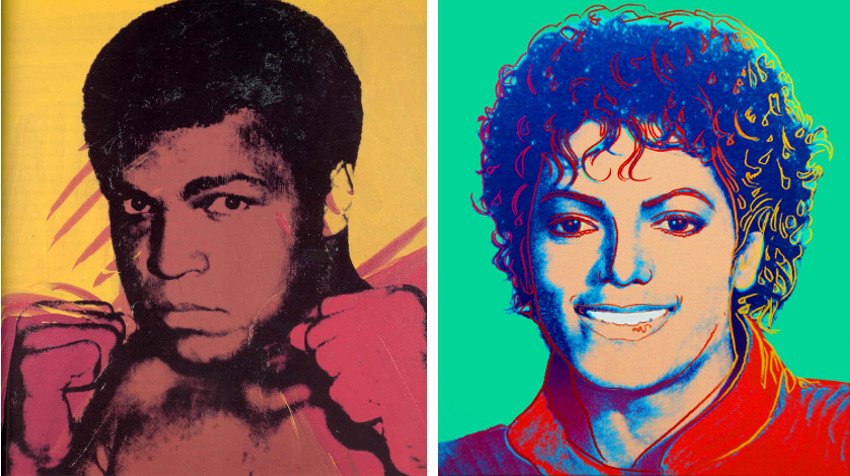 The Philosophy of Andy Warhol
The Philosophy of Andy Warhol (From A to B & Back Again) was first published by Harcourt Brace Jovanovich in 1975. The book represents a collection of Warhol's thoughts on a variety of topics including love, art, sex, fame, death, money, and beauty. Many of the Andy Warhol's quotes including those about Polaroids and the notions of narcissism, the American consumerism, and the art market success, are still more than relevant today. Amongst The Philosophy of Andy Warhol, he published a, A Novel (1968), Popism: The Warhol Sixties (1980) and The Andy Warhol Diaries (1989). He was also a founder of the Interview magazine along with a British journalist John Wilcock in 1969.
Many of Andy Warhol's quotes are still more than relevant today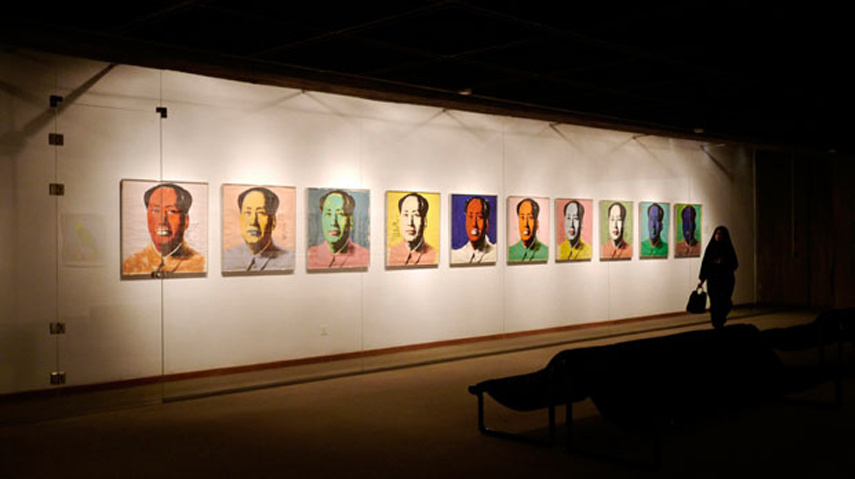 Andy Warhol and Jean-Michel Basquiat
In the late 1970s, Warhol met the famous painter Jean-Michel Basquiat, and the two artists formed a close connection and one of the most interesting artist partnerships of the 20th century. Between the years 1984-1985, Warhol and Basquiat fused their different styles of painting into a dynamic group of collaborative works on canvas. The great example is the piece Olympic Rings (1985) — created as their artistic response to the 1984 Olympic Games held in LA. Warhol made several variations of the Olympic five-ring symbol, rendered in the original primary colors while Basquiat responded to the abstract, stylized logos with his oppositional graffiti style.
Between the years 1984-1985, Warhol and Basquiat created many collaborative works on canvas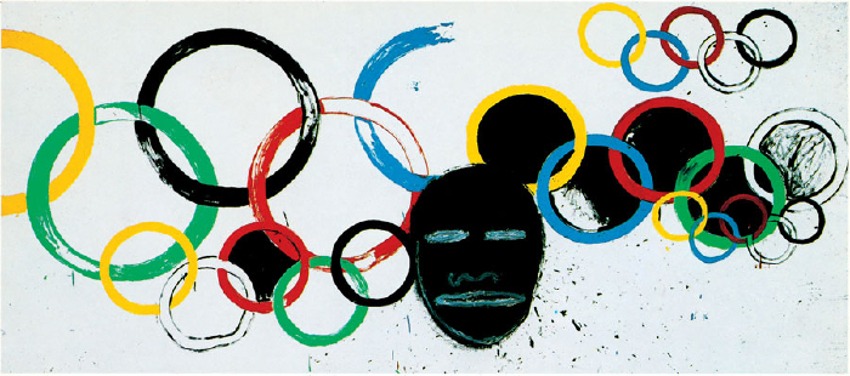 The Last Supper
Andy Warhol's monumental final cycle The Last Supper (1986) was commissioned by the art dealer Alexandre Iolas, who offered Warhol a show in Milan right across the street from Santa Maria delle Grazie, home of Leonardo's masterpiece. Using commercial reproductions as his source material, Warhol worked on the project on and off for a year, creating more than sixty silkscreens, paintings, and works on paper. Some of the pieces include a black-light Last Supper, a camouflage Last Supper, a couple of Minimalist Last Suppers, and various Last Suppers incorporating commercial logos for the likes of Camel and Wise potato chips. Inspired by da Vinci's Christ image, Warhol and Basquiat created a collaborative sculpture Ten Punching Bags (Last Supper) in 1986.
The artist's monumental final cycle was The Last Supper series

Film Career
After he shot his first film in 1963, the artist became increasingly active as an experimental filmmaker. Between 1963 and 1968, he made almost 650 films, including hundreds of silent Screen Tests, or portrait films, and dozens of full-length movies that challenged the conventions of filmmaking. Sleep (1963) was one of his first experiments with filmmaking and was created as an "anti-film". Shot on 16mm film and running just under five-and-a-half hours in length – the film consists solely of a half-dozen randomly repeated shots of poet John Giorno asleep in the nude. Warhol would later extend this technique to his notorious, black and white, eight-hour silent film Empire (1965). My Hustler (1965), a social comedy about gay life was shot over the Labor Day weekend in 1965 on Fire Island. Warhol achieved first major commercial success after a long line of avant-garde films with Chelsea Girls a 1966 experimental underground film. Today he widely recognized as one of the most important filmmakers of the 1960s.
He made dozens of full-length movies that challenged the conventions of filmmaking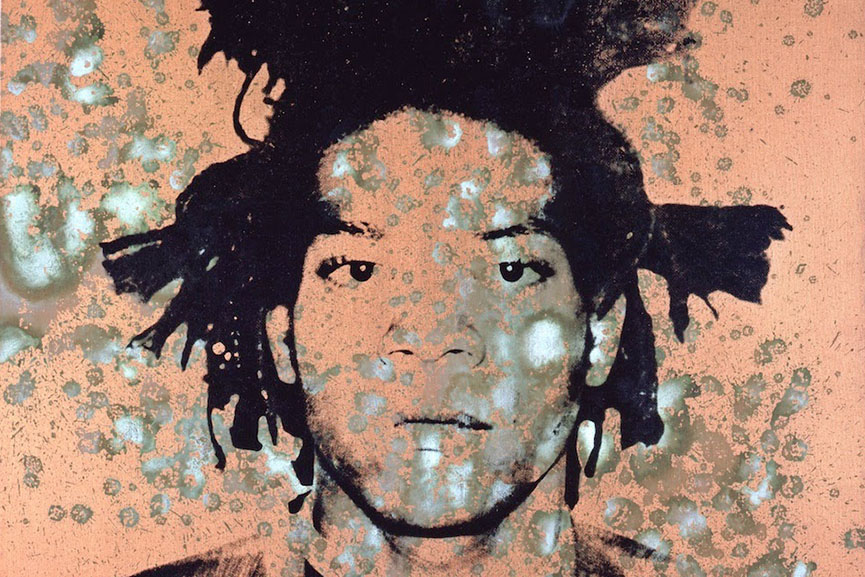 Death and Legacy
Andy Warhol died on February 22, 1987, at the age of 58, in a New York hospital, due to complications following an operation. There are still much debate and consideration of his personal life. He is widely believed to have been a gay man, and his art often explored the complexity of sexuality and desire. However, in a 1980 interview, Warhol indicated that he was a virgin for his entire life. Soon after artist's death, in accordance with his will, the Andy Warhol Foundation for the Visual Arts began. Two years later, the Andy Warhol Museum was founded in Pittsburgh, Pennsylvania, artist's hometown. It is one of the most comprehensive single-artist museums in the world, which includes more than 4,000 works of art by Warhol including paintings, drawings, prints, photographs, films and videos.
The Andy Warhol Museum is one of the most comprehensive single-artist museums in the world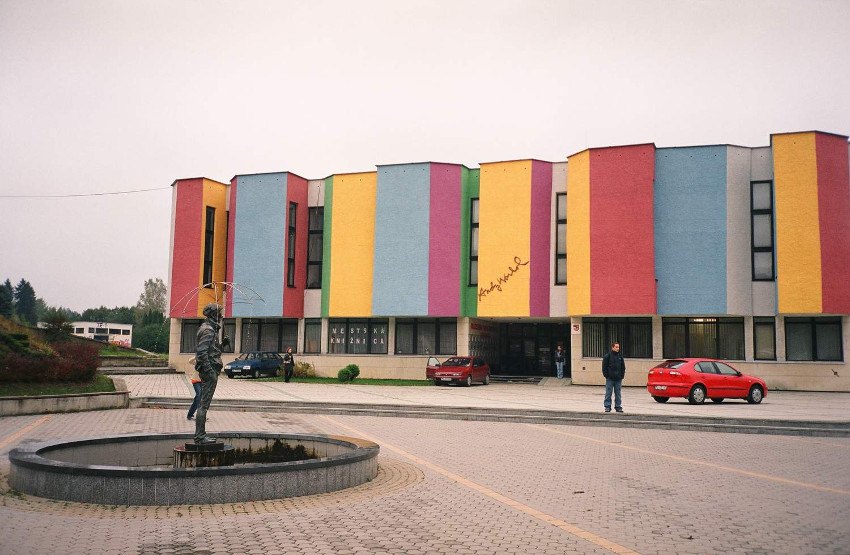 Warhol's Influence in Contemporary Artworks
Over five decades since it emerged, Pop Art remains relevant in the modern age and still has many influences in our everyday lives, while Warhol's pieces continue to serve as inspiration for numerous artists' work. His influence on subsequent generations of artists continues to be immeasurable and it can most obviously be seen in their illustrations, prints, and posters with such details as strong and multiple colors, series of images on one print and famous people faces. Almost three decades after his death, Warhol is still one of the art world's leading man.
Featured image: Portrait of the artist
All images © The Andy Warhol Foundation; used for illustrative purposes only