Interested in systems of rules and ordering principles that structure social behavior, Angela Bulloch creates multidisciplinary installations that explore creative connections between modern aesthetic and digitalism through various combinations of light, video, text, sound and different objects. Her functional works provoke the viewer's way of interpretation of a different type of information, using the conceptual severity, the involvement of senses and occasional humor. Considered as one of the Young British Artists, unlike her colleagues who were still ruled by the supremacy of the work of art, Bulloch strived to pursue fine art practice in the realm of interactivity.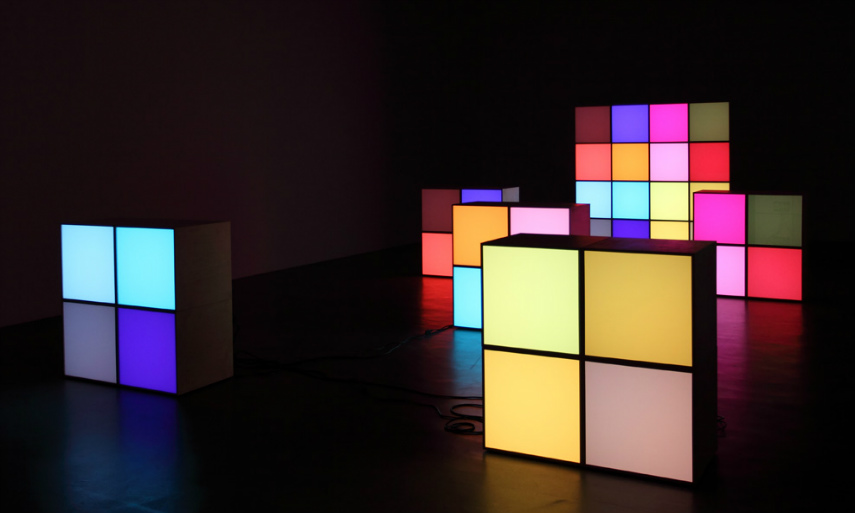 Canadian Born Artist Aims for Europe
Bulloch was born in 1966 in Rainy River, Ontario, Canada. She gained her education at Goldsmith's College in London and was a part of the famous Freeze Exhibition in 1988, organized by Damien Hirst in an empty London Port Authority building, which announced the development of the Young British Artists. Spanning a wide range of media, from video and installation to the sculpture and painting, the artist explores the systems, patterns, and rules, focusing on the creative territory between mathematics and aesthetics. She is recognizable for her "pixel boxes", commonly made of beech wood with a plastic front screen, characterized by changing and pulsing colors that transfer complex visual patterns into simple shifting monochromes. During the time, besides beech, she adopted their production in copper, aluminum, and corian, getting closer to the minimalist heritage and liberating colors of pure abstraction. Since the early 2000's, she advanced her "pixel boxes", using them as components of sculptural installations, creating different structures, from towers to floors, to bog screens which translate various scenes or changing abstract color compositions. Alongside these sculptural pieces, she revived the "Drawing Machines" she used to make early in her career. Following some external impulse, such as any kind of noise visitors of the exhibition make, these machines draw lines on the walls, conjoining modernist concerns of the grid, monochrome and color field through a concept of interaction. One more interesting series, first shown at the Guggenheim Museum in New York in 2008 as the part of the exhibition theanyspacewhatever, was an electronic simulation of the night sky. The artificial dark sky filled with constellations of stars has been projected on the interior dome of the Frank Lloyd Wright's rotunda[1]. Repeating this installation numerous times, Bulloch always starts with the map of the stars visible from earth, depicting the real space, whether if she works on large-scale public installations or small domestic panels.
Bulloch's new Drawing Machines follow external impulses, such as any kind of noise visitors of the exhibitions make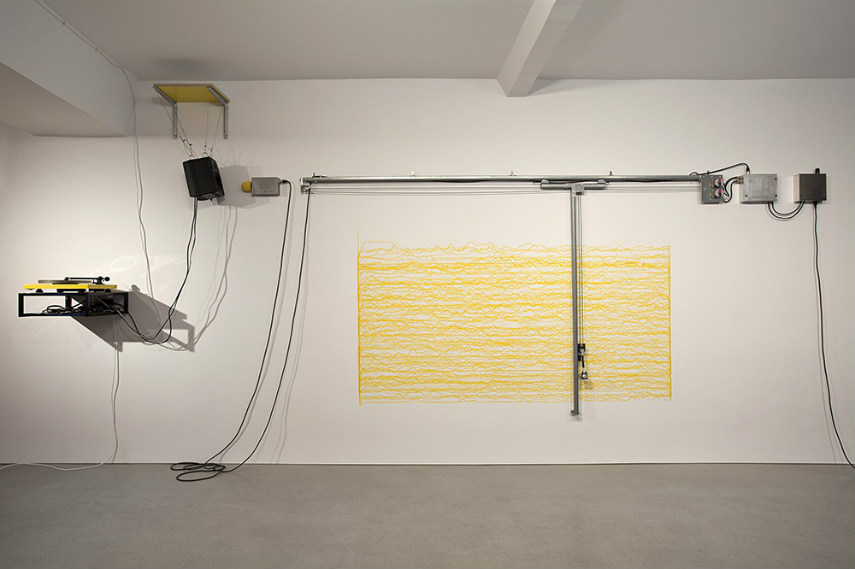 Angela Bulloch - Exhibitions and Recognitions
Since her graduation in 1988, Bulloch has exhibited in numerous solo and group exhibitions in Europe and internationally. He one person shows has been held in prestigious institutions, museums, and galleries, such as Kunsthaus Glarus, Berkeley Art Museum, Pacific Film Archive, Le Consortium in Dijon, Modern Art Oxford, Vienna Secession, The Power Plant in Toronto and Lenbachhaus in Munich. In 1977, Bulloch was short-listed for the Turner Prize when she presented her playful artwork called Rules Series[2]. She has been also nominated for the 2005 Preis der Nationalgalerie für Junge Kunst at the Hamburger Bahnhof in Berlin.
Angela Bulloch lives and works in Berlin.
References:
Anonymous. Angela Bulloch Biography, Simon Lee Gallery [September 13, 2016]
Anonymous. Angela Bulloch, Galerie Micheline Szwajcer [September 13, 2016]
Featured image: Angela Bulloch - Artist's portrait - Image via whitewallmag.com