Ansel Adams was an iconic American photographer, well-known for his monumental black and white images of national parks and landscapes. Distinguished by extraordinary clarity and profundity, his photographs are amongst the most recognizable images in the world, broadly reprinted in numerous magazines, journals, and wallpapers. As an environmentalist, Ansel Adams used his images to recruit and inspire people to ecological activism and conservation of nature and wilderness. He mostly photographed nature of American West, Grand Canyon in Arizona and, his favorite, Yosemite National Park. Adams was a member of the Group f/64, an association of American photographers who made detailed and realistic work.

Early Years, Youth and the Earthquake that Crooked the Nose
Ansel Adams was born in San Francisco in 1902, to a wealthy middle-class family. He was an only child and his parents continued to work in the lumber business that his father inherited. In 1906 young Ansel Adams survived a major earthquake, luckily ending up with just a few scratches and crooked nose, the later became his personal charming feature. He grew up in a house near the Golden Gate. His family struggled to maintain a certain lifestyle, that they were used to having. Adams had a nanny and a private tutor. His parents believed in traditional upbringing and were quite reserved and emotionally restricted. His crooked nose was a mark of individuality for him and combined with his conservative upbringing and natural shyness, it caused him some difficulties to fit in. Along with sentimental quirks, he also had dyslexia and that was the main reason his father took him out of school and tutored him at home. Since an early age, Adams showed a great interest in spending time outdoors. Considering he was homeschooled he spent almost every day outside, hiking and taking long walks in nature, looking at the Golden Gate sand dunes. His enthusiasm and intelligence ignited an artistic spark and when he was twelve years old he started playing the piano. At first, he was self-taught, later he worked with a tutor. Until he was eighteen years old he considered himself as a pianist, a musician, but later swapped a career in music with photography.
Adams was favoring clean, straight technique that required the clear lens and good tools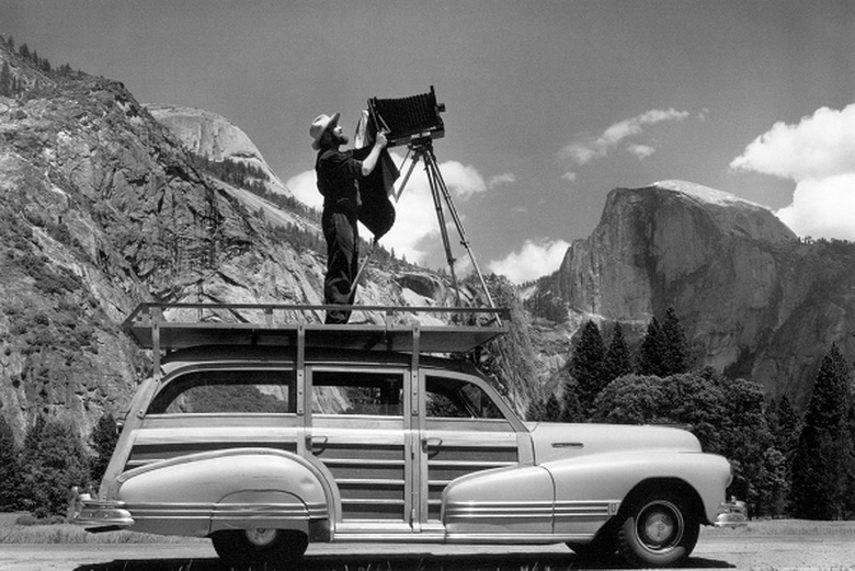 The Master of Modern Photographs
After realizing that hard work and self-discipline can make dreams come true, he started working on his hobby a bit more. The first camera he used was the Kodak No. 1 Box Brownie and the first scenery he photographed was at the Yosemite valley. That was his favorite place in the country, and soon after quitting his musical career he met some influential people who happened to be owners of the housing complexes in Yosemite and founders of America's earliest environmentalism movement. The club he joined when he befriended those substantial people was called the Sierra Club and in 1922 he published his first photographs in their magazine. His first exhibition also happened under the auspices of the Sierra Club, in 1928. The biggest change in his life occurred when he met a photographer Paul Strand, whose style was more realistic and clear than the pictorial one Adams was favoring at the time. He switched to clean, straight technique that required the clear lens method. After adopting different ways, he also learned how to master the skills needed in the dark room. In 1932, he joined the Group f/64 which he partially confounded with colleague and fellow artist Edward Weston. The group was short-lived but their influence, at the time, was huge. After the collective exhibition in straight photography, Adams had his first solo museum show. His love for Yosemite had to do with more than just nature, he met his lovely wife there, Virginia Best who was also a photographer. She inherited the Best' Photo studio from her father and she and Adams continued to work there.
Adams' philosophy of art inspired many contemporary artists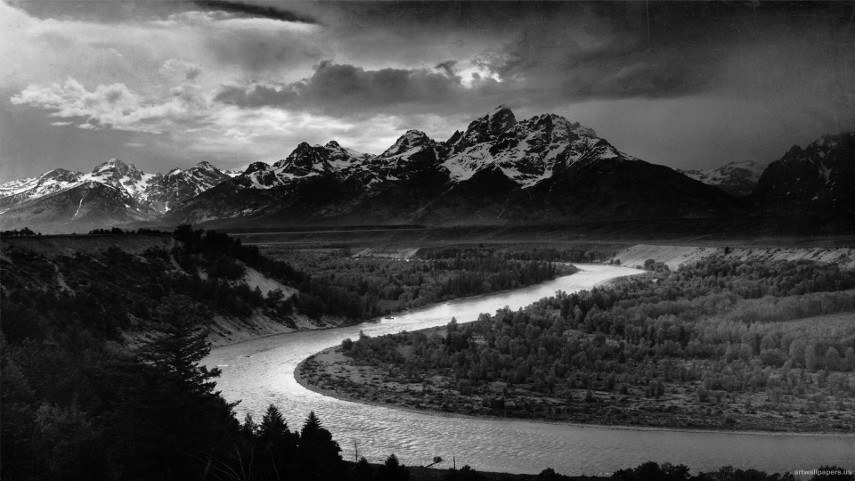 Philosophy of Art, Craft, Iconic Images and Zone System
He had a peculiar approach to a quite general philosophy of art. He almost religiously preached that the real artist must discover the beauty in the world whether that beauty is familiar or unknown. After the discovery, a good quality photo must be taken and then, the beauty must be shared. When people are looking at the wonders of nature or the beauty of just a simple spring rain, their hearts and minds almost instantly find inspiration for the next creation or just the simple enjoyment. Adams' goal was to evoke those feelings in others. His most challenging and famous piece is the The Tetons and the Snake River image, taken in 1942 in northwest Wyoming's Grand Teton National Park. Similar to other Ansel's masterpieces, this large-scale monochromatic image displays artist's love towards beauty, harmony, and nature. Well formed, the image highlights Adams' great intuition for the assembly of scenes and a great sense of something higher, portraying the turning Snake River in the background of Teton mountain range. Adams also worked on fulfilling his technical knowledge all the time. Formulated by Ansel Adams and Fred Archer, a fellow photographer known for his portraits of Hollywood movie stars, the Zone System is a technique of ascertaining correct exposure in diverse working conditions, extending from the most complex lighting surroundings such as backlighting, absolute difference between light and shadow areas of a scene, and many related conditions. Based on postulates of sensitometry, Zone System works in such a way that it divides a scene into 10 zones on the tonal scale. Although the calculations were primarily based on black and white sheet film, the technique can also be used on color roll film, and even on digital photography.
All images © Ansel Adams