Flowers are regarded as symbols of the delicate, feminine and ephemeral, which is the reason they are so common in various (not just visual!) arts. However, it's not all about the fragility - Antoinette Wysocki, an expressionistic painter from Washington D.C., takes a different view - she depicts flowers and similar organic shapes as explosions of colors. They appear overwhelming, chaotic and almost aggressive in their vividness. Wysocki is reshaping the nature of delicate patterns by using mixed media on organic materials and this technique has a strong connection with her imagery.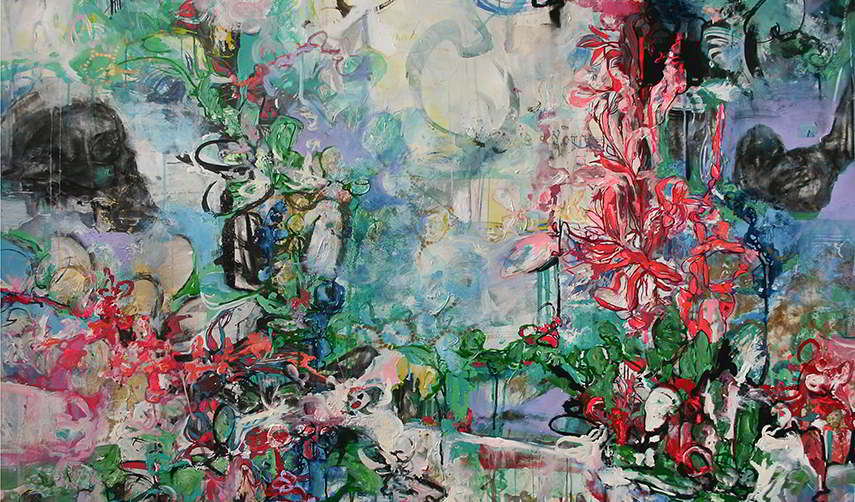 Exploring Colors and Emotional Disturbance
Wysocki is an eclectic and active artist. After receiving a BFA from San Francisco Art Institute, she worked in the fashion industry, with luxury brands. She was also an artist-in-residence with city schools in San Francisco and has shown a keen interest in helping emotionally disturbed young people. Wysocki was a special education teacher at Washington D.C., where she created community service programs for students with severe emotional issues.
When it comes to her exhibits, Wysocki is internationally recognized painter, nominated for Best Emerging Artist by GLAAD (Gay & Lesbian Alliance Against Defamation) in NYC and awarded an artist grant of The Santa Fe Art Institute. She participated in more than 20 group exhibitions and had 8 solo show. Her latest international show was held in 2014 at The Cat Steet Gallery in Hong Kong, while her latest domestic show was in 2015, at Blank Space gallery in NYC.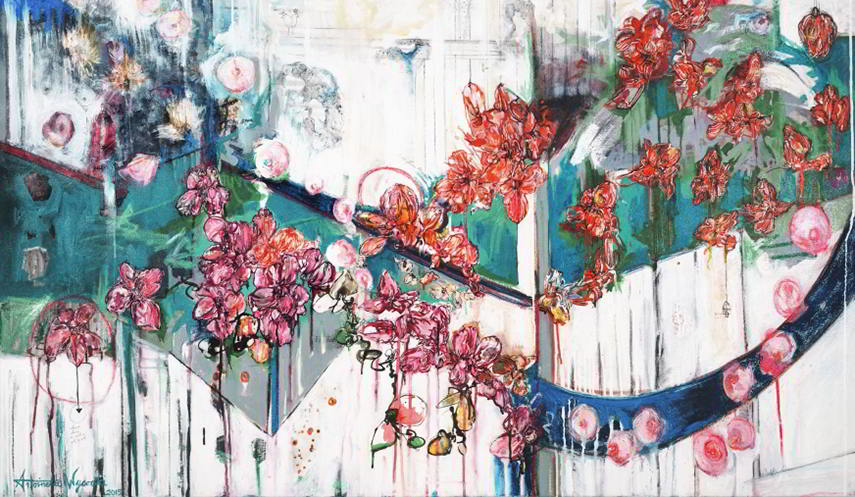 The Language of Nature
Like a single flower demands our attention, the process within my pieces tells a similar story that awaits to be picked and adorned, Wysocki said in a press release for her Wallflower show at Blank Space gallery. Since her early years, the artist is finding inspiration in the intricate language of nature. In her untamable organic shapes, Wysocki is blending a dozen of mediums - acrylic, ink, charcoal, pencil, watercolor, even gauche. Her brush strokes are heavy, yet playful and dynamic. The floral patterns seem alive, twisting and turning on canvas, carried towards the viewer in a river of saturated colors. There's a lot of tension in Wysocki's work – she doesn't leave much negative space on her canvas. Those organic shapes are often packed tight together or overlapping, fighting for dominance and space.
Wysocki has studied botanical drawings while she was still an art student and they became a passion of hers. She grew fond of searching for signs and symbols underneath the organic processes and the reason she's working in mixed media is that it allows her to create pieces that can be altered beyond repair. The accumulation of various colors and strokes in mixed media has a life on its own, something unexpected, beyond the artist's original vision. This makes Wysocki's imagery quite alluring for the viewers.
Getting lost in the artist's twisting maze of organic shapes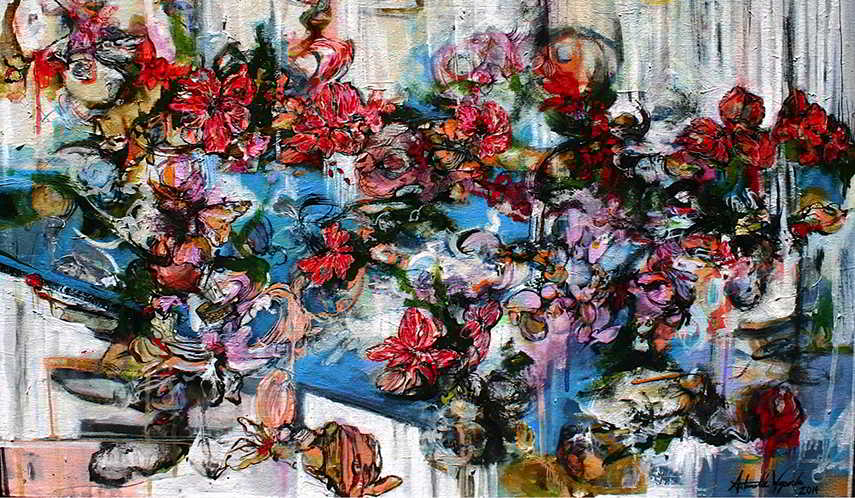 Not Just Bending the Paint
Classical Expressionist painters are often said to bend the paint with their bold strokes and fierce colors. Wysocki doesn't stop there – once the paint is bent, she's breathing even more life into her pieces, by combining the qualities of different media. Her work is complex, layered in a puzzling way, sometimes seeming unfathomable. In this aspect, Wysocki's paintings are close to real nature. The viewers are left to wander the magical maze of organic shapes and dazzling colors.
She is represented by The Cat Street Gallery in Hong Kong.
Antoinette Wysocki lives and works in New York.
Featured image: Antoinette Wysocki portrait, 2011 - Photo credit: Galo magazine