Creating the installations that are often the result of weeklong actions, Anton Unai improvised and created on-site using mostly found objects, or "golden garbage," salvaged from the streets of Berlin. He personifies the creative philosophy represented by Joseph Beuys' legacy: a profound belief in the sanctity of spontaneity, the poetry of chaos, and the rejection of traditional academia. Unai delivers an uninhibited glimpse at human emotions and echoes of his life with a collection of his works. A compilation of visual poetry from a self-declared poet who willfully takes risks and carries through with beautiful prose into the urban language.
Resurrecting the detritus of modern society
Born in Barcelona, he has lived in several European countries before moving to Berlin and his work has been exhibited internationally. Unai jars the soul by explaining in simple verse, how tragic life can be. The reflections and odes collected in his work are a display of the skill the author has with symbols, tradition and metaphors. Abundant imagery and symbolism are contained traditionally on works on canvas, wood, plaster, objects, words, dreams and paper. Using materials that reflect the urban landscape, ordinary detritus like rusty sheet metal or yesterday's newspaper, Unai's work resurrects and reinvents the discarded relics of the modern masses.
Unai uses the materials that reflect the urban landscape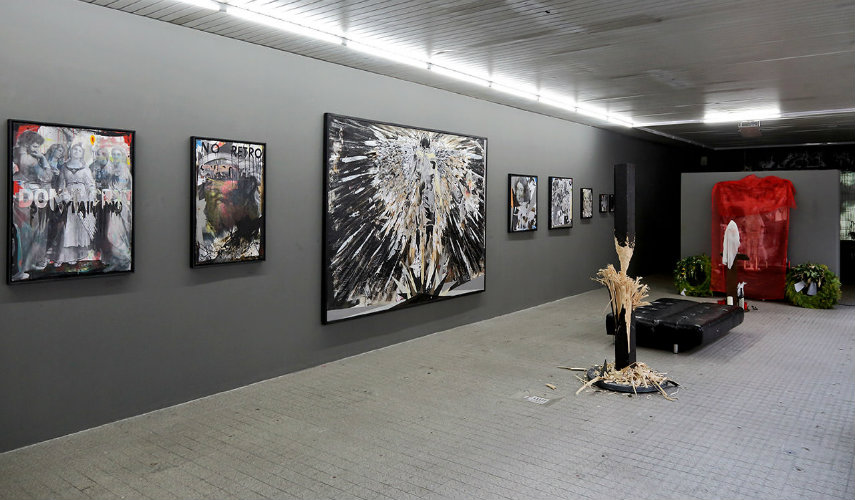 Creating Arranged Chaos
His project Assess the Damages is set of works that combine breaking gashes, clawing extracts of damages, crashing divides, frazzles, imparities, broken incises, open injuries, surgical mutilations, street plucks, pulls of melancholy, renders of cartography, rives and runs, ruptures with scratches, sizes of desperation, sever paper aches, shredded lights, slits and snatches, split-wrenches and yank.
Unai was presenting his project The Acronyms of X at Druck Berlin, a festival orientated around silk screen print. It aims to provide a comprehensive look into everything silk screen print focused with lots of live print action, an eclectic exhibition, fully stocked print shop, individual collections by different artists and plenty of creative interactions. For this work he said: "The focus of this destruction is nominally on objects that might tempt one to sin."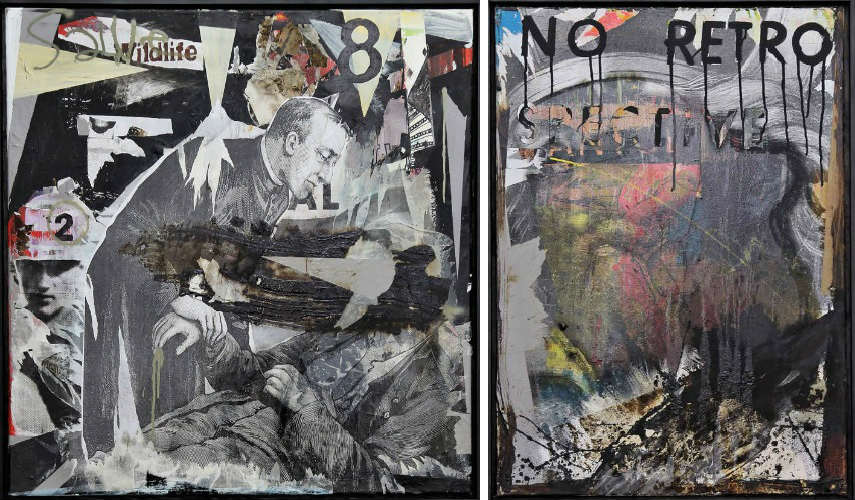 Transforming abandoned refuse into artwork
Unai's art is at once rough and delicate, exposing sentimental and vulnerable humanity through violent gestures, provocative irony and messy compositions that defy traditional aesthetic boundaries. Meta-narratives, pop and subculture artifacts, religious iconography and a wide breadth of literary references are all present in his multifaceted installations, as well as allusions to art historical antecedents ranging from Basquiat's urban poetry to Sir Howard Hodgkin's abstract paintings as sculptural objects to Jonathan Meese's theatrical symbolism.
Anton Unai lives and works in Berlin.
Featured image: Artist portrait, copyrights Anton Unai
All images courtesy of Open Walls Gallery