Fascinated by the human body, British artistAntony Gormley explores the intricate relationship of our physical manifestation, our body, within the "confines" of space and moments in time. His sculptures of anthropomorphic figures convey emotions and stories based on the language the bodies display, crouching in exasperation or lying in abandon, inviting the audience to rethink their relationship with their own body and surroundings.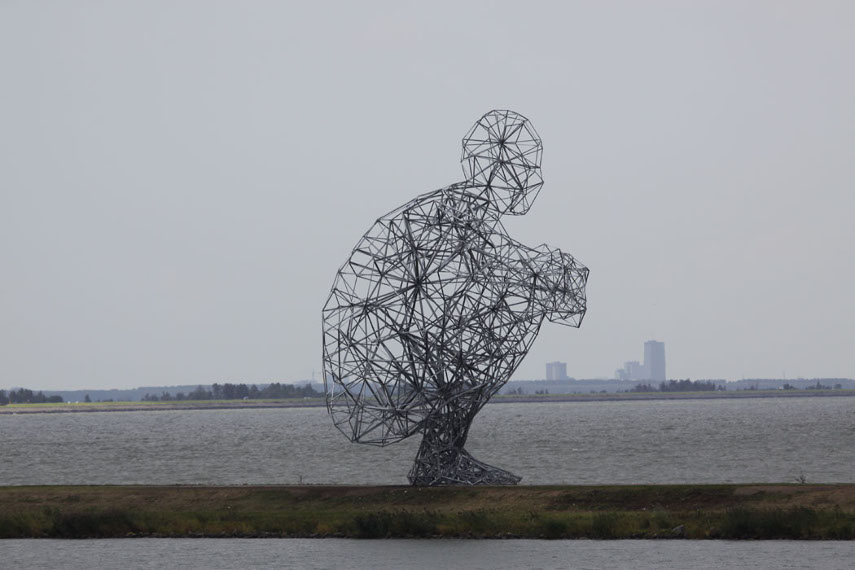 We All Have One, Yet How Well Do We Know It?
Antony Gormley's never-ending source of inspiration and subject of exploration, the human body, can be seen envisioned through different prisms of perspective in the works of this prolific artist. Cast in metal, made out of light fiberglass, wrought out of wire or put together out of blocks of wood– Gormley's sculptures touch on different aspects of our physical form. Largely minimalistic, subtracting all that doesn't make up the bare essence of human form, this work "attempts to materialize the place at the other side of appearance where we all live."[1] Antony has used his own body to create molds on which many of his works are based. The creation of these molds is not something to be taken lightly, as the model being cast has to remain still for up to two hours, making the task as much a mental trial as it is physical. He uses his own body because it is, as he states, "the closest experience of matter that I will ever have and the only part of the material world that I live inside."[2]
Rich Career Crowned With Knighthood
Born on August 30, 1950, in London, England, Gormley (whose full name is Antony Mark David Gormley) was the youngest of seven children born to a German mother and an Irish father. He studied archaeology, anthropology and the history of art at Trinity College, Cambridge in 1968 where he was influenced by artists-in-residence Barry Flanagan and Michael-Craig Martin. He traveled to India and Sri Lanka to learn about Buddhism and meditation practice between 1971 and 1974, acquiring mental skills which surely proved useful later on when enduring the process of creating molds from his own body. After attending Saint Martin's School of Art and Goldsmiths in London from 1974, he completed his studies with a postgraduate course in sculpture at the Slade School of Fine Art, University College, London. Gormley won the Turner Prize in 1994 with Field for the British Isles. He has been a Royal Academician since 2003 and a Trustee of the British Museum since 2007. He is an Honorary Fellow of the Royal Institute of British Architects, honorary doctor of the universities of Teesside and Cambridge, and a fellow of Trinity and Jesus Colleges, Cambridge. He was the recipient of the Obayashi Prize in 2012 and is the 2013 Praemium Imperiale laureate for sculpture. Gormley was knighted in the 2014 New Year Honours for services to the arts.
The Gigantic Angel of the North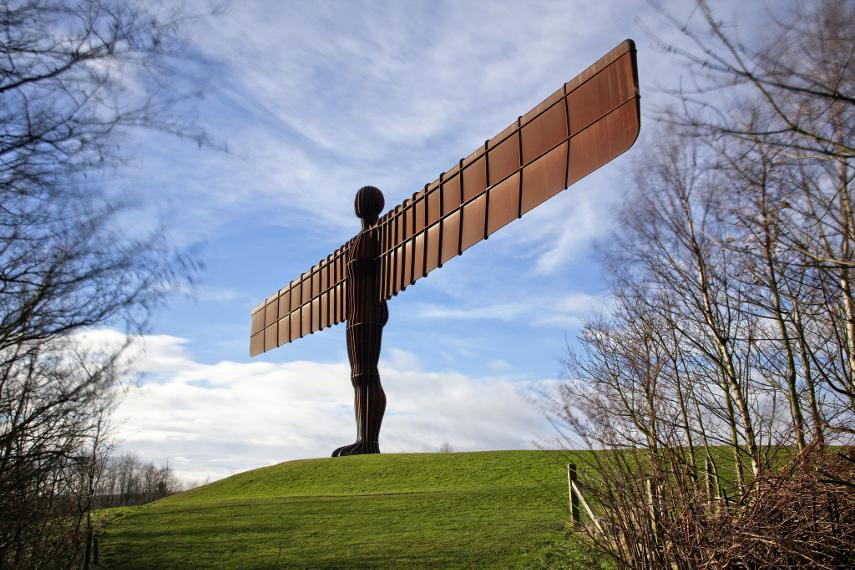 Enriching the Skyline
His debut was a solo exhibition held at the Whitechapel Gallery in 1981, and since then he has continually impressed audiences. His sculptures are often displayed at public places; the 1998 winged giant steel statue Angel of the North (20m tall with wings measuring 54m) keeps guard near Gateshead in Tyne and Wear, England. Event Horizon, a series of open-air installations he has done in a number of cities has him putting 31 anatomically correct casts of his body on rooftops, windows, and other common spaces in the skyline of the cities. In the artist's eye, the onlookers become statues themselves as they look up to the sky and point to the statues in wonder. The artist first "aired" this exhibition in London (2007), and has since used it to intervene with the skylines of New York (2010), Rio de Janeiro (2012) and Hong-Kong (2015-2016).
Antony Gormley lives and works in London, England.
References:
Antony Gormley: Making Space, Beeban Kidron documentary, 2007, shown on Channel 4 UK, November 2009;
Ibid.
Featured image: Antony Gormley - image credits Duncan Stingemore.