Age and a lack of experience are the two most common problems that young people face when trying to find their place in modern world. That's not the case for the talented Ariel Katzir. In the universe of art, she is forging her name and status by creating pieces that are quite unique. The artist discovered that the mixture of ink and acrylic on canvas is the perfect way for her to fully express herself. Modest, compassionate and with an endless inspiration, Katzir wants nothing more than some sort of reaction, a simple response from the viewers, be it bad or good.
Combination of dark inks and acrylic creates unique artworks
Ariel Katzir explores the human form
When it comes to formalities, we should say that Ariel has a Diploma in Fashion and Textiles from the Central Institute of Technology in Perth, Western Australia. As an upcoming artist, she knows how difficult is to make a breakthrough. Katzir, being a quite unique person, she is inspired by others with similar qualities. She will find something that stand out, and then be obsessed about it. In a positive and inspirational way, of course. Egon Schiele is her favorite artist, not only for his pieces, but for his life story as well. Jim McElvaney is a huge influence, when speaking of contemporary ones.
A search for the perfect balance between the dark inks and the vibrant acrylic has become a crucial part of Katzier's art, and she manages beautifully in finding it. Her creativity is expressed in the artworks which combine uniform lines, geometrical shapes and human form. If she had to choose a favorite medium, the answer would be the ink pens. It just seats so well with her style and the intention to emphasize details.
Ink pens are her favorite medium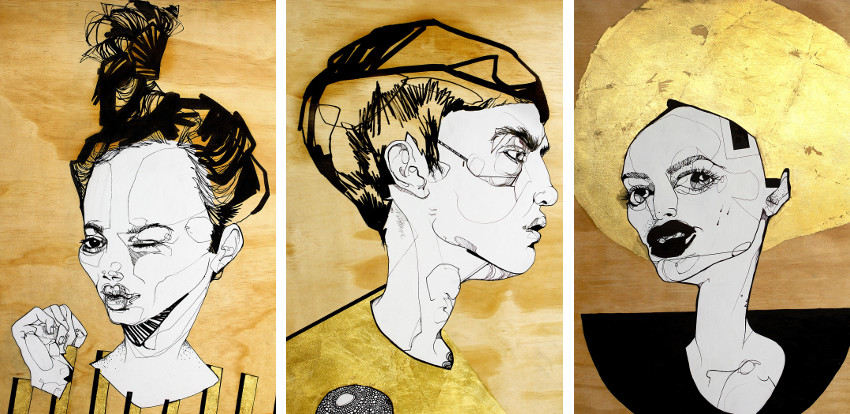 Collaboration and compassion
In august of 2015, along with Rose Church, another young and talented artist, Katzir held an exhibition called Scrawl. Everything was perfect, from monochromatic decor to the ambient, so the full attention of the audience was given to the artworks. It was a celebration of the talent possessed by both of them, culminating in their collaborative piece, placed in the corner, with Churche's works on one side, and Katzir's on the other.
When I mentioned compassionate, I wasn't blindly complementing Ariel. She is really a wonderful person, involved in online art competition called Heartactually, in which the finalist were called to exhibit at the Heartactually Valentines' Gala that took place on February 14th 2015. The most important part is that all the funds that were raised will go to the Heart Foundation of Australia. Their intention is to fight and prevent heart diseases in young people, children mostly.
A good artist, and more importantly, a good human being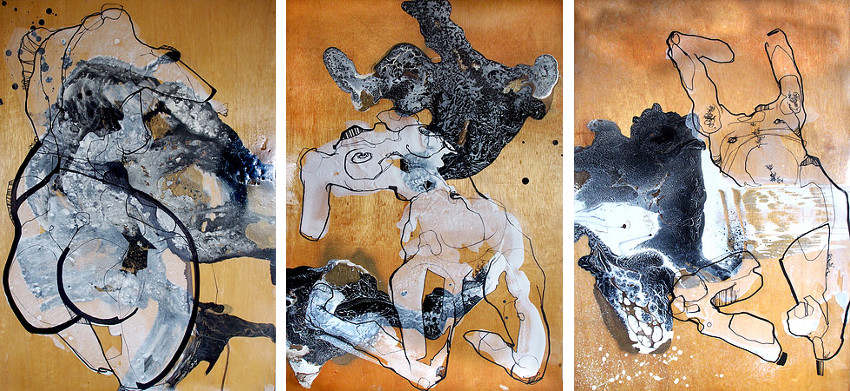 Young, talented, passionate and educated, Ariel Katzir is already an acclaimed artist. She won the 2014 Street art competition, a part of the Beaufort street live art festival. But art isn't everything in life, and Katzir knows that very well, in spite of her young age. That's why she dedicates her time, talent and art to a higher cause. She may be a young artist, but she is already a full grown human being.
She is represented by 19 Karen Contemporary Artspace in Gold Coast, Australia.
Ariel Katzir lives and works in Perth.
Featured image photo credits: ultramodern.
Image copyright © Ariel Katzir.