I specialize very much in… everything. I have never been — how do you say it? A dilettante. This is the quote from the 1960s, an era that has left us with many small — and not so small — revolutions: Jean-Luc Godard and the New Wave, The Beatles, Andy Warhol, and, of course, the Nouveau réalisme movement, co-founded and led by Arman, a French artist known for his bold and visionary projects. His origins are not an easy thing to explain: he described himself as the Algerian-Spanish, with the ancestors from Malta, Tunisia, and Algeria. His grandfather was Sephardi and his grandmother was Spanish. For a man with so many origins, he managed just fine to transmit the universal message to the entire humankind.

The Beginning of the Scatter Art
During the late 80s, a new art style emerged with a goal to give a new life to the discarded products of mass consumption. This, pretty much visionary style, was named Scatter Art. It was a direct successor of the infusions from the early '70s Process Art. Arman was one of scatter art's early proponent. Disgusted by what the world had become – this artist developed his recognizable style, a strategy of accumulating different images and objects, creating the assemblages or collages, without any glue.
Armand Pierre Fernandez was born in Nice, France in 1928. His father was an amateur artist, photographer, cellist, and an antique dealer. No wonder young Armand was initialized as a boy into the world of art, learning oil painting and photography when the most of his coevals were still passionately interested only in playing. Armand began hyper-producing his early drawings and paintings signing them only with his first name, just like one of the artists who had a great influence on him - Vincent van Gogh - used to do. Arman would stay consistent to this practice for the rest of his career, with one anecdote surrounding a missing "D" in his name. Due to the printer's mistake on a catalog cover in 1958, when his name Armand was misspelled as Arman, this artist decided to keep his new name signing all of his work with Arman, until the rest of his life.
Art of the accumulation of objects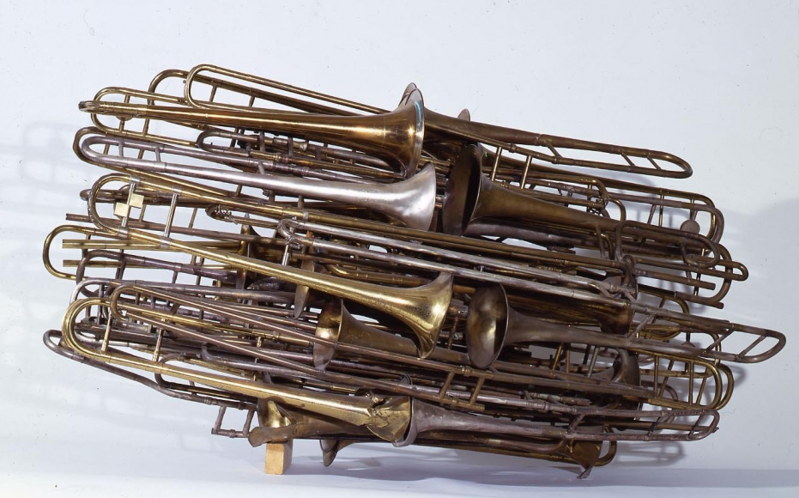 Creating a Concrete Artistic Forms from the existing objects
The artist received a Philosophy and Mathematics bachelor's degree in 1946. Additionally, he decided to make a serious attempt at life as an artist, and enrolled the École Nationale des Arts Décoratifs in Nice, just to move on to the field of history at the École du Louvre, completing his studies in the archaeology and oriental art in 1949. During all that time, Arman was fascinated by the work of Jackson Pollock and Nicolas de Staël, and he was passionately dedicated to judo, as well! While training at the police school back in his native Nice, he befriended with French artist Yves Klein and French composer Claude Pascal. Three friends frequently took road trips, the adventures hitch-hiking tours all around Europe. After graduation, Arman worked as a teacher at the Bushido Kai Judo Club in Madrid and served in the French army as a medical orderly, participating actively in the Indo-China War, ended in 1954. For all that time, he never lost interest in art – Arman based his artistic expression in a certain insurgency against Abstract Expressionists and Tachistes and their gestural techniques. He was on the quest for different sources and different means in creating a new kind of art, grounded in the idea of itself. Arman began to work on paintings that only resembled gestural abstractions, while he was actually producing concrete artistic forms, using an already existing object, the products of the modern time and its society.
Cachets - a neo-dadaist stamp prints by Arman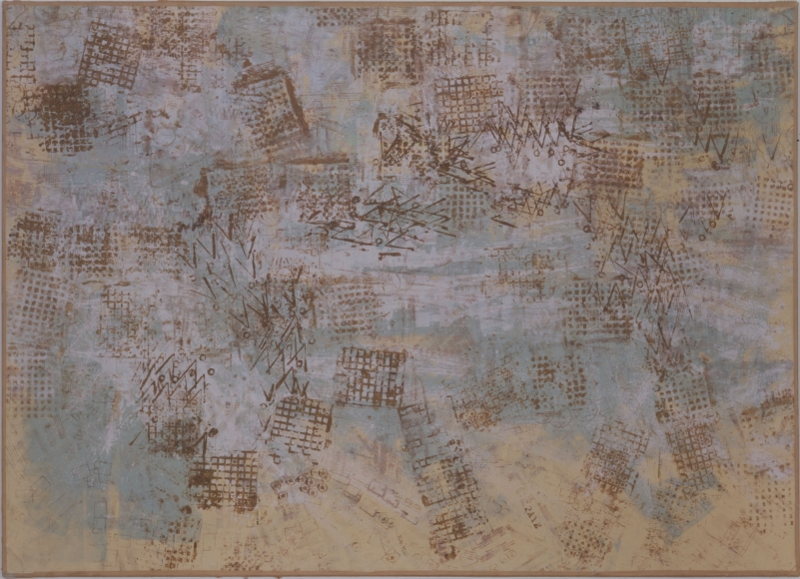 Cachets and Poubelles
One of Arman's first projects was so called Cachets, a neo-dadaist stamp prints done during the mid-50s. He later moved on to the Allures, an object impressions, and then to cut-up objects that he entitled Coupés. In the beginning of the '60s, Arman was still under a tremendous impression by the exhibition German Dadaist Kurt Schwitters held in 1954. He began accumulating old materials and discarded objects that slowly started their metamorphosis into a series named Cachets, 2D accumulations, which were actually his first serious artistic commitment. Arman's career simply took off after his third solo exhibition held in Paris' Galerie Iris Clert where he presented the Cachets. His original concept of the accumulation of same objects' vast quantities, simply launched the young artist to the very top of the artistic world at the time. Following Cachets, Arman also created his famous Poubelles or trash bins - a collection of strewn garbage objects in Plexiglas cases. For example, he once put 2000 wrist watches into one such box.
Poubelles: Arman's artistic trash bins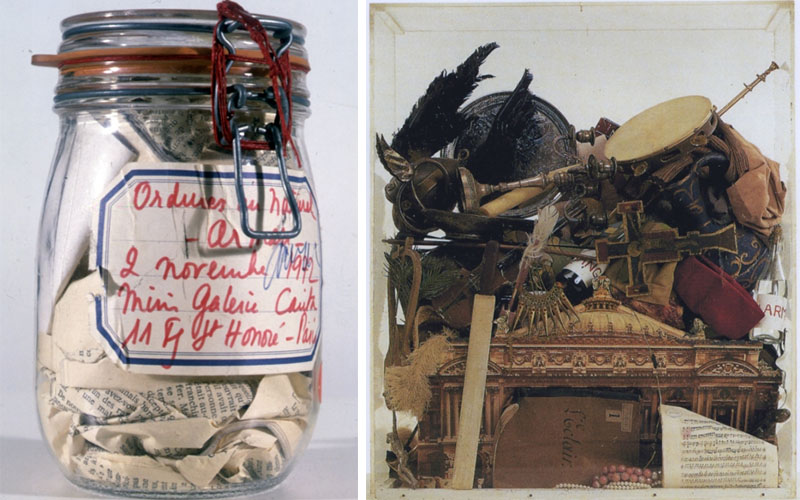 Nouveau Réalisme Movement
During the '60s, Arman co-founded the Nouveau réalisme movement, a French reaction to the Pop art movement. The fascination was mutual, Andy Warhol had in his collection two of Arman's Poubelles, and Arman appeared in the Warhol's 1964 film Dinner at Daley's. Arman participated actively in the creation of Nouveau réalisme along with art critic Pierre Restany, his friends Yves Klein, Jean Tinguely, and Jacques Villeglé. The exact moment of the New Realism's birth was at its first group exhibitions at the Apollinaire Gallery in Milan. A movement's manifesto, titled Constitutive Declaration of New Realism, was written in April of 1960. Through the extensive use of collage, assemblage, and painting, the members were in a constant search for a new approach to the concept of reality.
Slicing, burning, wading and smashing different objects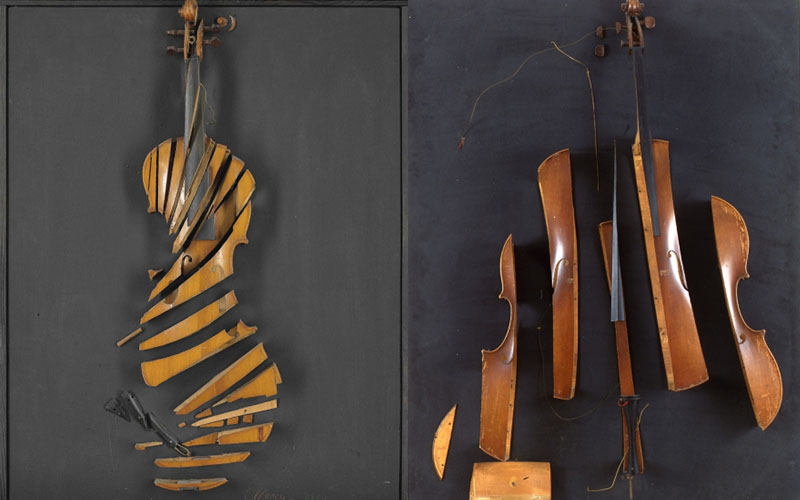 Coleres - Arman's Angers
Arman's next stop was a destruction phase. He intended to channel his anger towards mass production and mass consumption, so he got to think of a way to create something completely new, but using old products. Coleres is a series that included a complete destruction of the subject. After slicing, burning, wading or smashing different objects (from violin to car), he would find a way to mount on canvas the leftovers. Seems as if the main impeller of his work was his contempt towards a mass production. By expressing such an irrational rage like he did in Colers, Arman was actually trying to revive human nous and point out on a disaster waiting to happen – everyday life threatened by a global domination of the materialism. Boy, was he right!
His somehow chilling rejection of modernization, shown through the destruction and re-composition of objects or the endlessly repeating forms, was still surprisingly compatible with the work of the American Minimalists and Pop artists of the same period. Also, Duchamp's idea that contemporary sculpture had to confront the commodity was joyfully accepted by Arman, so he is considered a pioneer in the efforts to create a European comeback of Marcel's readymade. Craft skills and imagination were no longer essential in creating a sculpture, but responding to the characteristics of mass-production and industrial expansion was.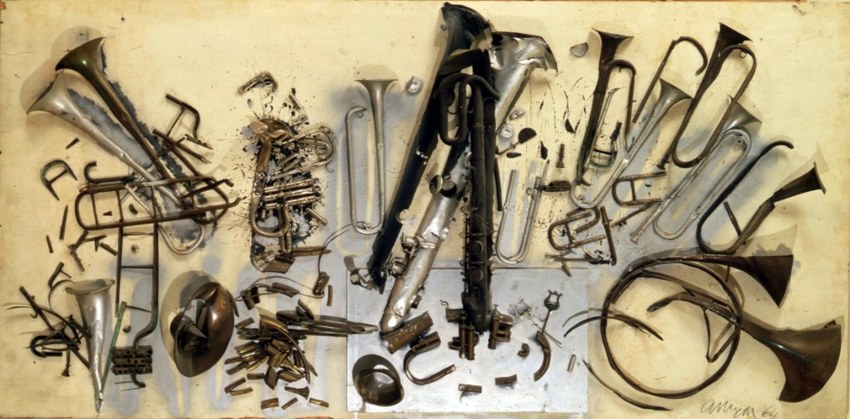 Arman's Accumulations
One of Arman's accumulations that really brought on a lot of attention is definitely the largest of them all: Long Term Parking, on a French Château de Montcel in Jouy-en-Josas' permanent display. It was finished and inaugurated in 1982, presenting to the public 60 cars embedded in over 18,000 kg of concrete, in an 18-meter high installation. Another of his ambitious pieces was created in 1995. The work was commissioned by the Lebanese government in order to celebrate 50 years of the Lebanese military's service. The piece was exposed in Beirut, a city that suffered great destruction during the war. The sculpture is 32-meter high and contains 83 tanks and other army vehicles!
Arman's giant public works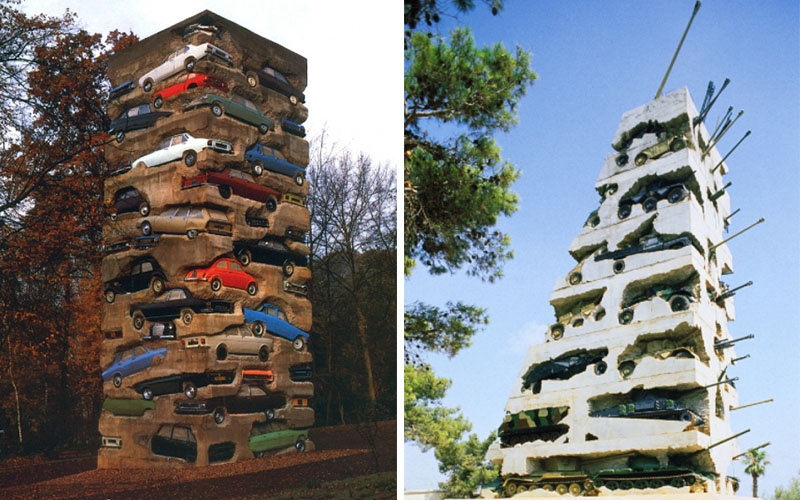 The Art of Waste
Arman's almost obsessive use of trash and other discarded objects serve today more than ever as a constant reminder of the wreckage of human history, but the future as well. One might say that he tried to stop us from digging our graves, burying us in our own personal and unnecessary waste. The artist, who died in New York City on October 22, 2005, exhibited his oeuvre in galleries and museums internationally. His work can be found in some of the world's most notable institutions including the Metropolitan Museum of Art, the Tate Gallery in London, the Centre Pompidou in Paris, and many other public and private collections.
The Arman Estate is represented by Galerie Brugier-Rigail.
Featured image copyright of Chris Felver via Gettyimages
All images copyright of Arman Studio