Arnaldo Pomodoro's monumental sculptures are strange and frightening, yet beautiful. The Italian sculptor most famous for his spheres made in bronze is showing us, through his works, a structure of the life itself. The outer smoothness of his sculptures combined with the inner complicated design that looks like a clockwork machinery remind us of the intricate designs of nature and the infinite complexity of life. Pomodoro has been creating his large-scale sculptures for more than three decades and  their beauty  together with universal meaning has been accepted worldwide. His spheres, arches and disks are embellishing and completing locations in various European, American and Australian cities.
Pomodoro's sculptures are paying homage to the intricate complexity of life.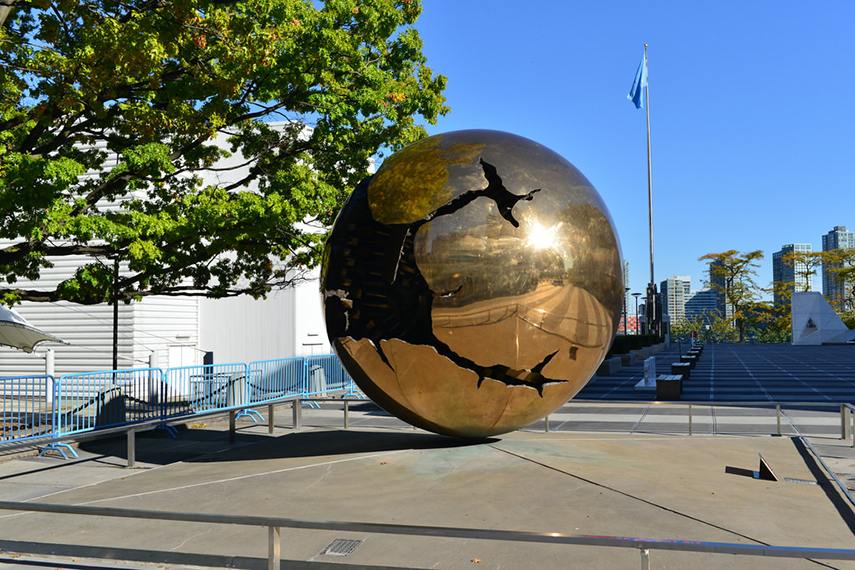 Jewelry Design and Architecture
Pomodoro was born in the mid-20s in Morciano, Italy and showed interest in crafts and design quite early. However, he wasn't directly interested in sculpture from the very beginning - in the 40s, he was working as a consultant for the restoration of public buildings  and at the same time, he was studying stage design. His curious mind was also interested in jewelry design, so he joined a goldsmith workshop and learned more about handling fine metals and decorative designs. In the 50s, he  moved to Milan, which was an important step in his career, as he started to meet a circle of the local artists there and his interest in sculpture grew stronger. His earliest work was shown at the Galleria del Naviglio in Milan in the mid-50s. Already in the late 60s, he started gaining the international reputation and traveled to galleries around Europe, United States and Brazil to exhibit his work. He even spent some time  at famous Stanford University in California, as a visiting professor. However, it wasn't until the mid-70s that Pomodoro became renown for his unique sculptures based on geometric shapes, such as spheres, disks, pyramids or cubes, which were designed to suggest natural processes of destruction, transformation and revival.
Pomodoro became renown for his unique sculptures based on geometric shapes.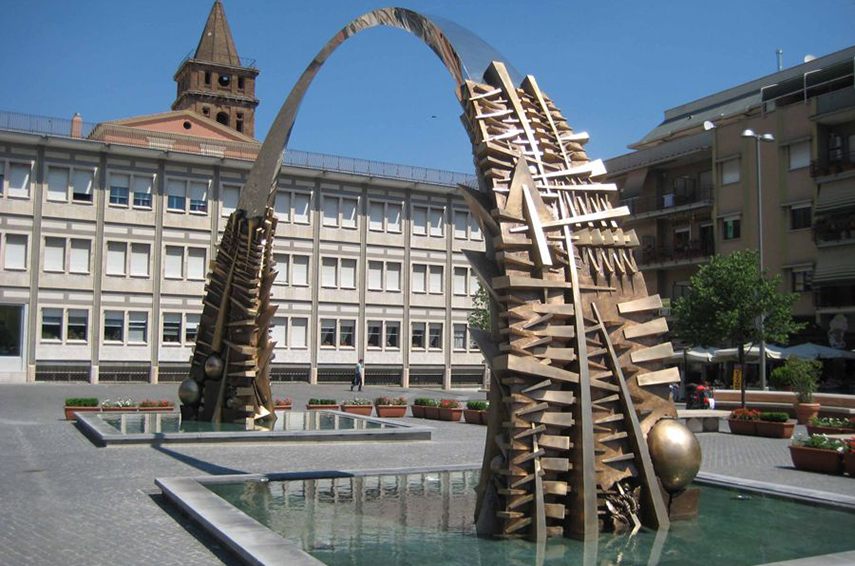 Motif of Internal Tension
The most famous Pomodoro's work is called Sphere within a Sphere, also known as Sfera con Sfera in his native Italian language. It is a monumental series of sculptures featuring a large bronze sphere with seemingly damaged surface and complicated inner design consisting of another smaller, broken sphere inside. The artist created this sphere for the Vatican Church in the 60s, but due to its international popularity, Pomodoro was commissioned to build the same sculpture  for important institutions and organizations worldwide. At the moment,  Sphere within a Sphere is located at the headquarters of the United Nations in New York, Trinity College in Dublin, The Tehran Museum of Contemporary Art, the Columbus Museum of Art, Tel Aviv University in Israel and a couple of other locations.
Since the original design was created for the Vatican Church, the idea behind it is related to Christianity. Pomodoro claims that the outer sphere is the metaphor for Christianity while the inner sphere represents the Earth and people, suggesting that our world is contained within the bigger, sacred world of Catholicism. The layers of the inner sphere which contain gears are the symbol of intricacy and subtlety of our world. Pomodoro explained the motif of spheres in one of his interviews: A sphere is a marvelous object, from the world of magic and wizards. It reflects everything around it and it can easily get transformed or become invisible, leaving only its interior, tormented and corroded, full of teeth. Pomodoro feels puzzled by the perfect form of sphere and at the same time provoked to break its pristine roundness and cause the internal conflict, tension which is threatening to rip apart the entire form.
Pomodoro feels puzzled by the perfect form of sphere and provoked to break its pristine roundness.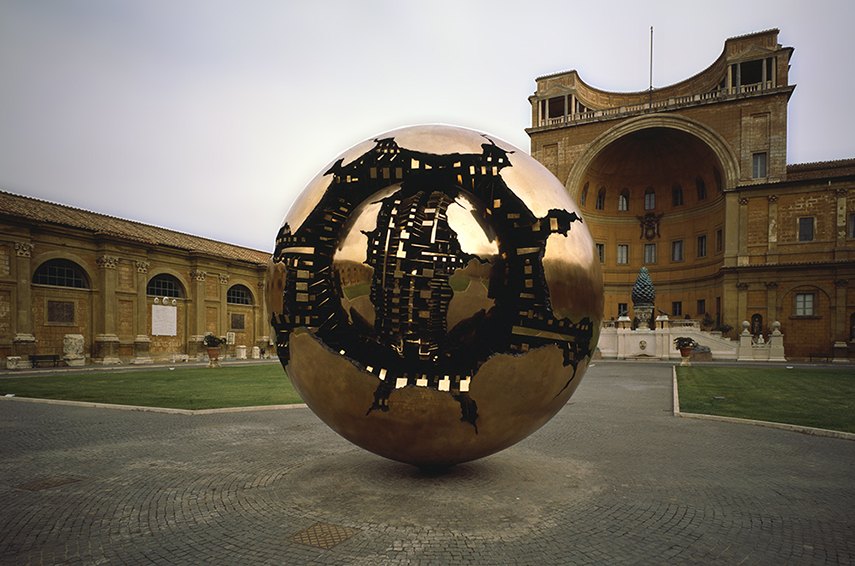 Sculptures around the Globe
In addition to Sphere within a Sphere, Pomodoro designed  many other pieces which found their home around the globe. For example, he created a large fiberglass crucifix for the Cathedral of St. John the Evangelist in Wisconsin. The sculpture is famous for its enormous, fourteen foot in diameter crown of thorns above the head of the Christ's figure. In Copenhagen, Denmark in 1983 he designed a decorative pillar with a sphere on its top, called Solar Form, for the Amaliehaven park close to Amalienborg Palace. Also in 1983, he designed another geometric piece, this time a pyramid, named Forms of Myth for Brisbane's World Expo, which was bought by the City of Brisbane. Another important Pomodoro's work featuring pyramidal shape called Wing Beat: Homage to Boccioni was built in 1984 in Los Angeles, as a part of the large fountain. In 1999, the artist opened Fondazione Arnaldo Pomodoro in Milan. This institution is performing several functions – it serves as an archive for the sculptor's work but it is also an exhibition space since 2005, opened for the pieces of eminent Italian and international artists.
In addition to Sphere within a Sphere, Pomodoro designed many other pieces which found their home around the globe.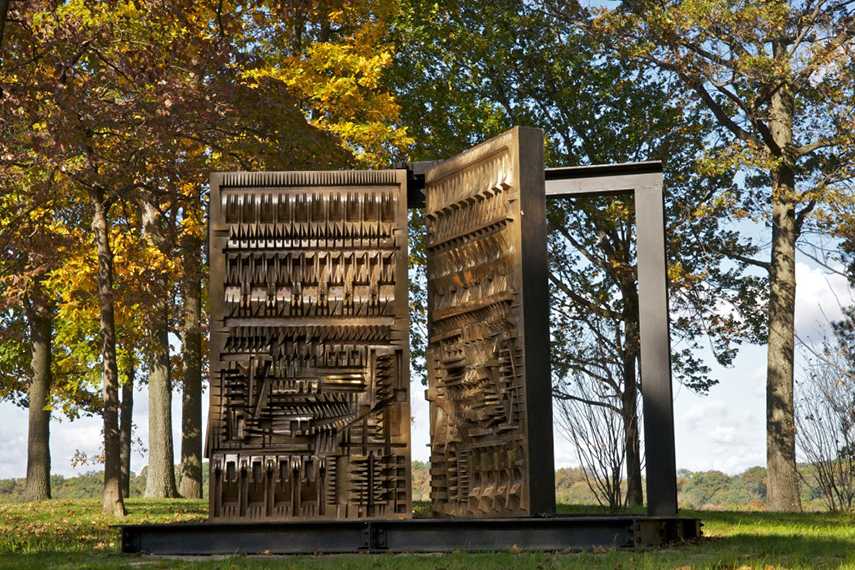 Enriching the Space
The importance of Pomodoro's work lies in his careful observation and understanding of the relationship between the sculpture and its surrounding space. He achieved his main goal to transform already existing spaces by enriching them with his sculptures, which bring in additional layers of meaning to urban areas. The artist is exploring the shape of our world and even our mind through his sculptures which contain both polished glaze and signs of destruction. These opposing conditions underline the everlasting changes we're exposed to and the beauty of our world which is always swinging back and forth between unity and decay.
Arnaldo Pomodoro lives and works in Milan, Italy.
Featured image: Pomodoro's portrait - photo credit Tom Claeren
All images used for illustrative purpose only.