Often unrightfully overshadowed by his more famous colleague masters of modern art, Arshile Gorky was one of the last grand Surrealist painters who played a major, although in many ways indirect role in the famed movement of Abstract Expressionism. This Armenian-born American painter is best known for his surrealist visual vocabulary underlined by strong painterly brushwork and idiosyncratic forms, a style that may have been initially derived from other people's visuals but ultimately ended up becoming a unique manner of painting. Boundless and conceptually daring, Gorky's innovative and explosive compositions relied on abstraction in order to convey his own personal memories as well as direct observations of nature and the world surrounding him[1].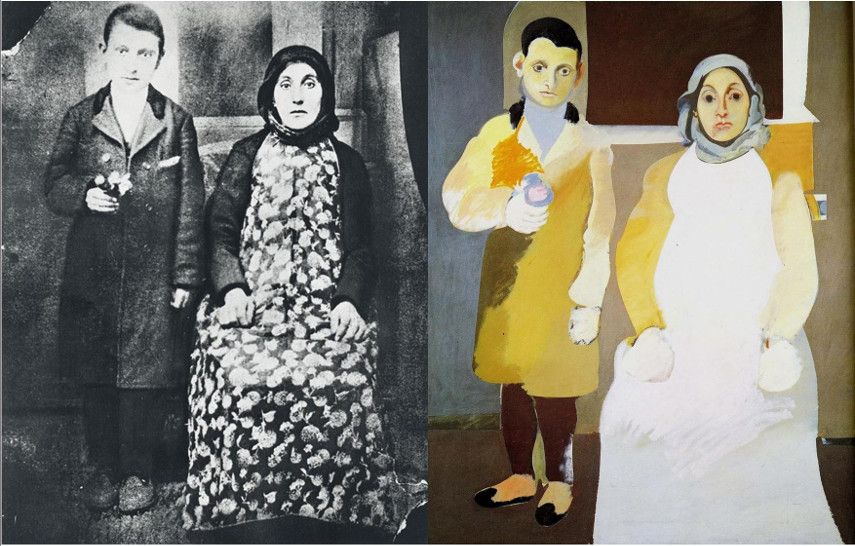 The Process of Becoming Arshile Gorky
Vostanik Manoug Adoian was born on the 15th of April in the year of 1904, in a place called Khorgom, a small village situated on the shores of Lake Van in the Ottoman Empire. When he was at the age of four, his father emigrated to America in order to avoid the military draft, leaving his family behind in the process. In 1915, young Vostanik ran away from home during the Armenian Genocide, escaping with his mother and three sisters into a Russian controlled territory. Following the death of his mother in 1919, the 16-year-old Vostanik Manoug Adoian set his sails towards the United States where he was reunited with his father. However, the two never grew close as Arshile could never forgive his dad for leaving his family behind in the first place. In the process of reinventing his tragic identity, the young man changed his name to Arshile Gorky, claiming to be a Georgian noble and a relative of the Russian writer Maxim Gorky. In 1922, Arshile enrolled in the New School of Design in Boston, eventually becoming a part-time arts instructor. He was initially influenced by Impressionism and Post-Impressionism, especially by the work of Paul Cézanne, but soon turned himself to more modern ways of painting.

Later Life and Untimely Death
During the 1920s, Gorky's paintings showed an experimentation with Cubism, eventually moving to full blown Surrealism.[2] In 1933, Arshile Gorky became one of the first artists employed by the Works Progress Administration Federal Art Project. This project later came to include such elite authors as Alice Neel, Lee Krasner, Jackson Pollock, Diego Rivera and Mark Rothko. It should also be noted that Gorky was a close friend of Willem de Kooning - the legendary Dutchman described his colleague with the following statement: I met a lot of artists — but then I met Gorky... He had an extraordinary gift for hitting the nail on the head; remarkable. So I immediately attached myself to him and we became very good friends. It was nice to be foreigners meeting in some new place. Arshile was also close to Andre Breton and the leader of Surrealism was quite impressed by the works of his Armenian colleague. In 1941, Gorky met and married Agnes Magruder, after which he finally ended his long relationship with Corinne Michelle. However, from 1946 onwards, Arshile's life suffered a series of crises - his studio burned down, he underwent a colostomy for cancer and found out that Mougouch had an affair with Roberto Matta. Troubled by these events[3], Gorky decided to take his own life in 1948.
Perhaps the greatest value of Arshile Gorky and his art lies in the fact this artist was a vital link between prewar European modern styles and the emergence of Abstract Expressionism

The Main Value of Arshile Gorky and His Art
Although he is often referred to as a secondary painter of Surrealism and Abstract Expressionism, Arshile Gorky had a major impact on both his contemporaries and next generations of painters as his diverse body of work was crucial to the emergence of mid-20th-century concepts in art. He adopted many avant-garde ideas and converted them into something unique and completely his own, freeing his forms by emphasizing more lyrical colors and introducing personal content. Arshile transformed real people and true circumstances, either remembered or present, into new realities that were abstracted and unusually controlled for this type of art. Nowadays, Gorky's works can be interpreted as a reference to both the artist's traumatic past as a genocide survivor[4] and as a vital step forward that helped guide modern art down the path towards a creative realm we today call contemporary art.
References:
Herrera, H., Arshile Gorky: His Life and Work, Farrar, Straus and Giroux; 1st edition, 2005
Ashton, D., Auping, M., Spender, M., Arshile Gorky: The Breakthrough Years, Albright-Knox Art Gallery, 1995
Mattison, R., Gorky, A., Arshile Gorky: Works, Writings, Interviews, Poligrafa; First Edition, 2010
Matossian, N., Black Angel: The Life of Arshile Gorky, Overlook Books; First Edition, 2000
Featured image: Arshile Gorky - Photo of the painter working in his studio - Image via wikimedia.org
All images used for illustrative purposes only.