Arthur Dorval is a prominent French painter. His take on geometric images is what made him famous worldwide, and he is one of the most promising young artists in France. Born in 1987 in Lille, France, Dorval showed an early interest in drawing, having accompanied his gallerist father on visits to museums, galleries, and artists' workshops. He began his academic training at Saint-Luc Toumai, where he majored in Illustration, and subsequently studied Design at La Cambre in Brussels.

Dorval is a part of the pure Geometric Abstraction movement, alongside such artists as Alberto Magnelli, Auguste Herbin and Victor Vasarely. The movement was started at the beginning of the 20th century, but has since evolved, a fact that is evident in the work of Dorval. The play of shapes and colors gives his pieces movement and vibrancy, making them seem more as architectural feats than paintings. It is his signature work on color, as well, that gives a feel of full color or transparency characteristic of his work.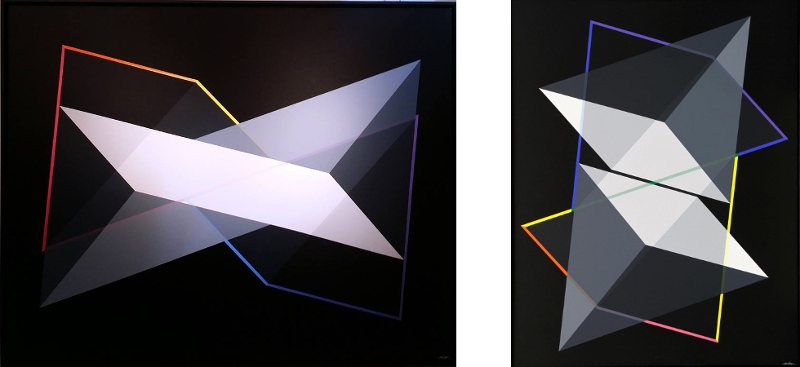 He gained renown with his first series of works – Geometric Hatching in 2010. This was soon followed by his second series, Composition No.2. Dorval's artworks have been displayed in galleries across France. He is represented by the David Bloch Gallery from Marrakech, Morocco.
Arthur Dorval resides and creates in the North of France.
Featured image: Arthur Dorval - portrait
All artwork images are courtesy of the artist and David Bloch Gallery