Aryz is a Spanish street artist best known for his intricately detailed works done with spray paint and paint rollers.
Aryz's Gigantic Murals
Aryz was born in Palo Alto, California. From the age of 3, he grew up in the suburbs of Barcelona, Spain. Very early, Aryz showed interest in the graffiti scene, so he quickly joined up with a local crew.
"When I was at high school, I met some guys who were break dancing and listening to hip hop and I started to hanging around with them , one day they said "let's go paint some wall". We went to buy some sprays and we went painting… We just did a really huge mess… I tried to go and fix it the next day… but it ended even worst. Since then it's been like a personal challenge."
In the beginning, he mostly painted characters between his partners' letters, but due to a finger injury Aryz began to combine the spray can with brushes. That twist of fate ended his relationship with the other writers, but also led him to try more ambitious pieces.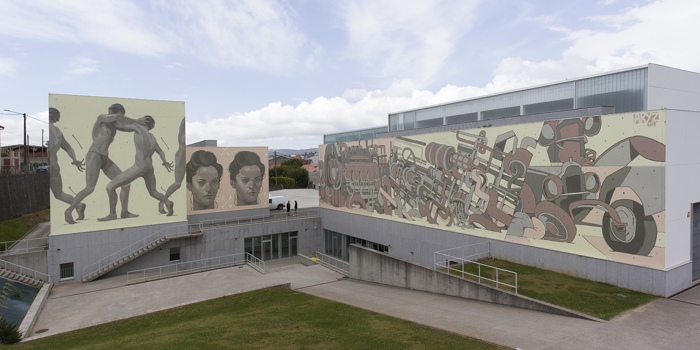 Aryz prefers to create large character murals without focusing on a specific message. Aryz is known for using mixed media and painting styles to create gigantic murals depicting strange creatures, arranged through strange, emotional mixtures expressing both rawness and tenderness. His art holds vibrant colors and fantastic atmospheres resembling those of science fiction. Generally, Aryz murals depict humans or animals of surreal colors, playing between surrealism and Pop Art, with silhouettes that reveal their entrails, organs or parts, trying to explore the interior of the living creatures.
Outdoors and Studio Work
His work can be found on abandoned walls on the outskirts of Barcelona as well as in New York, Germany, Poland, Italy, and Bosnia-Herzegovina. He enjoys painting in abandoned factories because people avoid bothering him there - these factories often offer a perfect location due to their huge walls and varied surfaces.
However, Aryz's work is not limited to full-scale, building size murals – he is also an illustrator, constantly working on studio work and screen-printing as well. Those works made in studio also include a high attention to detail and spectacular compositions.
Very specific for Aryz's work is that it incorporates both academic painting together with contemporary techniques and mediums, a pretty contradictory set of skills, one might say; one requires a fast, deft and adroit movement, while the other takes on a more subdued energy through a painstaking dedication of concentration on the canvas.
Aryz and Shepard Fairey at Detroit
In 2015, Aryz created large scale work in downtown Detroit, along famous Shepard Fairey who painted his largest mural yet and possibly the largest painting in the city of Detroit.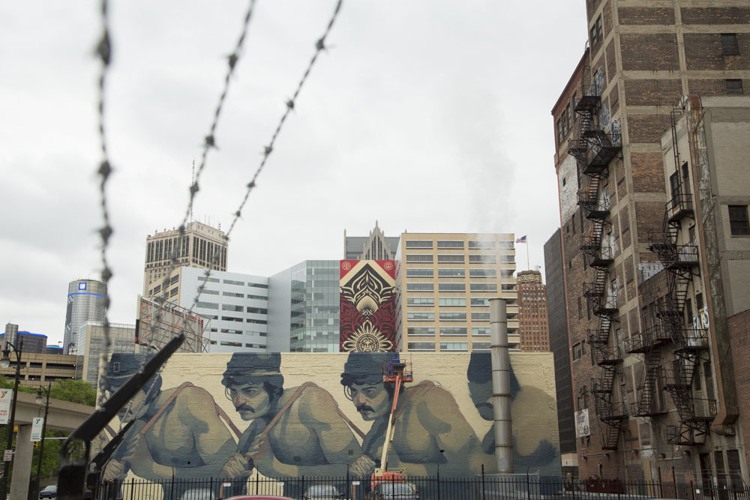 Aryz was working on a piece with the gallery right by the Fairey work - Library Street Collective. The mural depicts a shirtless working man pulling or carrying his clones over the shoulder.
Exhibition Paral-lel at Los Angeles
In 2015, Aryz presented his first show in Los Angeles, titled Paral-lel. The show was set in a downtown building with two parallel gallery spaces, showcasing classic Aryz skulls and paintings that translate his large-scale murals onto canvas.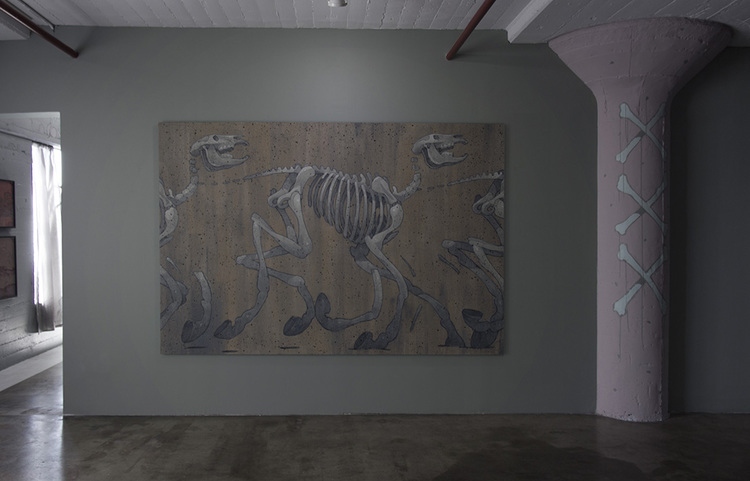 The exhibition presented in two different rooms symbolizes "two geodetic lines which never crosses their paths within the same space, but finds their intersection in infinity". The aim was to reflect contradictions one artist might face in creating work for both public and interior spaces, fine art and contemporary muralism. In a middle wall, Aryz inscribed the words: I'm here.
"I felt like I was in the middle of those two spaces and now I can choose where I want to go. And I'm here… [Parallel] lines don't meet on the plane in geometry, but they meet at the infinite."
Aryz lives and works in Barcelona, Spain.