One of the most recognized 20th-century painters emerging from Denmark, Asger Jorn was an artist best known for his paintings, lithographs and etchings. Through his work, this Danish author experimented with the spontaneity of the line and semi-figurative representations - aspects of Jorn's practice that put him in a position to be a co-founder of the avant-garde COBRA group in the year of 1948. One of Jorn's other major contributions to the development of modern art history came after he and his friend, the artist Guy Debord, founded the Situationist International in 1957. Asger Jorn was incredibly prolific as an artist, creating artworks across all mediums, creating painting, sculpture, ceramics and collage.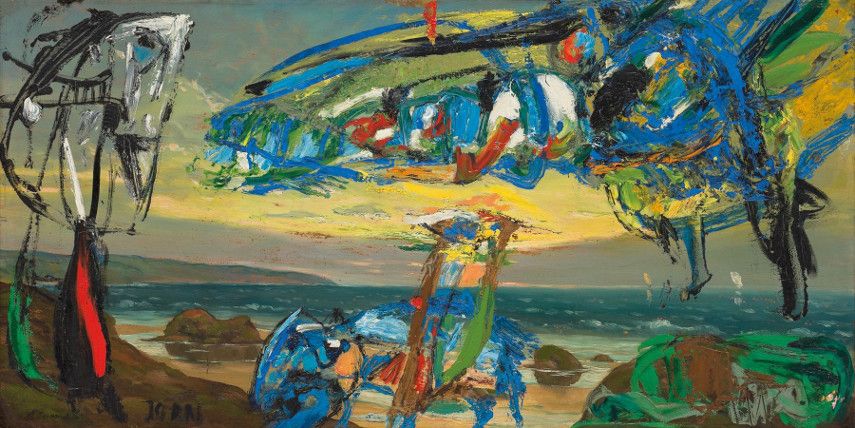 Early Life and Development
Asger Jorn grew up in a home where he was the second oldest of six children. Both of his parents were teachers and they were fundamentalist Christians. Asger's father, Lars Peter Jørgensen, died in a car crash when Jorn was 12 years old. As a result, the young author was raised by his mother who stayed true to her late husband's deeply rooted Christian beliefs. This kind of strong religious presence had a negative effect on Asger who started to progressively rebel against it, making the young man feel generally against any form of authority[1]. When he was at the age of 15, Jorn was diagnosed with tuberculosis which forced him to spend three months on the west coast of Jutland. There, he started to read a lot of profound books influenced by N. F. S. Grundtvig and enrolled in the Vinthers Seminarium as soon as he recovered from his illness. Mainly focusing on Scandinavian philosophy during that time, young Asger was also the regular subject of a number of oil paintings made by the painter Martin Kaalund-Jørgensen - an experience which encouraged Jorn to try his own hand in this medium[2]. While at college, the aspiring painter joined the small Silkeborg branch of the Communist Party of Denmark. When he graduated in 1935, he was praised for his extraordinary rich personal development and maturity. The next half a decade was an inspiring chapter of Asger's life as he traveled around Europe quite a bit.
COBRA and Situationist International
The occupation of Denmark by Nazi Germany was a time of great crisis for Jorn who had been deeply inculcated with pacifism. Such an occurrence initially drove him to a state of deep depression, but he eventually became active in the communist resistance movement. After the World War II came to a halt, Asger again traveled to France. There, he met and founded the COBRA group with Christian Dotremont and Constant. This avant-garde movement eventually became a big hit within many European scenes as the combination of modernism and communism applied to many individuals across the Old Continent. However, Jorn started to feel sick in 1953, yet again feeling the horrible symptoms of tuberculosis. He returned to Silkeborg the same year and started to develop his ceramics works, leaving COBRA group behind. Three years later, Asger met Guy Debord. The two men collaborated on a few artistic books, namely Fin de Copenhagen (1957) and Mémoires (1959). This duo also founded The Situationist International, one of the most notable moments in modern art history. Still fully supporting its contents and goals, Jorn quit his activity in the SI during the year of 1954. The reason why he left was believing that the new strategy of the The Situationist International was ineffective[3]. Since then, Asger Jorn focused on his own creativity, leaving collaborations and organization behind him. Ultimately, he would continue to make artworks to the day of his death in 1973. It is estimated that he produced over 2,500 paintings, prints, drawings, ceramics, sculptures, artist's books, collages and décollages during his long career[4].
Besides his impressive semi-figurative representations, Asger Jorn also made great contributions to art history via his roles within COBRA and Situationist International groups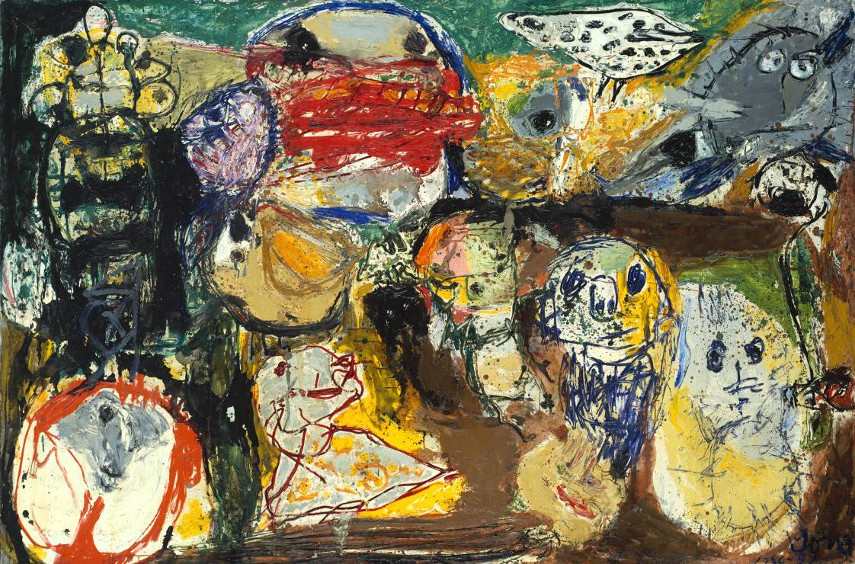 The Significance of Asger Jorn to Danish Art History
Between his memberships within social avant-garde revolutionary movements and his ground-breaking painting practice, there is really no discussing Danish modern art history without at least mentioning the name of Asger Jorn. Naturally, his native country noticed his contributions to its art scene - as a way of honoring one of its greatest modern painters, The Silkeborg Museum of Art was renamed the Museum Jorn in the year of 2010. A small recognition when compared with the level of greatness surrounding Jorn's reputation but a noteworthy nonetheless.
References:
SMK, Asger Jorn: Restless Rebel, Prestel, 2014
Baumeister, R., Asger Jorn in Images, Words and Forms, Scheidegger and Spiess, 2014
Baumeister,R., Asger Jorn's Writings on Arts and Architecture, 1938-1958: Fraternit Avant Tout, nai010 publishers, 2013
Kurczynski, K., The Arts and Politics of Asger Jorn: The Avant-Garde Won't Give Up, Routledge; New edition, 2014
Featured image: Asger Jorn - Photo of the author - Image via pinterest.com
All images used for illustrative purposes only.