As the avid opponent of the commodification of the culture and Neo-expressionist movement, Ashley Bickerton made a quite sensation with his group Fantastic four, or the Neo-Geo as the critics called them, by showing their anti-consumerist and anti-capitalist works at the Sonnabend Gallery in New York in 1986. Along with Jeff Koons, Peter Halley and Meyer Vaisman he adopted influences from the Pop Art and Minimalism, in addition to French philosopher Jean Baudrillard, accepting geometry as a metaphor for society. Soon got tired of the superficial life of the New York art circles and its disdain and hypocrisy, Bickerton decided to move to Bali where he lived in isolation, painting 18-hours a day.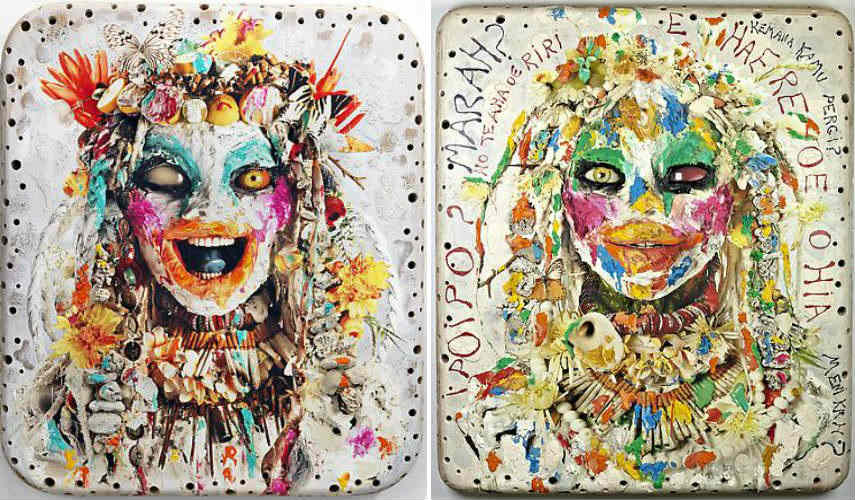 Anti-consumerism of Neo-Geo Movement
Bickerton was born in The West Indies in 1959, but his family often changed their residencies, due to his father's career in languages and linguistics. He finished his studies in the United States at the California Institute of the Arts and built and enviable career during the 80's, exhibiting his work on a global scale. As a part of the Neo-Geo movement (the short for Neo-Geometric Conceptualism), along with his peers, this American artist introduced a new kind of geometric painting deprived of the non-objective abstraction of the 20th-cetury, implemented with different materials such as microchips and battery cells instead. Still, despite their anti-consumerism ideas, the practice of the loose labels has been criticized as a marketing ploy. In one point of view, this movement is best reflective in Halley's work and Bickerton's contribution was characterized by his paintings of brand logos that seemed mass-produced. Covered in different signs, codes, and logos, his early works were typical Assemblages made of industrial materials and screen printed images.
His early works were typical Assemblages made of industrial materials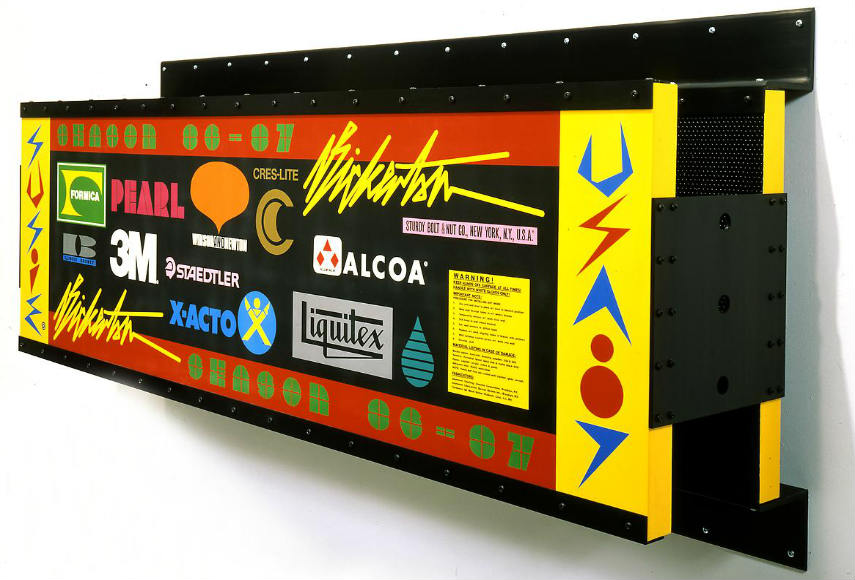 Critic of Society: From New York to Bali
His style is marked by his use of different materials. The artist worked both on and off the canvas. Working at the Singapore Tyler Print Institute, he specialized the paper pieces, such as Green Reflecting Heads Duo No.5 from 1996. These works are spooky depictions of green creatures emerging from the sea cluttered with trash – cans, and bottles. Depicting the grotesque characters that are often a critique of capitalism, the artist creates metaphors of society through various mediums and resourceful materials. One of his projects was marked by collaboration with the Yogyakarta Art Lab which is the major initiative of the Gajah Gallery and engaged Bickerton to create series of sculptures that he brought into connection with mitochondrial Eve. Firstly made of clay in his Bali studio, the pieces are later reinvented in different archival materials such as cast and aluminum. Generally, he is inclined to the use of natural found objects like driftwood and coconuts. His choice to live in Bali influenced his material selection, but also his style which became more figurative with vibrant splashes of color and exotic characters of native naked women. His creative process starts with making photographs of carefully dressed models placed into the appropriate setting and then painting from selected shots by applying pigments and found objects on the canvas. Being a part of the composition, the frames are modeled in clay, covered with the image that spills over onto them.
Bickerton creates metaphors of society through various mediums and materials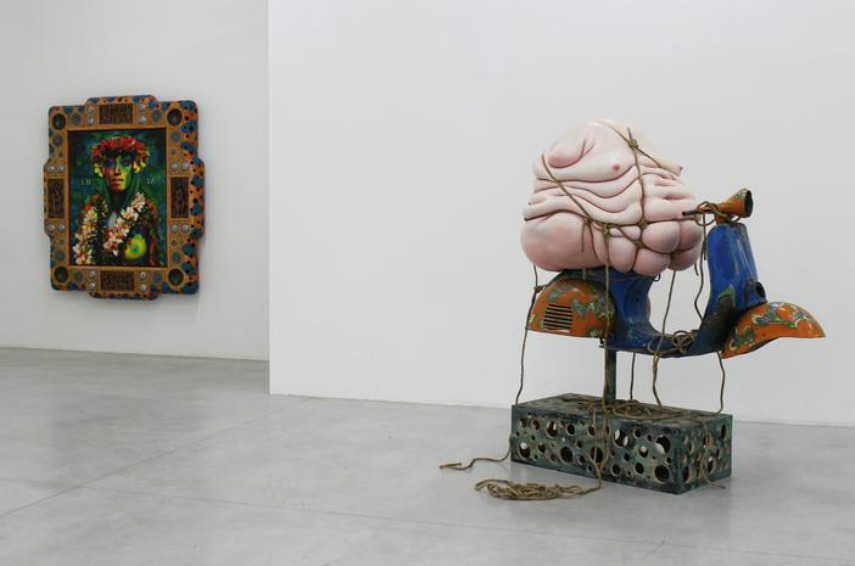 Remaining Faithfull to Convictions
Beginning as a dominant part of the East Village Art scene during the 80's, Bickerton resolutely stood as an opponent of consumerism and mechanization of the contemporary world, often making references to the societal concerns. These ideas remained in the focus of his works and his consistency is also reflected in the repetition of the use of his invented logos such as "culture lux" or "suzie". Bickerton became a renewed creator and important figure who widely influenced to the next generations of artists. For the more than 25 years of his career, this American artist has exhibited worldwide and his works make a part of several museums and public collections, including the Museum of Modern Art, The Guggenheim and the Whitney Museum of American Art in New York, the Tate Gallery in London and the Stedelijk Museum in Amsterdam. Also, his pieces are shown to the audience in numerous group and solo shows across three continents.
Ashley Bickerton lives and works in Bali, Indonesia.
Featured image: Ashley Bickerton portrait - Image via liveripcurl.com
All other images courtesy of Lehmann Maupin Gallery