ASVP is a Brooklyn-based artistic duo known for their eye-catching posters influenced by comic books, Mad Men-era advertising as well as individuals from Nelson Mandela to Lady Gaga. ASVP began their artistic collaboration in 2008. Since then, they have been creating paintings, murals and poster art with a unique, hand drawn, multi-layered graphic style. ASVP's pieces often marry classic eastern and western imagery from different influences including east countries such as The People's Republic of China, retro advertising, and pop and comic book culture, usually mixed with bold typographic elements and bright, pop inspired color. Certain messages that appear on their works, for example "We Can Give You What You Want", reveal the artists' background in graphic design and advertising industry, where the members of ASVP initially met.
ASVP Balaclava
One of ASVP's most famous pieces is Balaclava, representing a person in a balaclava, a form of cloth headgear designed to expose only part of the face, covered with hearts, giving off a menacing vibe. The image touches on things like glamour and horror, simultaneous worship and hatred.
ASVP's popular Balaclava Works for Public Display Print Show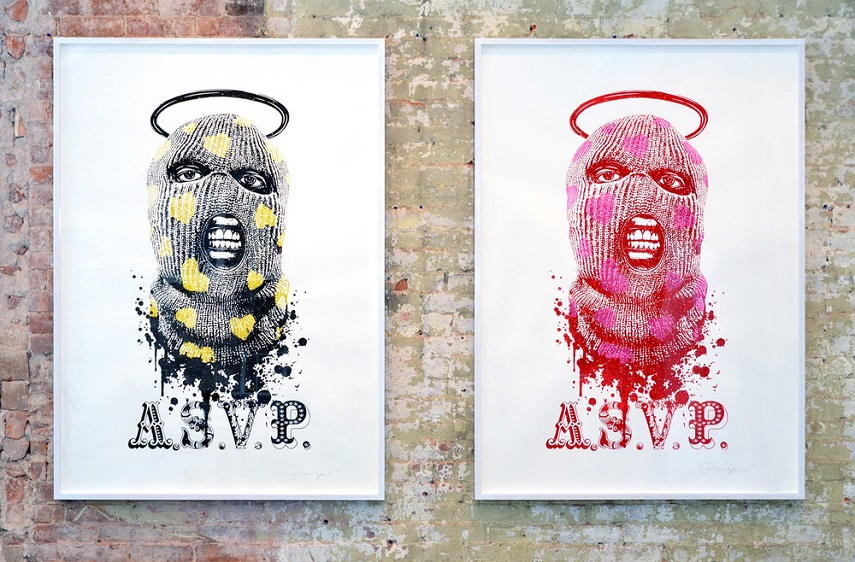 Down to Earth
Since the start of their collaboration, ASVP has participated in numerous exhibitions worldwide, including London, UK, Amsterdam, The Netherlands, Zurich, Switzerland, Varanasi, India, Florence, Italy, Istanbul, Turkey as well as all around the US, in Chicago, Detroit, Los Angeles, Las Vegas, San Francisco, and New York City, among others. In 2011 ASVP had first solo gallery show held at the Blackbook Gallery in Denver, USA. Titled Down to Earth, the show featured 40 silk-screened pieces on paper and canvas. In 2012, ASVP was one of only two emerging artists included in Doyle New York's Inaugural Street Art Auction and emerged from the sale having set an auction record.
Their first solo show featured 40 silk-screened pieces on paper and canvas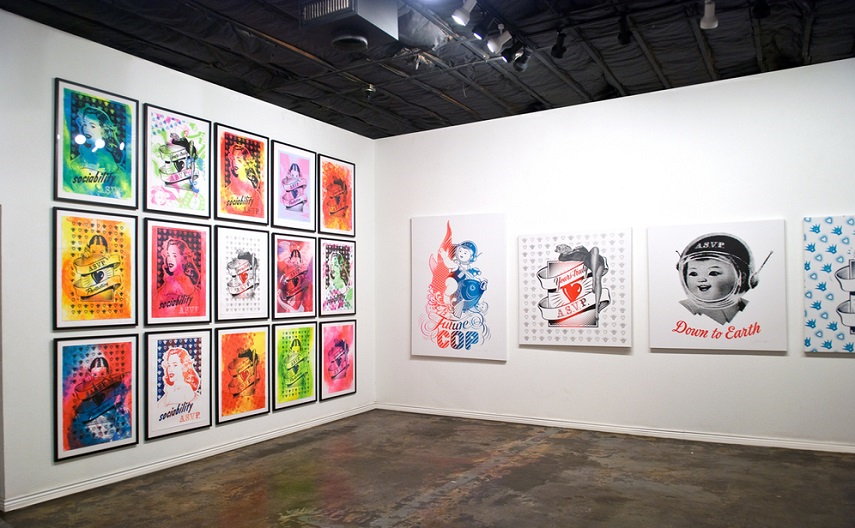 Collaborations with Agnès B. and Sportify
In 2013, ASVP collaborated with a famous French fashion designer and artist Agnès B., on a limited edition collection of garments featuring a number of signature ASVP images, which quickly achieved record sales, internationally. In September the same year Sportify commissioned from ASVP 25 large-scale works for the organization's brand new 97,000 sq. ft. NYC headquarters located in the impressive historic Cammeyer Building, located at 620 6th Avenue, NYC.
Members of ASVP duo live and work in Brooklyn, New York.
All images courtesy of the artist