Ata Bozaci, in graffiti scene also known as Toast, is a Swiss painter, draftsman, illustrator and graffiti artist, as well as a founder and co-owner of the entertainment media corporation Atelier in Bern. The versatile artist was born in a small town of Burgdorf in the Canton of Bern, Switzerland to Turkish parents. Toast first encountered graffiti in his teens when he began commuting to the city of Bern where he was undertaking his design education. Bozaci's development as a street artist would run parallel to his formal studies. He graduated with a degree in new media and graphic design in 1996.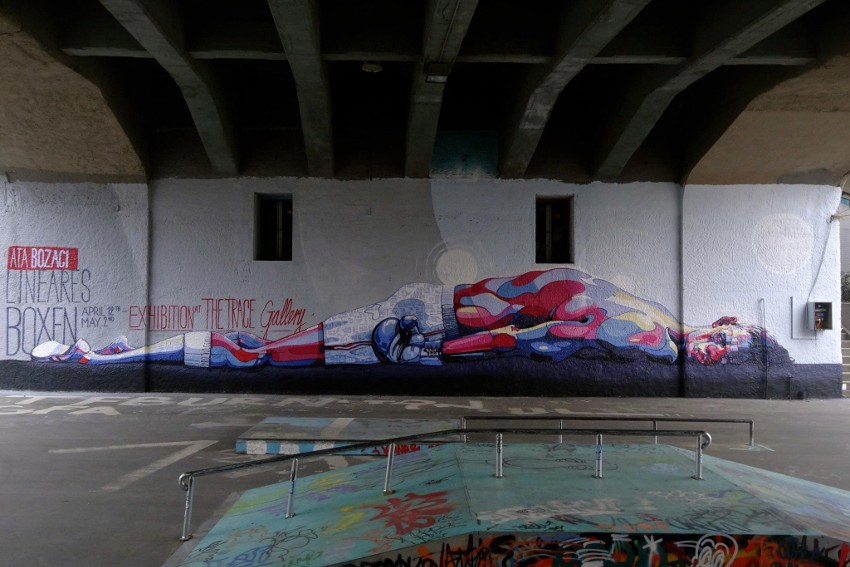 Three-Dimensional Graffiti Works
Today Ata Bozaci is an established artist who deftly moves through disciplines that vary from drawings and traditional canvas paintings to large-scale murals, graphic art and modular sculptures. He is worldwide known for three-dimensional graffiti where lines and planes suggest virtual architectural forms and play with the limits of abstraction. Toast's latest oeuvre demonstrates courage to futuristic forms, as well as an exceptional feeling for abstraction.
His street art works play with the limits of abstraction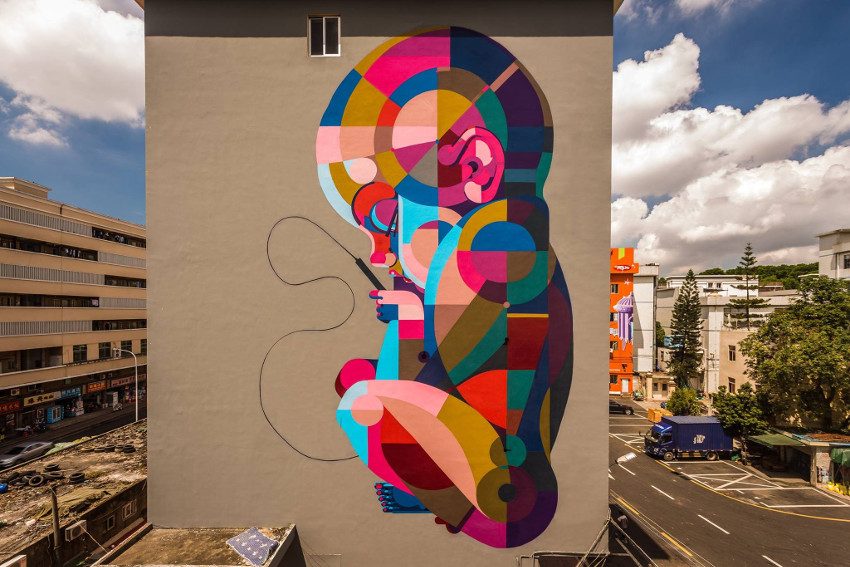 Fifteen Seconds of Fame
Toast's work also includes figurative drawing; the series of works titled Fifteen Seconds of Fame is a collection of digital portraits created by the artist, based on full frontal photos from Facebook profiles. By using Facebook profiles of his friends, Ata Bozaci has utilized his excellent illustration and design skills to explore the world of self-representation and create his own Book of Faces – Facebook - emphasizing the ridiculous importance social media gained in our lives. The artworks blur the line between the physical and virtual world by removing the images from social media and placing them out of context, either as prints or in mural form as street art.
Portrait series explores the world of self-representation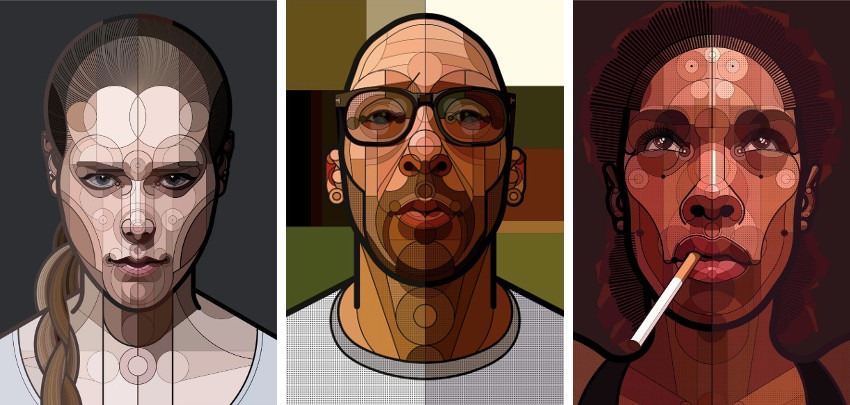 Black Ink – Illustrations of Ata TOAST Bozaci
The Beautiful Facebook – Fifteen Seconds of Fame book is Bozaci's second monograph and follows Black Ink, published in 2007. Black Ink – Illustrations of Ata TOAST Bozaci is the first full compilation of Ata Bozaci's work in different media. The book is organized into three chapters: Graffiti, Sketches, and Illustrations. Graffiti focuses on Styles & Characters, 3-D Styles and Living Letters, Sketches is divided into the categories Animals and People and the last section – Illustrations - is devoted to Portraits and the commercial "Grafics" work that appears under the label Atalier.[1]
Video teaser for Bozaci's digital portrait series:
Between Abstraction and Figuration
With an extraordinary feeling for abstract forms of art and a great sense for composition, Swiss artist creates amazing work characterized by bold shapes and strong patterns that move between abstraction and recognizable forms. To date, he has exhibited his oeuvre in galleries, museums and public spaces from the United States to Asia. The show Beautiful Facebook – Fifteen Seconds of Fame by Bozaci was on view at SOON Gallery, Bern, in March, 2015, while the show Fifteen Seconds of Fame, A Gallery of Digital Portraits was held in May, 2015 at Artstübli gallery in Basel. His art is part of many notable collections including that of Gunter Sachs. His work has been featured in numerous publications in design books and magazines. The artist is represented by Artstübli, an exhibition and project space in Basel.
Ata Bozaci currently lives and works in Zurich, Switzerland.
References:
Bozaci, A. Black Ink: Illustrations by Ata "Toast" Bozaci, Gingko Press; 1st edition, 2007
Featured photo: portrait of the artist, photo via urbanshit.com