AtomOne is a German street art legend, born in 1972. The artist discovered his passion for graffiti in his early years. As a child he spent the summer holidays commuting to Dortmund by train with his discount public transport "holiday ticket" securely in his pocket. It was this 35 minute ride with a view that catapulted him into the world of graffiti. Later, his first painted train would be rolling on those very tracks.
AtomOne's Artworks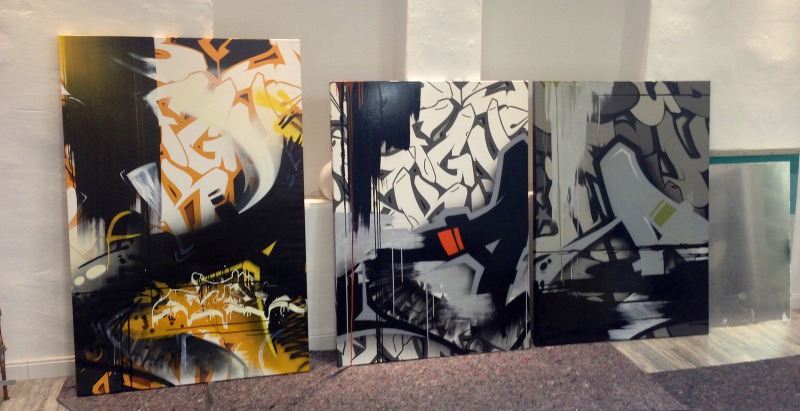 AtomOne started tagging in busses by the end of 1986 and painted his first real piece in 1987. Next to graffiti, Atom started dedicating himself to rapping and became known on stage as "Der Lange". Today, AtomOne is part of many renowned crews - Stick Up Kids, The Real Deal, Ghetto Stars and MOAS. He has painted walls and trains for almost 30 years and played a key role in shaping and developing graffiti as an art form worldwide.
After such a long time, it was inevitable that the need for new creative freedom was required breaking the graffiti rules and norms of graffiti style writing that had been instilled by graffiti culture. This would prove to be an interesting and challenging process. After 3 decades painting seemingly everything, the time had come for new paths, new ideas and more spontaneity. AtomOne leaves the classic large surface formats and faces new challenges with the medium of canvas. And this time it´s not just about letters anymore. Everything AtomOne has learned in working with spray paint form and color is being utilized and developed the work featured in Similarities exhibition, that will be opening at 44309 gallery on December 5th.
GRAPHEMES solo exhibition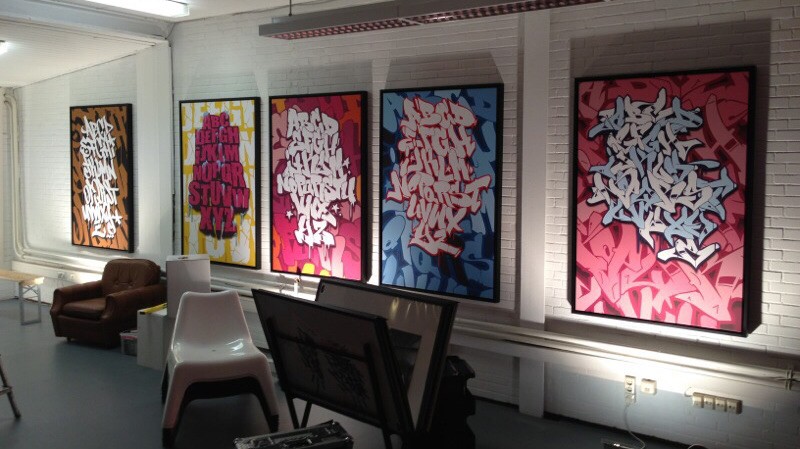 At this point in Atom's career all points seem to merge. The practical experiences, his love of Graffiti and Hip Hop culture, the constant exchange with his creative peers and the immense knowledge gained along the way all pay off in his Similarities, collaboration with Markus Genesius aka Wow 123. Both artists, established in the graffiti scene and known for their classical yet refined approach at style writing, have taken it upon themselves to create artworks with no set concept or sketches. Combining their collective knowledge and experience on a single canvas without set rules, each work is not only an update on tradition but also a surprise.
AtomOne lives and works in Dortmund, Germany.
All images courtesy of 44309 Gallery