Axel Void is Spanish - Haitian - American artist, known worldwide for his murals, installations, oil and acrylic paintings, audio and video recordings, and countless drawings.
Axel's background: Haiti, Spain and Miami
Alejandro Hugo Dorda Mevs was born in Miami to a Spanish father and Haitian mother, but he was raised in Spanish Andalusia, after his parents decided to move to Europe when he was just three years old. Axel also has ancestral roots in Haiti and he even called Berlin his home for a while. The effect of his roots combination and life of travel is obvious in his art – through small bits of culture and life from everywhere he went and everyone he met.
When Axel was just 13, in 1999, he was introduced to the graffiti world – it was an experience which influenced his forms of expression and the conception of his artworks, taking a parallel path with the commercial world of contemporary art. Today, he is part of a generation of young painters who derive their dynamics from graffiti culture and urban art.
Axel studied at Contemporary Art institutions and Fine Art schools in Cádiz, Granada and Sevilla, where he remained active until he moved to Germany.
Axel is strongly influenced by classical painting and drawing. He is merging mural art, graffiti, oil and acrylic paint, creating shocking, uncomfortable and often dark pieces. These unpleasant, psychological and social issues dominating his work are repeatedly broken by ironic statements and the beauty he finds in even the most mundane of daily life.
Axel and Jaz: Mediocre Exhibition
In 2013, Axel Void collaborated with JAZ, on an exhibition titled Mediocre. The show was held at the capital of Argentina at Matienzo Cultural Club gallery Matienschön, dedicated to visual arts. JAZ and Void already worked together previously on several walls in Miami and Berlin, but this exhibition is their first mutual studio project.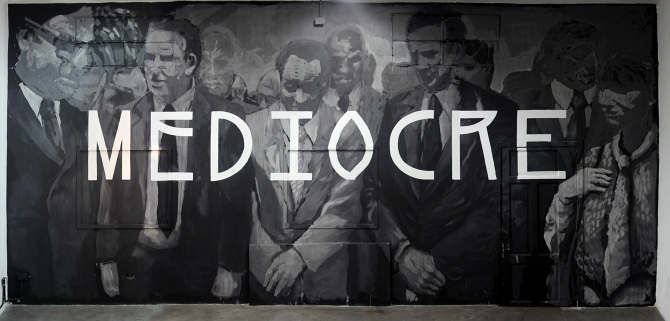 These two artists were taking news from daily Argentine newspapers and that material served them as the basic inspiration for art creation shown at this exhibition. The show was actually rendering of the local daily life - filtered through the selected representations of the media. They tended to establish direct contact with visitors, free from any agents in between.
Mediocre show represents a visual dialogue between Axel Void and JAZ, showcasing their powerful graphic identities, and exposing the social anxieties and sheer violence present in everyday routines.
Nada Mural in Oaxaca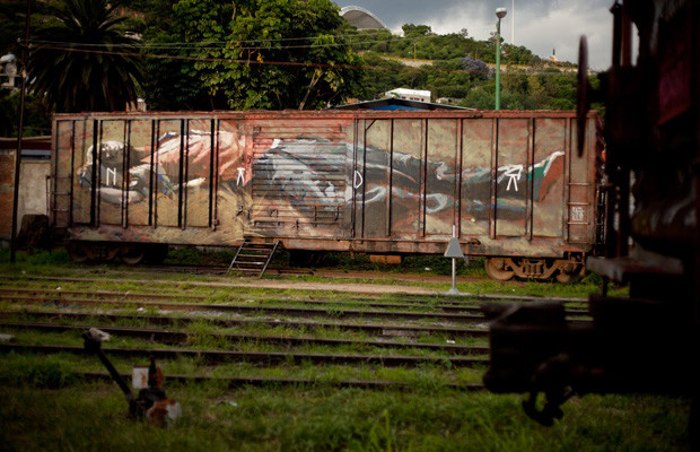 In 2014, Axel created Nada – huge mural in Oaxaca, Mexico. The mural is the perfect intersection of location and subject matter - depicting an image of an immigrant who was assaulted while traveling freights in Mexico. The piece was brought to life in a decade-long abandoned train yard - made to stay in viewers' collective memory.
Dialogue Series
In 2015, Axel painted a mural in Miami, in Little Haiti. It is an homage to his Haitian side of a family. The mural depicts Jessica, a charming little Haitian girl Axel Void met in the Dominican Republic in the town of Rio San Juan. Portrait of Jessica is part of Dialogue series, his tribute to a different people of the world and their dialog of identity: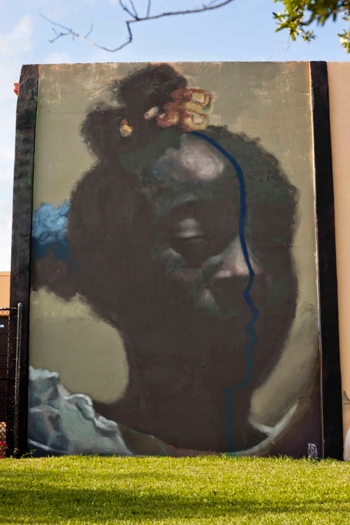 "The wall is situated in a soccer park in the area of Little Haiti. It's a humble neighborhood of mainly Haitian descent close to where I currently live. My family on my mother's side is one of the Haitian families that moved to Miami 35 years ago. This mural is a continuation of the Dialogue series, sharing the same concept as the mural in Tarifa. This mural pays homage to Jessica, her brother and sisters. It is about Haitians outside of Haiti or further more cultural and political divisions."
Mediocre and Gray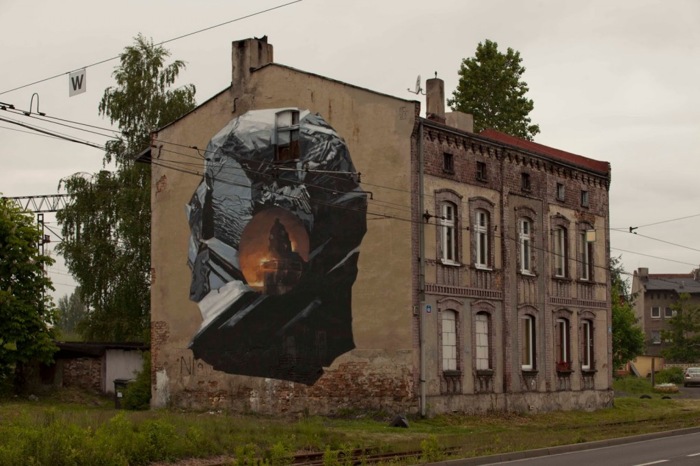 Same year, Axel continued to create Mediocre series. In a humble and conflictive, working class neighborhood of Szopienice, in the outsides of Katowice, Poland – Axel painted a mural on the two sides of a building where three families live, next to the train tracks and in front of the zinc melter factory named after its owner Uta Utheman, closely involved with many coal mines in Silesia and also known as a local hero for trying to make better life for his workers.
The concept of this mural is to represent a dichotomy of things - both curative and harmful. Take for example Zinc - a vital mineral but toxic in large quantities. The mural is sort of a metaphor for many similar aspects of our daily life that show this kind of duality – when remedy becomes the poison. This mural pays homage to working class and everyday people in Szopienice and elsewhere.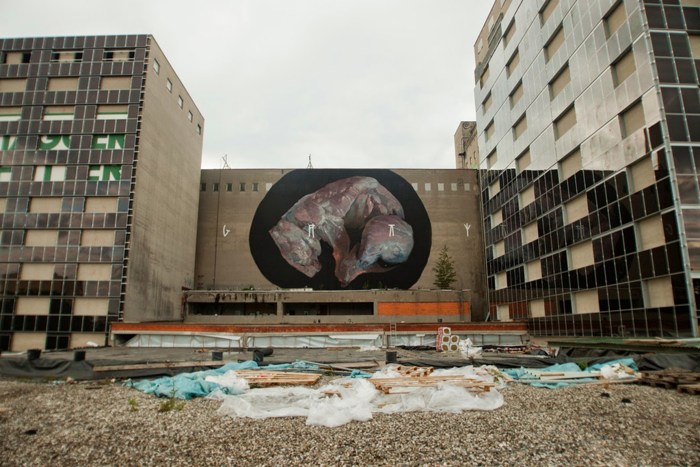 As an opposite of Mediocre, Axel created series of site-specific works that portray quotidian life. This concept is called Gray and it is largely dictated by a story - it searches for the more instinctive and visceral ideas, without the boundaries of having the work fit into its surroundings. It all comes to painting geared by what the artist feels instead of what simply fits into the site's context.
Axel Void lives in Miami but works all over…