When one artist's inspiration roams between 14th Century Italian religious painting, MTV aesthetics and alien evidence, the final product must be worthy of attention. That is the case with the artwork created by Japanese artist Aya Takano, born in a city of Saitama - first mentioned in the famous 8th-century poetry anthology Man'yōshū. She grew up in this ancient city surrounded by her father's natural science and science fiction library, which explains her unique style and curiosity towards the future. Aya creates her manga work in Superflat style, popularized by Murakami.
World where pre-pubescent girls are targeted by the consumer culture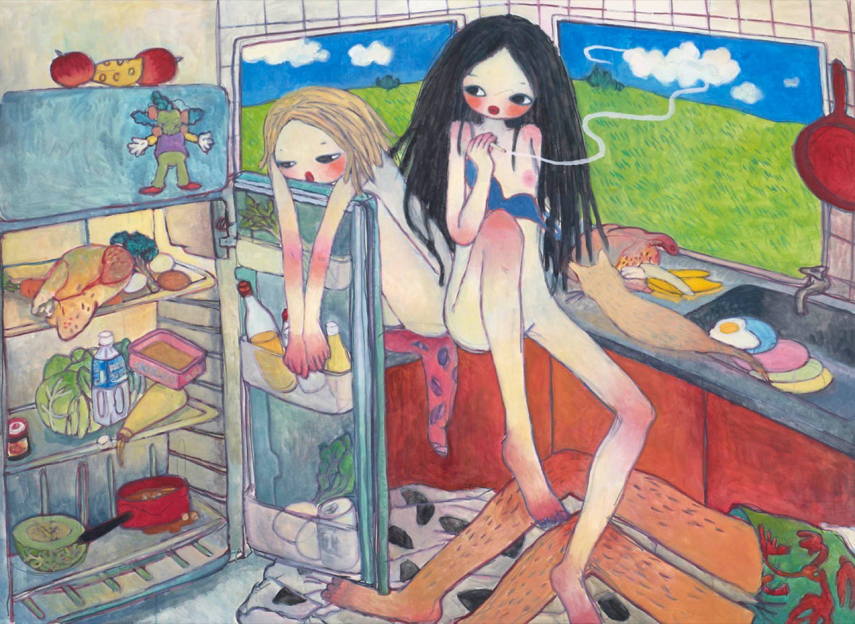 Murakami as Takano's Mentor and Kaikai Kiki Co.
Aya used to read a lot in her childhood and she even said once how she thought that everything she read was true until she was nineteen! Talking about the imagination! Even now, Takano indulges her fantasies, letting herself think she possesses the ability to fly. There was no way this kind of girl would study anything else but art, and Takano made that clear to her parents. So, Aya Takano received her bachelor's degree from Tama Art University in Tokyo. Just around the time she graduated, great Murakami searched for talents among the young artists, with a goal to create the Superflat style artistic community. And this is how the Kaikai Kiki Co. was born. The method of emphasizing the two-dimensionality of figures visually based in Japanese manga and anime and combined with the fetishes of consumerism soon became popular worldwide and the Kaikai Kiki Co, counting seven members (five of them - women) started creating a universe of its own. Of course, one of those five women was Takano. Not long after Murakami met Takano and saw her work, she found herself being this artist's assistant. Murakami was more than willing to be the mentor of an artist with such a unique imagination so he quickly jump-started her career.
Fascination by any unusual form of nature and animal life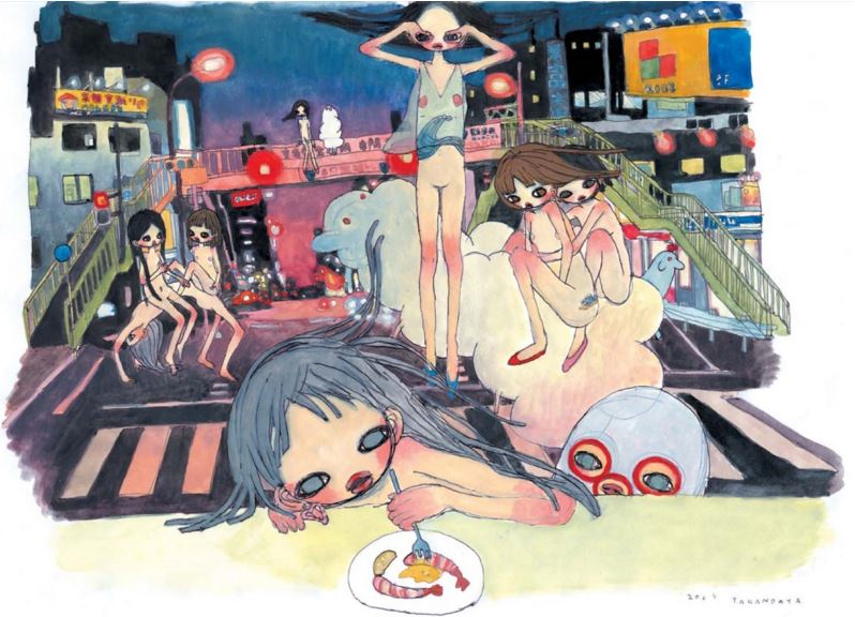 Reinventing the Otaku Culture
Aya Takano transmitted onto her works her ever-growing fascination by any unusual form of nature or animal life, clearly identified in her works where she presents many exotic animals and plants. This approach of twisted reality soon gained a public of her own, attracted by the infantilization and objectification of the female - one of Takano's regular themes, besides the senseless Japanese consumerism that grew to become a fetish itself. However, it wasn't Takano who invented this combination where pre-pubescent girls are being a target of the consumer culture. So-called Otaku culture, mainly centered at the Akihabara district in Tokyo, was the fertile soil for this kind of fetish. Manga and anime obsession helped the members of this group to alienate almost completely from reality, creating a world of their own. The world where infantilization and objectification of the female were something completely normal and beyond acceptable.
Takano's androgynous figures are female heroines in society

Takano CAN Fly, only not the Way she Always Thought she Might
Takano's figures are often androgynous, playing a role of female heroine in society. She strongly dissociates from any sexual connotation, even though her females are usually only partially clothed or even fully nude. Takano claims that her aim is to reinvent the entire otaku culture, this time only through the feminine perspective. Her heroines are still growing, finding themselves on the border between the adulthood and childhood, and the red dots on their elbows, knees, and shoulders, together with their bulbous heads, and large eyes prove that they are still in the process of growing, both physically and mentally.
Today, a girl who still thinks from time to time she can fly, is a well-known manga artist, illustrator, and science fiction author. Outside Japan, the world enthusiastically embraced her somewhat odd universe, following closely Takano's new works, waiting for her strange-looking girls to lighten up their world.
She is represented by Gregg Shienbaum Fine Art from Miami and Galerie Perrotin from Hong Kong.
Aya Takano lives and works in Japan.
Featured image: Aya Takano - A Night Walk - A Pink Moon Emerged * (detail). 23 1/5 × 19 7/10 in. 59 × 50 cm. Edition of 300. This is part of a limited edition set. Photo courtesy Perrotin
Artworks images © Aya Takano/Kaikai Kiki Co., Ltd. All Rights Reserved. Courtesy Galerie Perrotin